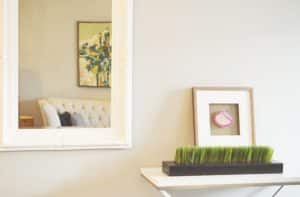 A mirror, whether framed or simple wall glass, is one of the most dynamic pieces of artwork you can place in a room. Not only does it create style and flare through shape, frame design, and reflection, but it is also practical for everyday use. It stands out as a design piece is through the way it uses the room to change or simply enhance the room.
Mirrors are undeniably popular among designers and it is no wonder with how vast the possibilities are for using mirrors to craft the style and environment of a space. If you are thinking about adding a mirror to a room but don't know where to begin when it comes to picking a style or what is even out there, you've come to the right place.
Whether it's deciding on the frame, the glass, the shape, size, or placement, hopefully, these suggestions will help you get on the right path.

What Mirror Styles Are There?
The possibilities are essentially limitless. And while that is the wonderful thing about using mirrors to decorate it can also be overwhelming. This limited breakdown of the different aspects and options when it comes to picking a style of mirror should help you pin down a decision.
Mirror Frames
If a picture speaks a thousand words, then a frame shouts out loud. Frames have the ability to change the entire presence of a mirror. Sharp can become soft. Bland can become colorful. Old can become new—all because of the frame you put on the glass. That is why your frame choice is important.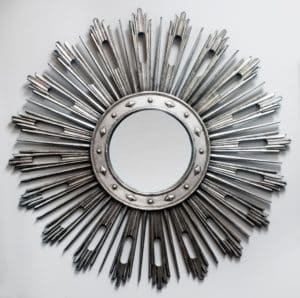 Do you want to make the mirror an accentuated piece or blend it with the rest of the room? A baroque style frame is ornate and can make a bold statement while a minimalist frame can bring a peaceful purity to the glass. Mirror frames are not just limited to outlining the edge of the glass—many unique styles of frames that create a pattern on the glass or extend beyond can be found, such as a sunburst mirror.
The frame speaks a lot to the room, so whether it is thick or thin, popping or complimenting, ornate or chic, a design on the mirror or around the edge, it is a good idea to be mindful of what frame you want. For more ideas about frame design and tips on getting a plain piece of glass framed, check out this article.
Mirrored Wall Glass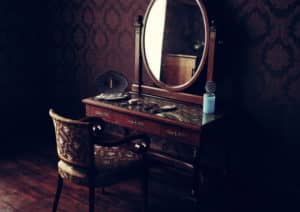 Frames are not the only way to stylize a mirror. There are many ways to add personality and character to the glass itself as well. Antique mirror glass is when a tint or coating is added to the glass to make it appear deteriorated with age or to give it a vintage hue. The coating can be a variety of tones from golden sepia to grayscale, or maybe even a rose` for some extra special flare. Antique treatments on glass typically look, good with ornate frames and are great to add to a classical design.
Another treatment that can be done to mirror glass is verre églomisé which is a process where the back of the glass is gilded with gold or metal leaf and then etched into any design. The possibilities with this style of mirrors are extensive. The etching can be an eccentric random spotting providing a quirky vibe or an elaborate precise piece of art asserting elegance.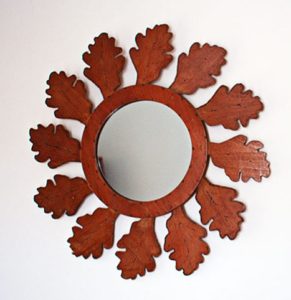 Foxed mirrors are another aged style but refer to the spots that naturally occur in the deterioration process of the glass but can also be superficially added to achieve the appearance of age. While this type of mirror brims with character, it isn't very practical for seeing a clear reflection so it is best left for design purposes and probably not the best choice for a bathroom or vanity. But if you have a broken mirror, a foxed treatment is a great way to make it look aged as an intentional design choice instead of just throwing it away.
Mirror Shapes
How many shapes exist? Do you want circles, squares, hexagons…flamingos?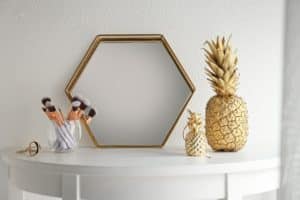 You've got it! The shape of the mirror is the perfect way to bring a little piece of personality into a room's design. But when picking the shape of a mirror there are a few things you want to consider to complement the rest of the room's design.
If the room has a lot of sharp angles and hard lines, consider putting a round or soft-edged mirror in the room to bring balance. Some mirror shapes can work throughout a variety of different room designs. Square mirrors are extremely versatile and can be adapted to fit any aesthetic. Hexagon-shaped mirrors are also becoming an increasingly popular choice for a variety of styles.
Mirror Size
The size of a mirror can speak volumes to a room as well. Almost everyone knows the old trick of putting a mirror in a small room to create the illusion it is larger. Or maybe you have a large room that you want a mirror in but don't want to open it up anymore. Skip the big solid mirrors and go for more tiny, stylized mirrors and place them in strategic places with lighting to bring a more intimate atmosphere.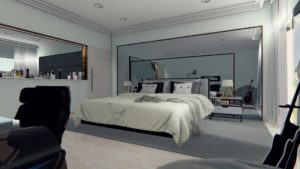 Mirror Placement
Mirror placement is key to turn a plain piece of glass into a work of art. Lighting, reflections, and movement all make mirrors one of the best ways to alter the appearance of a room, create dynamic and add character. The perfectly placed mirror can brighten a dull corner, give a light and airy feel to an entire room, or create visual interest and pizzazz in a certain area on a wall. Mirrors can also reflect artwork to give the illusion that the room is full of color or accentuate a favorite piece of artwork that you might want people to see twice. It's all about strategy.
Where you place the mirror in the room will change the mirror's presence itself as well as the feel of the room. Of course, you'll want to be careful not to reflect unsightly parts of the room or have the mirror placed in such a way that it reflects sharp light into commonly used areas at certain parts of the day. The placement of the mirror can make or break a space almost as much as the style of the mirror itself.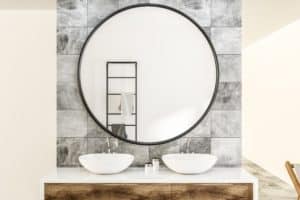 Pick the Perfect Style of Mirror
Now that you know a few design tips to get you started on picking the mirror of your dreams, you can hunt for mirrors with a better understanding of what to look for. Don't get overwhelmed by the endless possibilities, stick with your gut and know your room and you'll have the perfect mirror style sprucing up your room in no time.
Are you ready to add a new mirror to your home or building? Glass.com can help. Contact us with what whatever mirror style you are looking for and we will find it!
Please note, this article may contain links to Amazon products. As an Amazon Associate, Glass.com earns from qualifying purchases.