Cannot Log In to Access Account
Bad passwords are the most common reason for not being able to access Glass.com accounts. Often, passwords become lost or misplaced or are entered incorrectly. If you're unable to log in to your account, start by resetting your password. Follow the simple steps in this guide.
Sometimes an email address you believe is associated with the account doesn't work. We address this issue as well at the bottom of the guide.
Resetting Your Password
Go glass.com
Scroll to the bottom of the page
Click "Sign In" in the footer

Click "Forgot password?"

Enter your email address in the "Email" field
Click the "Request password reset" button

You should see a "Success!" message displayed on the page. This means we were able to locate your account using the email address you provided and a password reset email has been sent to that email address. Click the "Reset your password" link in the email to reset your password.

Error Message – Email Address Does Not Exist
If you see a "Does not exist" error message after entering your email address, this means we weren't able to find an account associated with the email address you entered. Ensure the email address was spelled correctly, or enter a different email address.
If you believe you have an account and have reached this message in error, please send an email to help@glass.com and we will be glad to assist with getting your account back on track.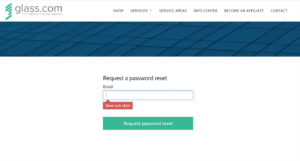 Need to make updates to your user profile information? Check out this how-to article.