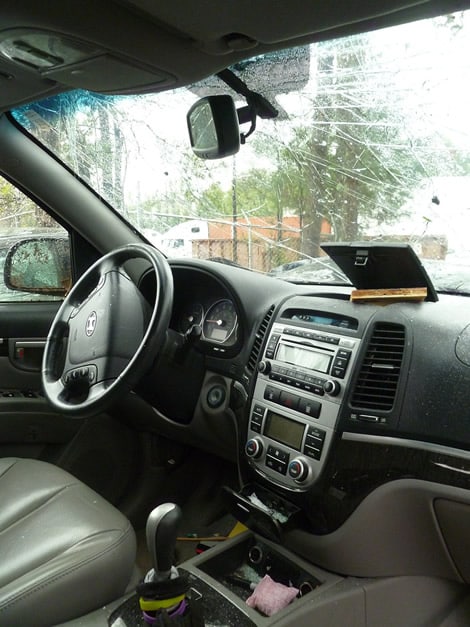 Road rage is quite common and we've all heard terrible stories about drivers with road rage attacking other drivers and/or their vehicles. In quite a few of these instances, the vehicle's windshield is often the first target.
So, what qualifies as road rage? The Virginia Department of Motor Vehicles (DMV) defines road rage as "aggressive or violent behavior stemming from a driver's uncontrolled anger at the actions of another motorist." Other states likely offer similar definitions. Examples offered by the DMV include hitting another vehicle with your car; running another vehicle off the road; pulling over and engaging in a physical confrontation with another driver; encouraging a passenger to assault the other driver; or using a weapon to harm another driver or vehicle.
Following are several examples of road rage that led to broken windshields, and some simply bizarre examples of broken windshields caused by strange situations. In each of these, someone ended up needing a windshield replacement due to someone else's emotions.
Window Smashed to Bits
Road rage has led people to complete some major damage, but in one recent Florida case a man actually "smashed a car window to bits." According to a local report, a 26-year-old male was driving a Jeep that was rear-ended. The driver was so angry that he not only threatened the driver but also broke his car window into many, many tiny pieces. A bystander caught the entire incident on video.
Baseball Bats and More Broken Windshields
A recent North Carolina report detailed a case where road rage led to a person breaking a windshield with a baseball bat. According to the report, the case began with one car tailgating another. When the driver of the car being tailgated made a lewd gesture at the other vehicle, the passengers in the tailgating vehicle began throwing stuff at the car. Then, when they stopped at a red light, a male passenger got out with a baseball bat and smashed both her rear windshield and side window.
Broken Windshields and Big Macs
A Washington, D.C., woman recently had another woman throw a brick through her back window and shatter the glass over a dispute about who was first in line at a McDonald's drive-through, according to a local report. Additionally a passenger in the vehicle "banged on [the driver's] roof" in retaliation for snagging the first spot in the drive-through.
Domestic Breakage
While the Washington, D.C., dispute occurred between strangers, sometimes broken windshields can result from personal disputes, too. A local Raleigh, N.C., report references a domestic violence incident in which a 33-year-old male is accused of throwing a piece of concrete through the windshield of a vehicle containing two females. The defendant also is said to have pulled one of the females out of the vehicle by her hair.
Broken Windshields at the Grocery Store
In Atlanta, a woman was leaving a Kroger grocery store recently when a "Man came out of nowhere, jumped on the hood of her Hyundai Sonata and kicked the windshield several times until it shattered," according to a local news report. The offender likely didn't expect the woman to have a dash camera that caught the entire incident on video.
Buses and Windshields
In another report, a man was riding a Kansas City bus when another passenger began arguing over a bus transfer and pulled out a knife. The man became a hero when he intervened, concerned about a mom and her two kids across the aisle. He pushed the man with the knife toward the front of the bus and the driver slammed on the brakes, sending the trouble-maker through the bus's windshield.
Bullets and Broken Windshields
A North Carolina deputy recently was shot through his windshield during a chase with a suspect, according to a local report. The officer was attempting to make a traffic stop when the pickup truck in question drove away; the officer followed and someone in the truck shot at him. He was "hit by fragments" of glass.
The Ins and Outs of Road Rage
Those who engage in road rage could be charged as criminals and face tickets or even jail time.
The DMV offers several suggestions both to avoid sending yourself into road rage and to calm others who might exert road rage against you. To avoid engaging in road rage (if you feel you are a likely candidate for it), the DMV suggests listening to calming music in the car and preparing yourself mentally to share the road. Likewise, if you fear you might become the victim of road rage or need to calm a confrontation, you can simply wave to the other driver, say you're sorry so that the other driver can see it, and give other drivers plenty of room to pass your vehicle, according to the DMV.
Has It Happened to You?
Have you been involved in a case of road rage or had a strange case of broken glass in your vehicle? Let us know in the comments box.
What Now?
If you have been involved in a strange tale of broken glass, you likely need a windshield replacement.
There are many quality auto glass businesses out there available to replace your windshield. Check out the Glass.com auto glass service locator today to find a shop to replace your windshield. We have affiliate shops all over the United States ready to replace your glass when needed, whether a person strikes your vehicle or something else causes the glass to break.
Please note, this article may contain links to Amazon products. As an Amazon Associate, Glass.com earns from qualifying purchases.