If you've ever experienced the scorching heat of your car in the summer, or fought off blinding glare while driving, you should probably consider tinting the windows in your car. But where to start? A simple search for "auto window tinting near me" might be your first step, but what next? This guide provides you with a road map to find the best local auto tinting services and what to consider along the way.
Understanding the Phrase 'Auto Window Tinting Near Me'
Searching for "auto window tinting near me" prompts search engines to present you with local businesses offering window tinting services. This local focus is a boon for car owners. It not only provides you with convenience but also allows for easier follow-up visits if needed and the opportunity to support local businesses.
Key Factors to Consider When Choosing a Local Auto Tinting Service
Before you decide on the first result that pops up under "auto window tinting near me," consider these important factors:
Reputation and Reviews
Customer reviews provide invaluable insights into a business's reliability and service quality. Sites like Yelp and Google Reviews can give you a comprehensive picture of others' experiences with the auto tinting service.
Types of Tints
The kind of tint you choose—be it dyed, metallic, carbon, or ceramic—will impact the cost, effectiveness, and appearance of your auto tint. There are different percentages of tint. The lower the percentage, the darker the tint will be. Ensure the service provider offers the type of tint that fits your preferences and requirements.
Experience and Expertise
Look for a provider with several years of experience. Expert technicians will be able to advise on the best tint for your vehicle and ensure a high-quality application.
Cost
The price of auto tinting varies based on the type of tint, the vehicle size, and the service provider's reputation. While you might be tempted to go for the cheapest offer, remember that quality and longevity often come at a price. Paying more upfront for quality materials and service will serve you better in the long run.
Utilizing Technology to Find 'Auto Window Tinting Near Me'
Searching for "auto window tinting near me" involves more than just typing the phrase into a search engine. Here's how you can leverage technology to find the best local services:
Search Engines: Use search engines like Google to find local auto tinting services. Review the websites of the top results to get a feel for their services and professionalism.
Google Maps: Google Maps is a powerful tool for finding local businesses. It provides location, operating hours, reviews, and often photos of past work.
Review Sites: Websites such as Yelp provide user reviews and ratings, offering additional insight into local service providers.
Questions to Ask When Evaluating 'Auto Window Tinting Near Me'
When narrowing down your "auto window tinting near me" options, consider asking potential providers the following questions:
What type of tint would best suit my needs?
How long will the process take?
What sort of warranty do you offer on your tinting service?
Are your technicians certified?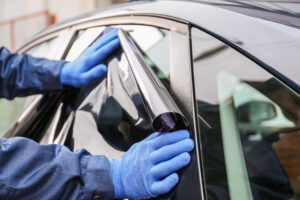 Taking Care of Your Auto Window Tint Post Installation
After you've chosen your "auto window tinting near me" service and had your windows tinted, it's crucial to maintain the tint. Always follow the installer's and manufacturer's recommendations. Typically this will include avoiding rolling down your windows for a few days after installation to allow the adhesive to cure. It will likely also include cleaning your windows with a soft cloth and ammonia-free cleaner to prevent scratching or peeling the tint. The technicians who installed the tint will be able to assist you with post-installation care tips.
Securing the best "auto window tinting near me" involves understanding what the phrase means in search engine terms, considering crucial factors when choosing a provider, and knowing the right questions to ask. Once you've had your vehicle windows tinted, it's important to know how to take care of them to maintain their effectiveness and longevity.
Have an experience or question about "auto window tinting near me"? Share it in the comments below. If you found this guide helpful, consider sharing it with others who may benefit from it too. Drive safely!
Please note, this article may contain links to Amazon products. As an Amazon Associate, Glass.com earns from qualifying purchases.