Okay, it's that time again – tackling another project in your home. This time, however, you've stumbled upon the one area in your home that can be its own private getaway or oasis, the bathroom. Before you start thinking this will be an easy space to customize, you should first think about the possibilities available, then you should reach out to a Glass.com expert to ensure that all of your glass installation needs are met.
First Thing's First – Where to Start with a Bathroom Renovation
Let's take a look at what exactly you want to change in your bathroom. Are you looking for a new shower door, mirrors, enclosure, or even a custom glass tile pattern for your walls? No matter what you're looking to change first, it's important to know your options and which finishes you want to see in your home.
Let There Be Light Fixtures – Brighten your Bathroom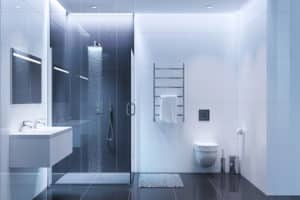 Lighting is a necessity in any room, especially if that room lacks sufficient natural light. During your conversations with your Glass.com expert, you might want to explore different options for glass shades or fixtures that can help make your redesigned bathroom unique.
Whether you're thinking about accent, a ceiling flush light, or even a ceiling semi-flush light there are ways glass can be incorporated. The mood or theme you want your finished project to have will determine the best type of lighting options for you.
Accent lighting is typically a small and decorative option for low light in a space. Ceiling flush lights are usually very close to the ceiling, if not directly on it, and are most often used in smaller rooms or hallways. They can be seen as a less decorative but effective lighting option. Ceiling semi-flush however, is also close to the ceiling but is used for medium to large rooms and offers an ambient and decorative appearance. Depending on the overall size of your bathroom, you might lean towards a ceiling flush light.
Adding Accents to Your Bathroom 
Mirrors are a fun and seemingly simple way to add a little character or accent a space. Why not get creative with them in your next remodel? Yes, typically a person looks at a mirror to see their reflection before stepping out of the room, but there's a lot more mirror designs can offer.
The type of mirror you choose can not only make a statement in your bathroom, but also help bring the entire project together. Below are just a few examples of different mirror types that could make their way into your remodel.
Plane mirrors – These are mirrors with a flat, reflective surface. Plane mirrors reflect an image proportionally. This type of mirror is used most commonly in bathrooms and bedrooms to reflect a person's image. It can also be used to make a room appear larger and brighter.
Convex mirrors – These are spherical mirrors that bulge out, like the bottom of a spoon, distorting the image by making it appear smaller. Convex mirrors often allow people to see a greater amount of area behind them.
Concave mirrors – These are spherical mirrors that curve inward, like the top of a spoon. They make an image appear larger and brighten the light in a room.
Glass Showers and Enclosures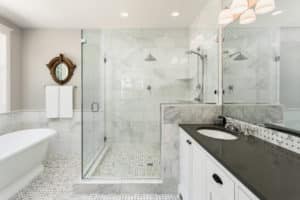 When it comes to showers there's a lot to decipher — between materials, colors, shading, gradient, luxury, and choosing how much glass you'd like can seem like an undertaking in and of itself. Hopefully this section gives you a little clarity on what you do and don't like.
Over the past few decades designs such as sliding shower doors helped make showers more open. But even with something as common as a shower door, there are still a few things to consider. Here are just a few options of shower doors that you can choose from for your next bathroom remodel.
Standard Bypass Shower Door – A standard bypass door is the same concept as a sliding glass patio door, just used in a shower or bath enclosure. The bypass door is contained within a metal frame at the top or on all sides. It has a set pane with one side sliding on a track with manual rollers in it. Bypass shower doors are space-efficient, as they require no room to swing open.
Hinged Shower Door – Hinged, also known as pivot or swinging, shower door enclosures consist of one or more glass lites with two or three hinges on one side that allow the door to open inward and outward, or just outward. This enclosure style requires space for the door to swing open. The pricing will vary based on the size of the glass and the type of hardware chosen. However, like the standard bypass door, this enclosure style also includes one or two lites of glass on one side with three walls. A frameless design will create a more narrow and appealing sightline.
Sliding Shower Door – The sliding door is frameless, with one or both of the glass lites gliding due to rollers. This type of shower enclosure could include larger lites of glass, making this a potentially more expensive option. The sliding glass shower door can be used with the popular barn-door style hardware in a number of finishes.
Curved Shower Door – A curved shower door enclosure is similar to the corner door, but with curved glass. Curved glass has to be custom fabricated by a company that has the ability to produce curved/bent glass and will be more expensive than standard flat glass. However, a curved door will add a unique feature to your home.
Barn Shower Door – Barn style glass for your shower door is a functional option for smaller bathrooms where a swinging door isn't ideal. Barn shower doors have grown in popularity over the years and is becoming a unique staple in bathroom remodels.
Shower enclosures can come framed or frameless.
It's true, framed enclosures are seen as more traditional, but if you're interested in it and want a more modern look, try a chrome finish instead of the more common bronze. Frameless shower enclosures, on the other hand, are seen in more contemporary bathrooms. Why? – Because of the increased amount of light your shower gets from omitting the frame.
When going over shower enclosure designs with your Glass.com professional be sure to first have an idea of the bathroom size and if you're looking to add on additional square footage. This will be beneficial when deciding on one of the three more popular shower enclosure types.
Square Shower Enclosures – Are often known to give bathrooms a more modern look because a perfect square doesn't have curves. This is valuable because you then would have more options when it comes to doors and frames.
Rectangular Shower Enclosures – If space is not an issue in your bathroom, then a rectangle shower enclosure might be just what you're looking for, as it is ideal for those who seek freedom in the bath.
Quadrant Shower Enclosures – This shower enclosure option is unique because it is designed to fit into the corner of your bathroom. This option works for bathrooms with limited space.
Styling Your Windows
Before you decide on a certain style of window for your bathroom, it's important to know the different types. Double-hung and casement are two common window types in the bathroom.
Double-hung windows have two moving parts (also called sashes). You can open them from the bottom (a sash that moves upward) or the top (a sash that can slide down).
A casement window has framing with a hinge that allows it to open outward, swinging right or left like a door. Double-hung windows are more common when compared to casement, and are typically less costly.
Glass Tile Shower Walls
Shower doors that feature glass blocks is another option. Glass blocks can partially surround the shower halfway while leaving the other half open. The blocks also can give your bathroom a more elegant look thanks to its crisp lines. Glass blocks usually are squared and are installed like bricks.
If the idea of having glass blocks in your shower just doesn't spark your interest, you should consider having frosted glass. Some of its benefits include giving you privacy and style.
Types of Shower Glass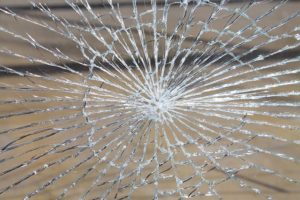 You can also choose what type of glass better fits your style and overall look for your bathroom. Some of the more popular choices include: tempered, laminated, and coated glass.
Your Glass.com expert can tell you that they can come in a variety of designs like clear, frosted, and colored glass, which make the possibilities for a customized bathroom endless. If you're going for a more upscale feel, it's common to use a clear glass. This gives you the option of seeing the hardware and other finishes inside.
But if you're interested in seeing everything in your shower, you should think about different gradient and color options. Common options include a frosted, grey, fluted, or bronze finish.
Are You Ready to Renovate Your Bathroom?
Hopefully you now have a better understanding of the truly endless possibilities you have when making choices on the overall look and feel of your personal oasis.
Please note, this article may contain links to Amazon products. As an Amazon Associate, Glass.com earns from qualifying purchases.