One of the biggest trends in home design in recent years is the concept of seamless indoor-outdoor living. That describes the integration of indoor spaces with the outdoors, such as with a deck or patio. A major component of the indoor-outdoor living trend is sliding patio doors, sometimes known as a window wall. And while you might know a sliding patio door when you see one, can you describe the various types to a potential designer?
If you're in the market for a sliding patio door and you're searching on Glass.com for dealers, you'll want to make sure you know what you're talking about. Many people don't, and that can have an impact on your product search.
You Make What Again?
Aluminum bi-fold door manufacturer Origin conducted a study recently in which 925 members of the public were shown a picture of a bi-fold door. The company then asked them to say what kind of door it was. Only 27 percent answered correctly. That indicates that almost three quarters of the public in the U.S. doesn't know what a bi-fold door is.
(If you're wondering, a bi-fold door is one that slides open while its panels fold up and stack against the wall.)
If you're like most customers, you carry out product research online prior to purchasing an item, so it only makes sense to make sure that a particular product is easy to find. But if you don't know a product's exact name, you could end up searching for the wrong item.
Consumers often describe products differently depending on the state or country they're from. Because of that, consumers have to understand the popularity of terms used in the marketing efforts for sliding patio doors. Failing to do so could result in time lost in fruitless searches online.
Sliding Doors are A Popular Choice
The U.S. market for residential patio doors is growing as our appetites for indoor-outdoor living increases. It rose from 3.1 million units in 2013 to 3.3 million units in 2015. Sliding door products were about 77 percent of that total.
Home designers are using a lot of them, too. About 92 percent of architects say outdoor living products such as sliding patio doors are important to their customers' design considerations
However, you'll probably be seeing more of these around your neighborhood in the near future. While about 32.4 million homes in the U.S. have a single sliding glass door, 7.3 million have two and around 2.9 million homes have three or more, there are still about 75.6 million U.S. homes that don't have any sliding glass doors. Are you one of them?
Types of Patio Doors
In order to clear up confusion about the various types of patio doors, here are some common names and descriptions of some of the products you'll find on the market.
Multi-slide door: A multi-slide door is one in which multiple panels slide along a track or tracks. The number of panels can vary depending on the configuration and how much viewing area a homeowner wants. Typically, these systems include from three to 10 panels.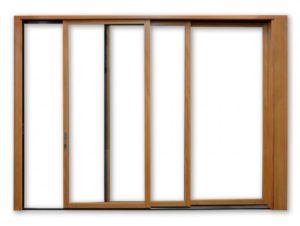 The panels frequently stack behind each other. The panels also might be pocketed to one or both sides of the opening. These systems can also split down the middle or bi-part, and stack on both sides. These systems can come in a wide range of materials and track types, but be forewarned: these bigger doors often carry price tags that match their size. They are sometimes known as window walls.
Sliding door: These are typically your smaller, simpler systems comprised of two panels, one of which doesn't move. You pull on the handle to get the door to slide along the tracks. They're generally not as costly as bigger systems.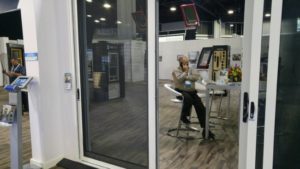 Lift-and-slide door: These operate just like their name suggests. The handle controls a complex set of gearing around the door sash, causing it to move the door away from the frame and then to slide. Again, these are often bigger than your typical two-panel sliding doors, so you'll pay more for this type of product.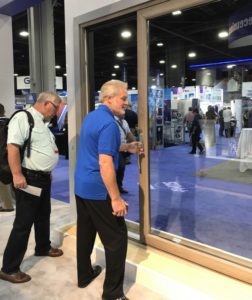 Tilt-turn door: This type of door is more popular in Europe, though it's starting to catch on in the U.S. A tilt-turn patio door has hardware that allows the panel to either be tilted into the room for ventilation or opened for entry or ventilation.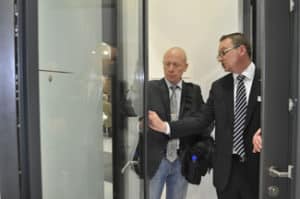 Folding door: These sliding doors operate just like their name says. Multiple panels are connected by hinges, and the doors fold together like an accordion when opened.

French doors: These are hinged patio doors. They're not as popular as sliding doors, but many homeowners like them because they can make the most of a home's space.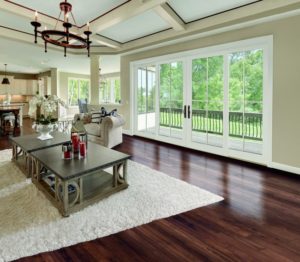 Get an Estimate
Listen to the Experts
When it comes to shopping for patio doors, it can pay to listen to the professionals such as those found on glass.com. Customers who buy brands with high levels of customer satisfaction generally say that professional recommendations, quality and their own past experience were the biggest factors in their purchase decision. That's in contrast to brands with lower levels of satisfaction that are primarily selected based on price.
In other words, there's a strong relationship between what professional door installers think about patio door brands and how you'll feel after you've purchased one. A trusted contractor or architect's recommendation should carry a lot of weight with you.
Reach Out to the Pros
If you're looking for experts with strong recommendations about patio doors, be sure to begin your search on Glass.com. They can guide you through the selection process and help you choose the perfect patio door that fits your home and lifestyle. And if you'd like to learn more about patio doors, hinged doors or any kind of window, visit our info center for more articles like this one.
Please note, this article may contain links to Amazon products. As an Amazon Associate, Glass.com earns from qualifying purchases.