Of all the appliances in the kitchen, the glass stove is often the one that pulls together the sleek, contemporary look that is so popular. The shiny, dark surface flush with its adjacent counter spaces is equal parts practical and easy on the eyes.
However, that sleek look can be hampered if the glass stovetop looks dirty with unwanted food marks and stains on it—you know, the ones that are created whenever you cook that delicious sauce, some of which spilled over and caked onto the stove surface.
Well, fortunately, your glass stovetop can be restored to its smooth and shiny state quickly in just a few easy steps. We suggest referring to the owner's manual of your equipment if you have it, as it may include instructions and recommended ceramic cleaners you should use. However, here are some cleaning methods that could come in handy if you don't have specific instructions for your stovetop:
First Things First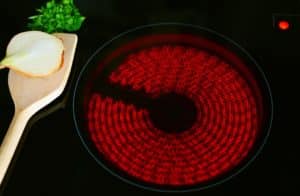 The most important step in cleaning and maintaining a clean glass stove top is to exercise safety. A stovetop can be very dangerous when hot and can cause severe burns and pain if touched with bare skin. Always make sure your stovetop has cooled off before proceeding to clean it. Many stoves include a light indicating whether or not the area is hot. Pay attention to it. And if you must clean while the stove is warm (sometimes this may be the case when scraping food), always wear an oven mitt or some kind of protection.
What to Avoid when Cleaning a Glass Stovetop
When cleaning your glass stovetop, you should stay away from cleaners that are abrasive or contain harsh chemicals. We also advise that you avoid abrasive sponges, as these can also scratch the glass surface. And don't be fooled: while you may not see the scratches now, they can eventually build up and will be more visible over time, especially if you're scrubbing over the same areas again and again.
At the same time, ammonia-based glass cleaners such as Windex are not powerful enough to remove food that is caked or burned onto the glass surface. These cleaners may be sufficient for very minor marks—fingerprints, for example—but are not likely strong enough to remove food stuck to the surface. It is better to err on the side of caution and use a non- or minimally abrasive cleaner when in doubt, but for the harder-to-remove remnants, there are better ways to go. We address them here.
A Safe Glass Cleaning Alternative
There are a few household ingredients you likely have around the kitchen that you can use in the cleaning process. One popular mixture is vinegar and water. Mix the two in a spray bottle, and you can spray and wipe the stovetop with a clean towel or paper towels.
Another popular method is to mix baking soda and water, apply the mixture to the dirty surface, let it sit for a while (30 minutes or less), and wipe up. You can also spread a light layer of baking soda across the entire glass stovetop surface and place a damp towel over it. The moist towel should absorb much of the baking soda, which can pull up grime off of the glass stove. Wipe up the remainder of the baking soda paste that is left over, and then give it a final spray and wipe-down with water or a combination of water and vinegar.
Don't be Afraid of the Edge
If you have more than just loose residue and grease to clean, such as caked on food remnants, grab a razor blade (carefully, of course) or a hard plastic scraper. When used properly, this is your best friend in removing a stuck substance from a glass stovetop. If using a razor blade, be sure to use a new one each time you clean. Otherwise, you risk rust buildup on the blade, which could scratch the glass.
Simply scrape the remnants off the surface, keeping the cutting edge of the blade as close to a 45-degree angle as possible. This can be done when the surface is dry or wet with cleaner. Some prefer to spray the surface with cleaner and let sit for a little while. It may help loosen up the stuck substance before scraping. This is our preference because the liquid helps the blade or scraper glide across the glass, which lessens the risk of scratching the surface in the case of contaminants.
Once you're done scraping, apply and wipe dry your cleaner. It never hurts to run a final wet cloth (with water) across the surface and then wipe dry to ensure it is completely clean.
Just be sure to never use the edge of the blade when scraping, or you could scratch the glass, leaving an unsightly and permanent mark.
Other Cleaning Options
There are specialty glass and ceramic cooktop cleaners on the market, and those are great to use as well. Typically, these cleaners can be applied after you scrape the remnants of the surface. They are often of a creamy, consistent texture, and usually a little bit of this cleaner goes a long way. Manufacturers of these products usually suggest doing a final wipe with a water-wet cloth. Follow this by a towel dry, after the product is used.
Stay on Top of Cleaning It
The best time to clean your glass stovetop is as soon as possible. This is assuming it is cool enough to avoid burning yourself. Some sugar-based substances can be difficult to remove after spilling over and burning onto the surface. It may be best to remove this type of substance as soon as possible. So once you are done cooking but the stove is still warm, it is OK to scrape the remnants before the stove fully cools. Remember to always wear protection such as an oven mitt. Otherwise, be sure to clean your stovetop ever time you're done using it. If you haven't used the stove in a while, feel free to give it a quick once-over. Other types of grime may accumulate over time and take away from the otherwise beautiful aesthetic the glass adds to your kitchen.
Looking For More Glass Advice?
We have plenty of glass-related lifestyle blog posts—as well as many other articles related to glass—throughout the Info Center here at Glass.com. Enjoy browsing through those, and feel free to comment with any questions you may have!
Please note, this article may contain links to Amazon products. As an Amazon Associate, Glass.com earns from qualifying purchases.