When it comes to the front door, homeowners have hundreds of options to create a unique aesthetic and build eye-catching curb appeal. One option is to select an entry door that includes glass—and the list of those options is equally impressive. Entry door glass options include textured and decorative selections in a wide range of sizes, configurations and styles, allowing homeowners to find one that's just right for them.
Types of Front Door Glass
Entry door glass options are available in several different configurations. These include a full panel of glass (also called a lite), ½- and ¼-lite, as well as a range of sizes and shapes in between, such as ovals, arches, rounded tops and many, many others. Other glass options include transoms, which cover the space above the door, and sidelites, the panels beside the door.
If you're replacing the door, as opposed to new construction, keep the size of the current opening in mind. The simplest, most cost-effective solution will be to select a door system that will fit the size of the existing space with little to no structural modifications.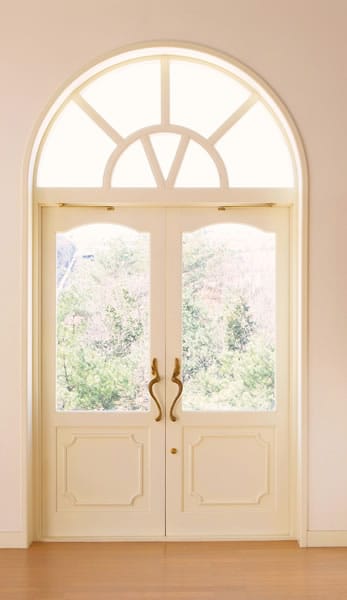 Textured and Decorative Glass
Clear textured glass is often used in applications where an obscured view or privacy is desired, such as a home's front door. This type of glass is available in a wide variety of designs and patterns and can provide visual interest to a simple installation. With this type of glass, the pattern is typically impressed onto the surface, and any door manufacturer will offer a variety of textured options.
Decorative glass inserts are another unique possibility for entry doors. Like textured glass, these decorative options are also an ideal way to bring in natural light, while also ensuring privacy. Decorative glass panels are often constructed with three layers of glass, with the decorative panel sealed between two clear pieces of glass. Door manufacturers often provide several different options, which include intricately crafted selections of beveled glass and lead-crystal jewels, among other details. Styles also range from classic to elegant to craftsman.
One benefit of including either textured or decorative glass in the entry door is that it still brings natural light inside, while also providing privacy. Keep in mind, that the more obscure the pattern or texture, the more privacy the door glass will provide. You can determine how much privacy the glass will provide by looking at its privacy rating, with one being clear glass and 10 being totally obscure. One thing to remember, though, is that ratings may vary manufacturer to manufacturer.
Both textured and decorative options are available in many different configurations. For example, some homeowners may opt for simply one full lite of glass, while others will choose a full lite, plus transoms and sidelites (the glass panels beside the door). This can be a relatively easy decision if it's for a new construction project, but keep in mind the size of the current opening on replacement installations. The more structural work that has to be done, the more expensive the total cost will be.
Between the Glass Blinds
While both textured and decorative glass offer a static privacy option (one that's always there), some homeowners may choose something more dynamic; one that allows them to control the level of light and privacy. Between-the-glass blinds provides such an option. These door blinds are sealed between the glass panels, which helps keep them clean and damage-free. There's no dusting, or tangled and dangling cords or other common issues with conventional blinds. These are also available in different sizes such as full and half-lite panels, from many different manufacturers. Some companies also offer this option for sidelites, as well.
Severe Weather Glass
For homeowners in hurricane zones or high wind areas that require impact-resistant glass, they can still enjoy the beauty and aesthetics of the many different door glass options. Textured glass and decorative glass selections, for example, can all be configured into a laminated glass unit.
Laminated glass is constructed as a glass "sandwich" that includes an ultra strong plastic interlayer between the two pieces of glass. This type of glass is designed to shatter if severely impacted by flying debris, for example, but does not break out of the frame.
Energy Efficiency
Selecting a glass with a low-emissivity (low-E) coating can help you improve the energy efficiency and performance of your home. You can't see the coating, which helps control radiant heat (infrared light) as it enters and leaves a room. This keeps the house warmer in the winter and cooler in the summer, meaning you don't have to use your heater or air conditioner as much, helping you save on those heating and cooling costs.
Another benefit of low-E coatings is they can also help protect your home interiors from unwanted UV rays which can burn your skin, fade your carpets and drapes, and even damage your furniture.
Dynamic Options
Switchable glass or privacy glass is another emerging option. This type of glass is often used in interior applications, such as conference rooms in commercial buildings or bathroom windows in a home to provide privacy. However, it can also be used in a home's entry door. These products allow you to instantly change the glass from clear, to tint, to private at the touch of a button or automatically.
With switchable privacy glass, the doors are opaque until the homeowner decides to switch it to clear, making it full vision glass.
As with other door glass options, switchable products can also be custom built into sizes, styles and configurations.
Ready to Buy
When it comes to your home's entry door, there are hundreds of glass options available. Glass inserts can give your home a unique look, allowing in natural light, while also still ensuring privacy. Decorative glass options are also a great way to help boost the curb appeal of your home. Keep in mind, though, that the more detailed and elaborate the design, the higher the cost will be. Still, many manufacturers provide not only a range of aesthetic options, but also a wide variety of price points.
Once you've established your budget and decided on the style and look that's right for your home, be sure and check out Glass.com to start your search for dealers and distributors near you.
Please note, this article may contain links to Amazon products. As an Amazon Associate, Glass.com earns from qualifying purchases.