What is it about the French that brings to mind sophistication, style, and just that "ooh-la-la" feeling?  French fashion, French cuisine—it's all magnifique! A common potato can be transformed into the French fry. French cuffs make an ordinary shirt look expensive. A wrinkly old bulldog can be oh so chic when it's called a French bulldog. It's no wonder, then, that a door can transform a room when it's a French door.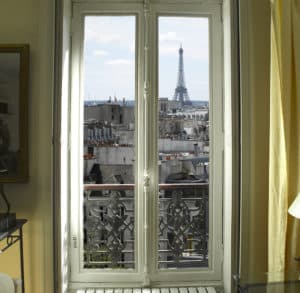 French doors became popular around the 1600s during the French Renaissance. The idea was to create that "open concept" feeling we so value today. The use of glass allowed light to enter otherwise closed-in rooms. It didn't take long for the use of French doors to spread to Great Britain and, eventually, the United States—particularly New York. French doors were a way for the nouveau riche to impress their friends.
Technically, any window or door assembly that includes a pair of hinged frames that open outward can be called a French door. For example, many of our homes have refrigerators with French doors. These refrigerators were developed in the 1990s to complement the sleek, modern kitchens people love. The double doors are also practical, making it easier to put wide items inside.
French doors are great for accessing patios, balconies, and pool decks. But let's face it, any door can do that. What we love about French doors is their ability to bring the outdoors inside. We also like French doors between rooms in our home when we want the ability to close off space without feeling shut off.
We all love French doors, but are they energy-efficient? Are French doors sound-resistant? Are they safe? Well, let's take a quick look at these questions, and maybe this will clear up a few thoughts for the reader.
1. Are French doors energy efficient?
For most purposes, a French door can be made as energy efficient as any other door. Because French doors are "paired," allowing for two/both door leaves to open, some attention needs to be paid to the area where the two doors meet in the middle of the opening (these are typically called the door stiles). Also, generally speaking, all doors are more challenging to make energy-efficient than a window, so some attention needs to be paid to a French door installation when it comes to energy. The goal of using a French door is to make the opening bright and airy. This will be more difficult from an energy standpoint than, say, dealing with a traditional door. Still, with care and attention to detail, it can be done.
2. Are French doors sound resistant?
Once again, depending on how we configure and build a French door, it can be (for all practical purposes) the equivalent of a non-French door when it comes to sound-resistance or sound-reduction. The glass selected for the door is critical. When sound is a concern, laminated glass products should be at the top of the "consideration list."
3. Are French doors safe?
This question can be taken in two ways. The first would be if a French door secure or as safe as a non-French door from a usage standpoint. The quick answer is yes, assuming an experienced, professional door manufacturer has fabricated the door. The second safety consideration and perhaps the more commonly asked one is if they are safe from a security standpoint. Can they be broken into more easily than a non-French door? The short answer here is that the French door, with proper hardware and security considerations adequately addressed, can be as safe and secure as a non-French or traditional swing door. Glass types again need to be considered in this area.
As is right with any products used in the building/construction industry, there is great variety and particularly so with the quality of these products. Product review is essential, as are recommendations and performance reports. For example, French doors primarily designed for interior use should not be used on the exterior of a building. Hardware selection is likewise critical. It is often wise to seek professional help when making these types of product selections.
French doors add so much to any home. As the real estate agents often say, it makes your home "show" well. So if you're considering replacing a door, adding on a room, knocking out a wall, or building from the ground up, consider French doors for that joie de vie! When you're ready, Glass.com can help you locate a reputable door replacement company in your area to work with.
Please note, this article may contain links to Amazon products. As an Amazon Associate, Glass.com earns from qualifying purchases.