Whether you're designing a bathroom from the beginning or redesigning what you already have, adding glass doors to your shower can open up many options a shower curtain just doesn't quite provide. While you can find a shower curtain and other accessories in any color or print combination you probably can imagine, there are more choices for glass shower doors than many people realize.
Bypass Shower Doors
First up are bypass shower doors. Known more commonly by consumers as sliding glass shower doors, bypass doors slide past one another in the same way sliding patio doors do. A bypass shower door may have a set pane with one side sliding on a track – and that track can either have manual rollers in it, or the sliding piece can just glide without extra support – or both panels of glass can move. They are the most space-efficient (they require no room to swing open), and can be fairly inexpensive compared to other types of doors. They can also be installed on bathtub showers or alcove, stand-alone showers. Some of the drawbacks to bypass (sliding glass) shower doors can include cleaning the tracks in which the doors sit, particularly the bottom track where water can collect.
Hinged and Pivot Shower Doors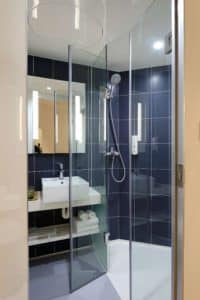 Both hinged and pivot shower doors open on hinges, but the difference comes down to the type of hinges on which they are hung, and where those are placed. A hinged shower door operates on hinges that allow it to open only in one direction, usually outward. A pivot shower door, however, also opens on a hinge, but it has the distinction of being able to open in either direction. You can think of the difference as a hinged shower door being like that of the door to the bedroom or even the house itself, while the pivot door is like a swinging door on a Wild West saloon – it can swing inward or outward as necessary.
That swinging action of both doors is both a benefit and a drawback, as they create a bigger opening and access to the tub or shower enclosure, but require enough room in the space assigned to fully open the door. Both hinged and pivot shower doors are usually found in stand-alone shower enclosures — alcove or corner showers – which means they often fit into smaller spaces, where bypass shower doors would be too wide.
Other Types of Shower Doors
Then there's the neo-angle shower door and round shower doors. They are made for corner showers—those that take up a corner of the bathroom – and they are comprised of set pieces of glass, each of which is anchored perpendicularly to the walls of the shower, with a shower door connecting the two side pieces of glass. Neo-angle shower doors can be hinged or pivot doors, and the three parts of the glass meet to form distinct angles. The footprint of a corner shower with a neo-angle door looks a bit like a cut diamond or a bow window. Rounded shower doors serve the same purpose, with the many of the same benefits but without the angles, and the glass "sides" that extend from the wall are bent glass, as is the door itself, creating a smooth arch of glass. Rounded shower doors are hinged doors and generally open in one direction only. Both the door and the supporting glass sides of rounded shower doors have frame attachments at both the top and bottom, whereas neo-angle shower door enclosures can be frameless.
Steam Showers
Steam shower doors are made to encapsulate the shower area and allow it to double as a steam room, like a sauna. Steam doors, and any other glass components of the shower enclosure, run floor to ceiling and are sealed to keep in the steam. A steam shower enclosure will likely also have movable transoms that can be opened to vent the space as needed.
Nearly the opposite of a steam shower door is a bath screen. Rather than any sort of full enclosure, this is a piece of glass made for use on the side of a bathtub enclosure. It is generally as tall as the shower head and half the length of the tub, providing a barrier between the water of the shower and the rest of the bathroom, without entirely enclosing the tub. Bath screens can be hinged, allowing for full access to the tub space, or they can be made of multiple pieces of glass, with one fixed and the others operational. Those operational pieces can be hinged so that they can fold in upon the set piece like bi-fold or tri-fold doors.
Choosing Shower Doors for your Bathroom
Once you've decided what kind of shower door you want, you have to pick the glass. All shower glass doors are tempered—or they should be, for safety sake—but what aesthetic do you want?
You can have clear glass, allowing you to see through the glass and have clean lines and a modern look.
If you'd prefer a little more privacy, you can have decorative glass, with the frosted glass finish and/or etched glass being two popular choices, as they can both give the appearance of foggy glass without having to steam the bathroom.
Glass, of course, allows more light to filter into a bathing enclosure and factoring in the different options for decorative glass (including, but not limited to frosted and etched glass), the options for glass enclosures for baths and showers can easily rival those provided by mere shower curtains.
Purchasing Shower Door Glass
When you're ready to make the leap to an upgraded shower door, use Glass.com to find local, reputable companies in your area who will provide you with no obligation price quotes!
Please note, this article may contain links to Amazon products. As an Amazon Associate, Glass.com earns from qualifying purchases.