For Alex Morningstar, the journey toward making glass guitars began with a degree in Biology.
"I didn't find a job in my field [of biology] in a while, so I looked for anything," says the 30-year old Morningstar from Gainesville, FL.
What he found on Craigslist was a job in a glass shop. Morningstar had previously worked with wood, which "gave me a bit of experience," then working in a glass shop for five or six months introduced him to glass.
"I just thought a glass guitar was a kind of cool thing to build," he says. He soon realized that if he wanted a glass guitar, maybe someone else would also. He began making glass guitars in 2020.
Glass Guitar Price
How much does a glass guitar cost?
Every glass electric guitar is "built to order" for each customer. Four models are available starting at $2,450 and ranging up to $4,150. The cost reflects the cost of parts, as well as the labor that goes into spending 80 to 100 hours to make the musical instrument. Morningstar says he works on different glass guitars at the same time and usually finishes each within a month.
"It's hard to sit on a guitar that's worth thousands of dollars, and it doesn't sell," Morningstar says of building guitars as customers order them.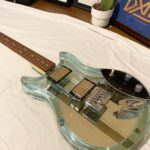 Glass Guitar with a Wooden Neck
Recently, Morningstar says he wanted to provide a more affordable option for customers, as well as make a guitar that does not take as many hours of labor. He created a guitar with a glass body and a wooden neck that he purchases from another company.
"It's a little bit more familiar for some people," Morningstar says of the guitar with the wooden neck.
The body and the neck of the guitars Morningstar makes are made of glass, but the strings and other parts are not made of glass.
Image source: Morningstar Glass Guitars
Glass Guitar Weight
How much does a glass guitar weigh?
The inside of each guitar made of glass is hollow in order to keep the weight of the guitar as light as possible.
Morningstar says his guitars weigh from 12.9 pounds to as much as 15 pounds, depending on the size of the body.
"I wanted to get it under 13 pounds, and I was happy," Morningstar says of creating guitars that have a lightweight.
His customers understand though that a glass body guitar will be heavier than a guitar made of wood.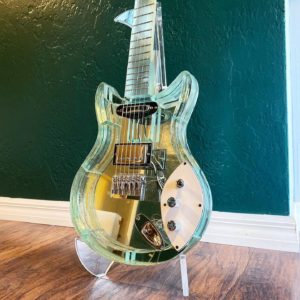 Glass Guitar Building
Morningstar coats his glass guitar bodies with a material to make them more resistant to scratches and says they do not shatter easily.
"I guess the aesthetics were the hardest," Morningstar says of the challenges he overcame when he began making glass guitars.
Establishing a process was also a challenge, and he continues to learn what works and what does not work.
Determining the radius of the fretboard was also difficult. Most guitars have a radius of 9.5 to 16 inches.
Image source: Morningstar Glass Guitars
How durable is a glass guitar?
Check it out for yourself:
What does a glass guitar sound like?
According to Morningstar, other than appearance, a glass guitar does not have an advantage over a wooden guitar, though the sound is a bit different.
"It's an electric guitar. They, basically, sound the same. [The glass guitar] is a luxury product," Morningstar says. "But the sound of a glass guitar is "a little bit different."
"It's more sustained than a wooden guitar," Morningstar, who has played guitar for more than 15 years, says. A glass guitar's sound has a "very subtle" difference to the sound of a wooden guitar.
Check it out for yourself: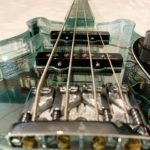 Glass Bass Guitars
He has also started making glass bass guitars. He says they are available on his website.  Every guitar, electric or brass, has a stainless steel plate on the headstock with his name and logo. There are no signs of a glass acoustic guitar just yet.
Image source: Morningstar Glass Guitars
Where to Buy Morningstar Glass Guitars
Since starting Morningstar Glass Guitars in August 2020, Morningstar has begun guitar lessons again himself to improve his skills.
Morningstar grew up in Cincinnati, and moved to Florida with his wife, Cayla, after college when she started a job in Gainesville.
He obtained a position as a biologist but was laid off in 2017. He obtained another position in early 2020, but COVID soon followed resulting in another lay-off.
That's when he got the job working at a glass shop. He says the manager of the shop had been in the glass business for many years, and he learned a lot from him.
Morningstar is grateful for the opportunity to work for himself and has no plans to return to a career in biology.
"I can't plan what happens, but I'm just putting myself out there and slowly growing [the business] into whatever it will become," Morningstar says.
Morningstar's glass guitars can be purchased on his website, morningstarglassguitars.com.
Please note, this article may contain links to Amazon products. As an Amazon Associate, Glass.com earns from qualifying purchases.