Tree sap can be one of the messiest, most difficult substances you'll ever have to remove from your car's windshield. It's a breeze to remove, though—IF you're using the right product. We'll show you what to use (and not use) to get your windshield crystal-clear with the least amount of effort.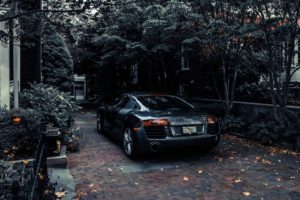 If you're not fortunate enough to park your car in a garage, you know all-too-well the toll that nature takes on a freshly detailed vehicle. This is especially true if you're forced to park under overhanging trees. Within less than 24 hours, a newly washed car can resemble something that looks ready for the wrecking yard. This happens quickly during certain times of the year when trees are losing leaves, releasing pollen, or worst of all, dripping tree sap.
What is Tree Sap?
I
t's important to know what tree sap is to find out which products best remove tree sap. Simply put, tree sap can be thought of as a tree's "blood." It transports nutrients throughout the trunk and branches. Alternatively, you can think of sap as the "honey" of the tree world. It's nutrient-rich with high amounts of stored energy. And in the case of maple trees, it's edible and delicious!
Tree sap is made from two components—xylem and phloem. Xylem is comprised of water, minerals, and hormones. Phloem is the product of photosynthesis and contains sugars. Phloem is the part that causes big sticky droplets to form.
What Trees Produce the Most Tree Sap?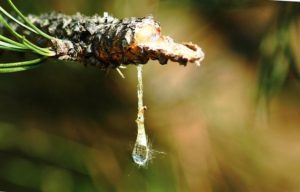 If you park your car outside when you're at home, or even at work, or out running errands, you can minimize the risk of tree sap dropping on your car by avoiding certain species of trees. Whenever possible, you should avoid parking under any trees at all. Trees overtop of your car increase the amount of debris that can fall on your vehicle. In the worst-case scenario, a branch could fall and crack your windshield.
If you must park your vehicle underneath trees, try to steer clear of these sap producing trees whenever possible:
Maple trees
Walnut trees
Birch trees
Oak trees produce the least amount of sap. The trade-off is that they have acorns, which can dent your car's hood, roof, trunk lid, and other horizontal surfaces.
What Time of Year Do Trees Produce the Most Sap?
Tree sap typically is most prevalent during the spring when plants transport lots of nutrients as they come out of a long winter. Sap will be noticeable throughout the summer. Warm temperatures allow the sap to flow more freely. As fall hits with cooler temperatures, the sap will thicken, and flowing will slow.
What Product Works Best to Remove Tree Sap?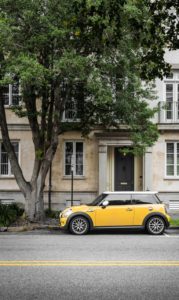 We know that tree sap is a sticky substance made primarily from sugars. For this reason, we'll want to stick with a product that's good at dissolving. Here's a list of some of the many products people typically use to clean tree sap from their vehicle's glass:
Store-bought bug remover
Store-bought tar remover
Store-bought clay bar
Soap and water
WD-40
Mayonnaise
Bacon grease
Murphy's Oil Soap
Here's the secret weapon against removing tree sap:
Rubbing alcohol. That's right, rubbing alcohol.
How to Use Rubbing Alcohol to Clean Tree Sap From Your Car's Exterior Glass
Clean your windshield or other exterior glass using an ammonia-free high-quality glass cleaner for starters. This will help remove any dirt and debris, lessening the chance of scratching the glass when you remove the sap.
Use a new razor blade to scrape off as much of the sap as possible. It's essential to use a new razor blade to ensure there is no rust on the metal. Rust can scratch the glass. Spray a small amount of glass cleaner on the area to help lubricate the blade, so it slides easily across the glass.
Dap a small amount of rubbing alcohol onto a clean cloth and hold it against the sap spot for 60 seconds. This will allow the alcohol to soak into the sap and make it easier to remove.
After 60 seconds, use the same spot on the towel to buff the area. This should remove a majority of the sap.
Turn the cloth and dap alcohol onto a clean portion of the cloth. Buff the area again with this clean portion.
Repeat this process until the tree sap is gone. Depending on the amount of build-up, it may take a few rounds. It may also take vigorous rubbing, but be careful not to use an excessive amount of pressure. It is glass, after all.
Clean the windshield again once the sap has been removed. This will help remove any remaining sap residue and rubbing alcohol.
Keep in mind that alcohol has drying properties. Be careful not to use too much. You don't want it to drip and come in contact with rubber or plastic trim pieces.
Check Glass.com's Info Center for other great glass care tips. Do you have suggestions for removing tree sap that we didn't mention, or have you had success with the method we recommend? Leave a comment and tell us about your experience. Keep in mind, if you need your windshield replaced, Glass.com® lets you instantly compare quotes from companies in your area. See one you like? Book with them online, hassle-free.
Please note, this article may contain links to Amazon products. As an Amazon Associate, Glass.com earns from qualifying purchases.