Windows are an essential part of our homes and vehicles, letting in light and offering views of the outside world. From providing privacy to blocking harmful UV rays, window tinting is a versatile solution for both your home and your vehicle.
Whether you're seeking cooler interiors, more privacy, or protection from UV rays, your search for "window tint near me" is the first step towards a solution. This blog post will guide you through your local window tinting options and explain how to make an informed choice.
Understanding the Importance of Window Tinting for Home and Auto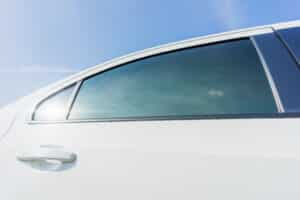 Window tinting, whether for your home or automobile, provides a number of benefits:
UV Protection
Window tints can block up to 99% of UV rays, safeguarding you, your car's interior, and your home furnishings from sun damage. Prolonged UV exposure can be detrimental to your health and can cause damage to your belongings.
Energy Efficiency
Residential window tints can significantly reduce heat gain and decrease your home energy bill. This happens because the window tint reduces heat gain in the summer and heat loss in the winter. It can also increase your vehicle's fuel efficiency by relying on the air conditioning less. Check out our blog for other tips for keeping your vehicle cool in the summer.
Glare Reduction
Tints reduce glare in your car, which can make it safer to drive, and in your home, making it more comfortable to watch TV or work on a computer. The window tint can also reduce heat spots in your home caused by sunlight streaming in through windows, making some rooms hotter than others. Tinted windows can make your home's temperature more consistent.
Privacy and Security
Window tints can enhance privacy and may deter potential intruders who can't see inside your car or home. You can protect your home or car without sacrificing natural light. The window tint may also help keep you safe during an accident or natural disaster. The film can sometimes hold shattered pieces of glass together, preventing injury from flying shards of glass.
Knowing these benefits can help you make an informed decision when looking for "window tint near me."
Why Local is Better: The Advantages of 'Window Tint Near Me'
Choosing local providers offers several benefits. They are conveniently located and often have a better understanding of local preferences and regulations. Supporting local businesses helps boost the economy in your area. When you search "window tint near me," search engines use your location to show you nearby businesses.
Key Factors to Consider in Your 'Window Tint Near Me' Search
While navigating through the options your "window tint near me" search has generated, consider these key points:
Reputation and Reviews: Customer reviews provide insight into a business's service quality. Look for high ratings and positive reviews.
Range of Services: The best tinting service should offer a variety of options for both residential and auto tinting.
Expertise and Experience: Ensure your chosen provider has ample experience and any necessary certifications or licenses.
Price: While you may be tempted to choose the cheapest option or go the DIY route, remember that quality and durability often come at a higher price. Quality tints installed professionally tend to last longer and perform better.
Legal Considerations
Laws and regulations regarding window tinting vary from state to state, particularly for automobiles. Restrictions may apply to the level of tint (measured in VLT%, or Visible Light Transmission) and which windows can be tinted. Your local "window tint near me" service provider should be well-versed in these local regulations to ensure your window tints are within legal limits.
Maximizing Your 'Window Tint Near Me' Search
Getting the most out of your "window tint near me" search involves more than just typing the phrase into a search engine:
Leverage Search Engines: Review the websites of the top results. Pay close attention to the types of services they offer and their pricing.
Use Maps and Review Sites: Google Maps and review websites like Yelp can provide additional insights into a business's reputation and service quality. Tools like Google Maps will list the hours of operation and contact information.
Evaluate Services: Once you've shortlisted a few options, consider visiting their physical locations, if possible. Check for professional certifications and business licenses.
Maintenance and Care for Your Window Tints
After having your windows tinted, it's crucial to maintain them to ensure their longevity. Avoid using abrasive cleaning tools or harsh chemicals that may scratch or damage the tint. Ammonia-based cleaners can degrade the tint over time by discoloring it or causing the tint to peel. Instead, use a soft cloth or sponge with a mild, non-ammonia cleaner. Theses are general guidelines. Always follow the manufacturer and installer's directions.
Your journey to find the best "window tint near me" for your home and car begins with understanding the benefits of window tinting, recognizing the advantages of local services, and knowing how to select the right service provider. Armed with this knowledge, you'll be well-equipped to choose a service that best suits your needs.
Did you find this guide helpful? Do you have an experience or query about "window tint near me" to share? Please comment below! If you found this guide useful, don't hesitate to share it with others who might benefit. Stay cool and drive safely!
Please note, this article may contain links to Amazon products. As an Amazon Associate, Glass.com earns from qualifying purchases.