Safety is one of the most important—if not the most important—features you look for when buying a new vehicle. Fortunately, the automotive industry has made great strides and continues to develop enhancements and technologies that make vehicles safer every day. Glass is playing a big part in many of these developments.
Advanced Driver Assistance Systems
More and more modern vehicles are being designed and built with what's known as Advanced Driver Assistance Systems (ADAS). These systems, which can be either OEM or an aftermarket add-on, are designed to offer driver guidance and assistance. They are intended to help increase both car and road safety, alerting the driver to potential problems and helping them avoid collisions. Features can include adaptive cruise control, collision avoidance systems, and smartphone connectivity, among others.
ADAS is a fast-growing segment in today's automotive electronics industry, and next-generation technologies will begin to incorporate wireless network connectivity to offer car-to-car/vehicle-to-vehicle and car-to-infrastructure data.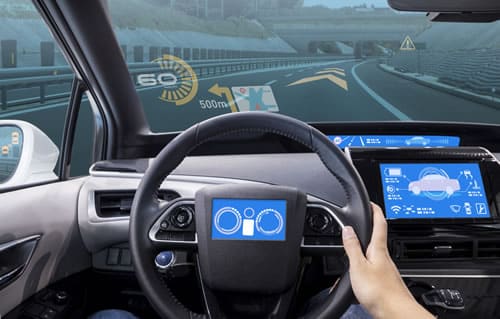 ADAS features fall within these four categories:
Adaptive: These systems can change depending upon the surrounding environment.
Automated: These systems are able to control and perform functions that a driver is unable to do safely.
Monitoring: These systems make use of features such as sensors and cameras to observe the vehicle's area or location and determine if a change is necessary. An example is a blind-spot monitor, which can be found on the vehicles side view mirrors.
Warning: These systems are designed to alert the driver to possible problems that could cause injury to passengers.
Where Does Glass Fit In?
Glass companies are also involved in developing technologies that can make vehicles safer. You might know the name "Corning" from some of the glass bakeware you have in your kitchen. But what you might not realize is that the company also produces a wide assortment of glass products that you probably use every day. Corning manufactures what it calls Gorilla Glass, a strong, ultra-thin, lightweight material that's used as the face of many electronic products, such as smartphones and tablets. In addition to such electronic devices, there's also an increasing interest and many opportunities for the automotive industry to use Gorilla Glass to create cleaner, safer and more connected cars.
In fact, in 2017 Corning unveiled its glass-enabled concept car at the Consumer Electronics Show (CES). If you're not familiar with CES, this is THE place to see some of the coolest, most innovative electronic technologies.
Corning's concept vehicle incorporates its ultra-lightweight Gorilla Glass for Automotive, resulting in an overall lighter-weight vehicle. The reduced weight can help improve a car's acceleration, handling and braking performance. In addition, it can also mean improved fuel efficiency and lower carbon dioxide emissions.
And because of its strength and durability, Corning says this special glass can also mean 50 percent fewer windshield cracks and replacements. Plus, the glass is much more optically clear compared to traditional automotive glass. This means brighter windows that can help provide even bigger viewing areas. That will be a big plus in ensuring today's windshields are ready for future developments and capabilities.
On the Inside
Whenever you take your eyes off the road, even only for a moment, it increases the likelihood of an accident. With that in mind, heads-up-display (HUD) technologies are becoming more and more common on vehicles and continue to evolve to help increase safety. HUD features project images onto your windshield that you'd normally see by looking down toward the dashboard. The displayed information can include speedometers and navigational indicators, among others. HUD provides a way to help you keep your focus on the road ahead, so you don't have to look away. Images can appear in the windshield glass or projected in augmented reality using the curvature of the windshield glass.
But even if your vehicle isn't equipped with HUD, don't worry. There's an app for that. A number of mobile applications are available that you can download to your phone. Once you've selected and downloaded the app, place the phone with the face up toward the dashboard. The GPS on the phone will allow it to display the information onto the windshield.
But Nothing is Perfect
One of the challenges in a typical HUD concerns a driver's nominal height. For example, if someone is shorter or taller, or even if they choose to sit very high or low in their car, there's a chance they could experience display distortion or double imaging, also known as ghosting. Windshield technologies are advancing, however, to help eliminate this problem. Think of your windshield as a glass sandwich—a plastic interlayer material between two pieces of glass. A new type of interlayer option is now available that's made specifically for these complex windshields. The interlayer material is used to widen the range of a driver's height. This allows them to have a clear HUD image.
What if My HUD Windshield Cracks?
If you find that you're in need of a windshield repair or replacement, you'll need to take a few additional steps due to the HUD. Heads-up display polarizes the entire windshield, which means the replacement will be more expensive compared to a traditional windshield. Be sure and inform your auto glass technician about the HUD features to make sure the new windshield is installed properly.
Taking Care of Your Car's Glass
Safety is one of the most important features in vehicles, and technology is helping make cars and trucks increasingly safe.
Many developments tie directly to the vehicle's glass. Working with a reputable shop when the time comes to repair or replace your windshield is critical. Glass.com can help. Use our auto glass locator service to find an auto glass technician in your area, and book your windshield repair or replacement today.
Please note, this article may contain links to Amazon products. As an Amazon Associate, Glass.com earns from qualifying purchases.