Preparing Your Home for Hurricane Season
Hurricanes have ravaged many different areas in North America over the past decade. Severe weather has brought the United States Hurricane Sandy, Hurricane Harvey and Irma, Hurricane Michael, and many other tropical storms. These storms cause property damage and death, and injury to those who were not able to evacuate. Yet, it seems there are still some Floridians and residents of other southeast and gulf-coast states who have not completed the proper steps to fortify their homes. With hurricane season upon us, this leads to the question: How can you prepare your home for a hurricane?
What are the Building Codes Requirements for Hurricanes in Your State?
First, let's take a look at building code requirements. These requirements set the minimum construction requirements for different localities. Different areas of the United States have different building standards for how they deal with hurricanes. For example, coastal regions of Florida have the strictest building codes. Their local government pushed their adoption since they are a hotspot for hurricane activity. Other areas have building codes, and some prioritize protecting commercial buildings so that the amount of damage can be minimized. The guidelines below are generalities. You should always check with local authorities to specify what building requirements must be met in your local area.
Florida Hurricane Building Codes
Florida building codes cover many different areas of preparation for hurricanes. For example, one requirement covering Florida is that some windows must be able to pass "large and small missile debris tests." This test launches debris of specific sizes at windows at certain speeds to simulate situations that hurricanes can produce. The coastal regions even require that buildings have impact-resistant windows and doors, hurricane shutters, or both.
Texas Hurricane Building Codes
The coastal regions of Texas have a requirement that all door and window products must be hurricane impact tested, certified, and labeled.
Louisiana Hurricane Building Codes
Louisiana is the only state located on the gulf coast that has mandated similar building codes for residential and commercial building codes.
South Carolina and Virginia Hurricane Building Codes
Surprisingly, South Carolina and Virginia have some of the strictest building codes for hurricane-prone regions. Some of these requirements surpass those of Florida.
Hurricane Preparedness
In a survey done by Origin Global, they asked 1,000 Florida residents if their homes were prepared for hurricanes:
13.2% said they had installed the correct doors to handle this type of event
14.6% said they had an issue with roof protection.
18.9% had installed impact
30.9% said they had stocked up on emergency supplies to prepare
18.3% had storm shutters
50.2% had done none of the recommended measures to protect their home.
Hurricane season can be devastating, making it shocking to find that half of the surveyed group had no hurricane preparedness features.
Preparing Your House for a Hurricane
Windows
The first thing that might cross your mind when considering home protection is windows and doors. Having impact-resistant doors and windows that withstand up to 150 mph winds became required as part of Florida's building code in 2002. While impact-resistant windows are not necessary for the entire state of Florida, some regions require they be installed in every building.
Glass
You might be asking what an impact-resistant window is. An impact-resistant window should not shatter even when struck by debris flying at speeds up to 150 mph. Instead, it will likely crack but still hold together because of the shatter-resistant film covering both sides of the glass pane. It might even have a polyvinyl butyral layer in between the two sheets of glass covered by the shatter-resistant film to give it an even stronger hold to where it can withstand the 200 mph winds of a Category 5 hurricane. The shatter-resistant film helps to contain the glass so that it does not entirely shatter out of the frame and cause more damage to the area. The impact-resistant window is not only impact-resistant because of only the glass, but other parts of its architecture help to strengthen the window.
Frames
Impact-resistant glass is aided by the use of impact-resistant window frames. These window frames are constructed using aluminum, vinyl, or steel. Each frame type has different advantages based on the material it is made of. Deciding which type of window frame is right for hurricane conditions depends on what you want out of your window. Aluminum windows are suitable for an affordable, durable option but are not very energy-efficient and can have problems with corrosion depending on your climate. Vinyl windows are another robust and affordable option that is energy-efficient and provides many different aesthetic options for homeowners. Steel windows are the strongest and most durable option that will also last much longer than both vinyl and aluminum frames. Steel windows are much more expensive and can be prone to denting and rusting.
Sealant
Windows can not be fully sealed since they are designed to open, allowing water to enter through those cracks. Windows actually can start to leak if wind speeds are greater than 55 mph. During a hurricane, there is a chance that water may seep through the cracks, causing water damage to the inside of the house if your windows are not sealed properly. To prepare your home for a hurricane, you should have a window installation specialist complete the following:
Check your window frames for gaps or cracks. Fill or seal them with caulk or sealant.
Use flashing or another construction sealant around your window and door frames to halt water that might seep in through cracks.
Install shutters to keep water off both the window and the window frame.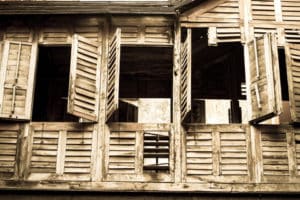 Shutters
Many different types of hurricane shutters can be used to protect both the windows and the doors of your home.
Professional Service
If you need a professional who can help prepare your home for a hurricane, or replace windows and doors that have been damaged by severe weather, use Glass.com's service to find a service provider in your area.
Please note, this article may contain links to Amazon products. As an Amazon Associate, Glass.com earns from qualifying purchases.