Just as automation and smart technologies are making their way inside homes,  some of these developments are also changing the way homes are constructed.  Today's construction workforce is struggling with a lack of skilled labor, so the answer to the question "who will build my new house?" might just be robots. Robotics in building is something the industry is seeing more of. Robots have been automating window and door manufacturing for several years. Similar technologies are now being applied to the installation of these products in modular homes.
Some studies go so far as to predict that by 2050 construction sites will be human-free. Imagine robots working in teams to build complex structures. We can also expect to see the increasing use of drones, as well as 3- and 4-D visuals and data from onsite machines.
This may all seem far-fetched and 2050 but seem lightyears away, but technology and innovation are developing rapidly. Whether a human-free jobsite will become reality we don't yet know, but we've already seen how modern advances are driving change in the glazing industry.
Robotics in Building
Emerging technologies such as robotics in building, digital printing, augmented (AR) and virtual reality (VR), artificial intelligence, voice-user interfaces, and other advanced digital processes will continue to play an increasing role in the design and delivery of homes. These buildings, among many others, such as offices and educational facilities, are becoming smarter. The same goes for a number of building materials, including windows and the glass in them. As these technologies evolve we can expect to see a shift in robotic autonomy on jobsites, including new home construction. For example, autonomously controlled bulldozers and site work leveling equipment is already available. For the window and glass installation segments, different types of handling equipment are available. Robotics in building can help limit how much an installer has to touch the glass, helping increase the level of safety on site.
VR Window Shopping
Digital technologies and innovations could also find their way into the homebuilding process. In fact, some homebuilders have begun exploring the use of VR to market their homes. Buyers experience the home as if it's already been built. With VR, you can walk through the rooms, opening windows and doors, and experience those surroundings. Homeowners and builders can discuss the plans and provide input and feedback before construction begins.
Automated Building and Manufacturing
Fewer workers in the homebuilding industry mean longer and longer construction times. In some cases, it's also led to higher home prices in some areas of the country.  Adopting some of these new technologies is one way to help address the challenges of finding and keeping skilled labor. In fact, the growing use of robotics and automation could even help builders become more productive. That opens the door to more pre-fabrication, meaning assembly is done in the shop, rather than onsite, reducing labor costs and production time. There are even companies entering the market offering a homebuilding package that covers everything from concept and design to fully-automated manufacturing and onsite assembly.
Some researchers believe that robotics in building eventually will replace up to 49 percent of the country's human construction workforce– that's around 2.7 million people. But tasks like glazing and door and window installation cannot be automated. There have been cases, though, of human window and door installers working alongside robots. Some companies in the modular housing industry, for example, build their homes on a robotic assembly line, and can produce about 40 feet of framed wall in about 11 minutes. Robots then cut the rough openings for windows or doors. After adding drywall, insulation and siding, a pneumatic gantry lifts the windows or doors, sets them in the openings and secures them in place.
Using Drones in Construction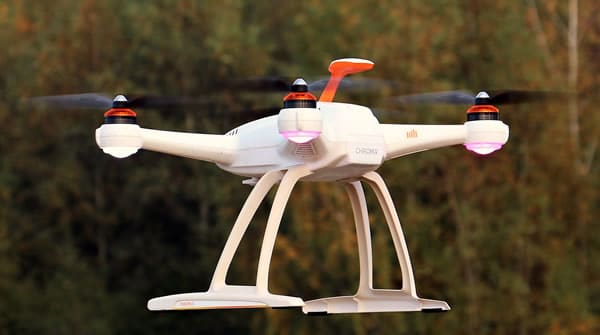 Drones have become one of the most popular items when it comes to holiday and birthday wish lists for kids. But these flying devices offer a lot more potential and opportunities than just entertaining your children.
In 2016 the Department of Transportation's Federal Aviation Administration finalized operational rules for commercial use of small unmanned drones. Also called unmanned aircraft systems or unmanned aircraft vehicles, drones have been a prospective tool for many areas of construction. Over the past couple of years, drones have been making their way into use by more and more homebuilders. Builders use these devices from the start, beginning with land acquisition and throughout the marketing of the building process. Drones can help builders and homeowners understand the topography and surrounding areas where the building and construction will take place.
The use of drones can allow a soon-to-be new homeowner to stay up-to-date on the construction process. These devices monitor progress, identify issues and inspect quality without having to physically elevate the structure. That's perfect for the hard to access skylights.
The Next 30 Years of Construction
It's interesting to think what jobsites will be like in the future. Robotics in building is just starting to use these technologies. Many are still at a price point beyond the budget of most builders, which means higher costs for the homeowner. Still, they do have the potential to change everything about the building industry we know today. Whatever the future holds, expect changes that will re-shape everything you think you've ever known about building a home.
Whether through robotics, virtual reality or other technological innovations, automation is helping increase productivity, reduce costs and improve quality.  This can be good news for you when thinking about building a new home or even just purchasing new windows. When you're ready, Glass.com can help you find window dealers and distributors that can guide you through the process.
And who knows … a robot could even help with the installation.
Please note, this article may contain links to Amazon products. As an Amazon Associate, Glass.com earns from qualifying purchases.