Choosing the best glass shower enclosure for your home can be tough. From the size and shape to hardware and etching designs, there are an almost endless number of options. We're here to make it easier for you to choose what's right for you.
While a transparent shower glass door looks sleek and helps a bathroom appear brighter, sometimes you want more design in your life. An etched glass shower enclosure can be more than just decorative. It can also provide privacy. Here's are some top shower door glass etching ideas.
What is Glass Etching?
First, it's important to know what glass etching involves so that you understand the process and costs associated. Etched glass is the result of a series of small cuts made to the glass, by acidic, caustic or abrasive substances.
The cuts normally appear white against the glass. This process can form patterns or images. Etched glass is made by sandblasting, acid etching, using glass etching cream or even mold etching. In this process, a mold is made with the design or image created in relief and molten glass is poured into the mold and left to cool.
Etched Shower Glass for Added Privacy
Frosted shower glass is a great option if you want privacy in the shower. Frosted glass allows light to pass through, but is optically cloudy. It's created by sandblasting or etching. As a result, you can choose to have the entire enclosure frosted, or just a strip through the middle of the glass. You can really get creative with the etching design to suit your needs and taste.
Modern Etched Shower Glass Patterns
If you're looking to add a modern touch to your bathroom, then you can choose a cool etched pattern for your shower door. For instance, the pattern could be something fun such as polka dots, elegant such as a lattice pattern or modern such as a geometric pattern. Stripes of different widths are another good way to add privacy while still allowing light into the shower. These patterns can be as opaque or provide as much frosted coverage as you like.
Classic Etched Shower Glass Design
If you're looking to elevate your bathroom with a classic feel then look no further than your shower door. An elaborate filigree etched shower door design can add that fancy touch you're looking for without having to overdo it with the wallpaper.
Nature Etched Shower Glass Design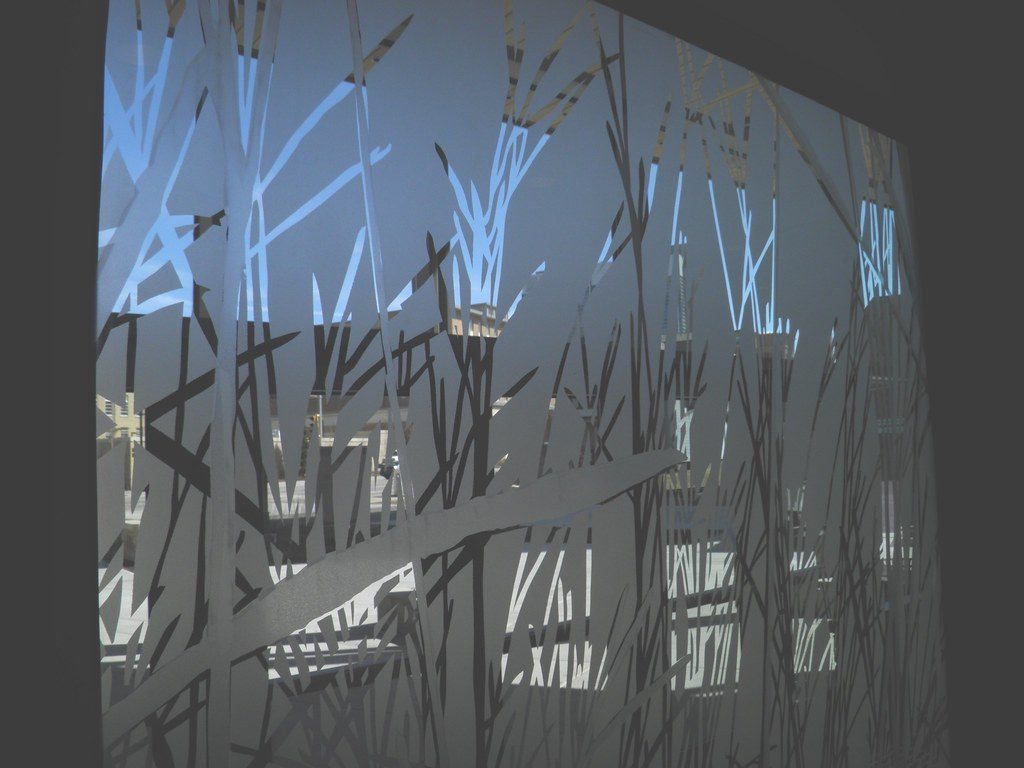 Nature is always in style and choosing a design such as flowers or trees for your etched shower door is sure to bring a sense of calm to your bathroom. You could opt for either frosted glass with a transparent design or transparent glass with a frosted design etched into the glass. You could also choose a design based upon flowing water or the texture of stone. It's all up to you.
Custom Etched Shower Glass
Another great etched shower glass option is a custom design. If you want dandelions or a world map etched into your glass shower door then you can have it done. However, the more custom, complex and large the design, the more it will cost. In other words, there is more work and time that goes into etching a custom design into the glass.
Who Do You Hire for Etched Shower Glass?
Many glass and mirror shops will have a selection of different glass types for you to choose from in their showroom. Frosted glass is most likely one of the options because it's popular. For custom etched designs you'll want to find a reputable company that specializes in shower glass etching because they'll be more familiar with the process. How do you find one of these companies? Glass.com® is the best place to start. We have many informational resources to help you choose what kind of etched shower door glass enclosure is best for you and who's best to create it and install it.
Other Considerations
Once you go over your design and are ready to choose your company, make sure you get a firm idea of two things: cost and timing. This is because you definitely don't want your bathroom being tied up for a long period of time. Therefore, you should ask exactly how long it will take so you can be prepared and manage expectations.
More Information
If you're interested in learning more about glass shower doors and other types of glass then you should check out the Glass.com Info Center. In the market for a new etched shower door?
Please note, this article may contain links to Amazon products. As an Amazon Associate, Glass.com earns from qualifying purchases.