"Shortly after I moved into an artists' loft in Cleveland my car was broken into. My neighbors told me it was common. You see broken car glass everywhere in the city. That's when I started collecting glass," says Deanna Dionne, owner of Cleveland Street Glass.
Dionne makes artisan jewelry from pieces of broken auto glass that she finds around the city. Cleveland Street Glass began as a fun summer project. It was a way for her to turn the crime against her property into a beautiful work of art. The jewelry became popular in the Cleveland area, and now she works on her art full time.
"I love making people see beauty in a negative, ugly act of violent crime. This was someone's actual property. It once had value. I'm reclaiming it and adding value back into it. I think that's very powerful," she says. "Victims can wear the pieces as a display of fortitude, something to stand up to the invisible perpetrator they are powerless against."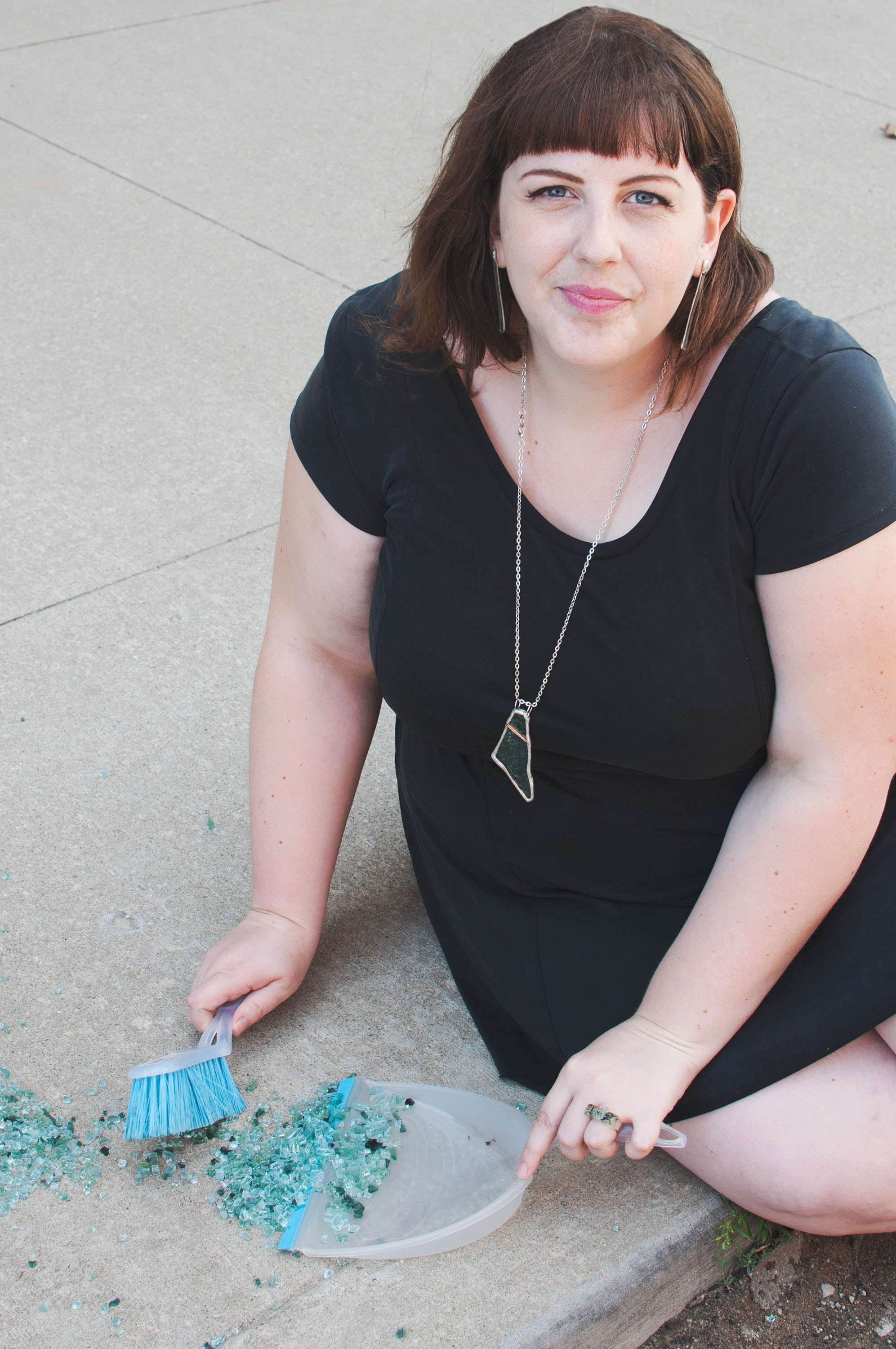 Dionne always wanted to work with glass, and was drawn to the way it glimmers in the sun. She starts by cleaning debris, such as cigarette butts and dirt, from the glass. She uses both larger and smaller pieces in her jewelry and treats them with resin to harden the cracked pieces. To create rings, she mixes tiny pieces of broken glass with resin.
"I'm fascinated by the glass every day," says Dionne. "I love to look at the glass and analyze its color and shape. It's interesting to see which pieces are thinner or thicker, or which have rounded edges. I've found glass with rear window defrost lines. I've even found an entire window on the ground, cracked but held together by window film."
She explains that people often request specific shapes, such as the state of Ohio. However, Dionne prefers to use the glass as it looked after the break, without manipulating its shape.
"That's not pleasing to me. I can't make specific shapes. It's more inspiring to work with the glass and its chaotic, natural shapes," she says.
Luckily, she doesn't get cut too often when collecting glass from the Cleveland streets. Dionne says the criminals have to worry about that more. She sells her work at pop-up events and art markets. During her time there, she tells shoppers to keep the items in their car hidden to prevent car break-ins.
People are often surprised that her jewelry comes from broken auto glass. Dionne says that seeing that surprising response is fun and she enjoys letting people see the deeper meaning in her art.
"Metaphorically, the jewelry speaks to a larger story of finding positives within the negative, displaying resilience and how beauty exists in the broken," she says. "At times we may feel unrepairable, but the ability to embrace our scars and flaws is a powerful accomplishment. This jewelry serves as a reminder of self-acceptance."

Please note, this article may contain links to Amazon products. As an Amazon Associate, Glass.com earns from qualifying purchases.