This comprehensive guide to Volkswagen glass replacement will provide you with valuable information for your vehicle. It's essential to prioritize the maintenance and care of your vehicle's glass components. We'll discuss your Volkswagen glass replacement including windshields, back glass, sunroof glass, and door window glass.  Read on for important details every Volkswagen owner should know to ensure safety, functionality, performance, and longevity.
Importance of Glass Maintenance
Ensuring Safety and Structural Integrity
Well-maintained glass components can contribute to the overall structural strength, helping to protect occupants during accidents.
Properly functioning glass may help prevent roof collapse in rollover incidents.
Optimizing Visibility
Clear and well-maintained glass ensures maximum visibility, reducing the risk of accidents and improving driving safety.
Any chips or cracks within the sweep of windshield wipers on the driver's side may qualify for a full replacement.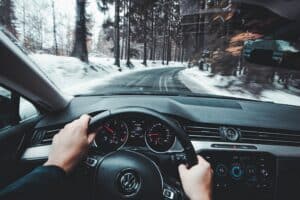 Volkswagen Glass Replacement – Windshield
Maintenance and Regular Inspection of Your Windshield
Regularly clean the windshield to remove dirt and debris.
Conduct routine inspections for chips, cracks, or scratches, and address them promptly.
Assessing for Windshield Repair or Volkswagen Glass Replacement
Extensive cracks, severe damage, or damage reaching the edge of the windshield may require complete replacement.
Certified technicians evaluate the damage to determine the best course of action. To determine if the damage qualifies for a repair, the technician will follow the Repair of Laminated Auto Glass Standard (ROLAGS™) set forth by the National Windshield Repair Division.
Expert Windshield Replacement
Skilled technicians carefully remove the damaged windshield and install a new one using high-quality adhesives, ensuring a secure fit and optimal performance. Follow the technician's guidance on how long to let the adhesives cure before driving.
Volkswagen Back Glass Replacement
Common Causes of Back Glass Damage
Accidents, vandalism, extreme weather conditions, or faulty defroster grids can lead to back glass damage.
Regular Maintenance and Inspection
Routinely inspect the back glass for cracks, chips, or scratches.
Ensure the defroster grids are clean and in working condition.
Professional Back Glass Replacement
Expert technicians handle the removal and installation of back glass, ensuring precise fitment and proper sealing.
Calibration of defroster grids and electronic components may be necessary after replacement.
Volkswagen Sunroof Glass Maintenance and Repair
Common Sunroof Glass Issues
Leaks caused by worn-out seals, clogged drain tubes, or shattered glass.
Malfunctioning mechanisms hindering proper opening, closing, or tilting of the sunroof. These issues are best suited for a mechanics shop, not a Volkswagen glass replacement shop.
Effective Maintenance and Repairs
Regularly clean the sunroof glass and inspect for signs of wear or damage.
Cleaning drain tubes and lubricating mechanisms can prevent common sunroof issues.
Skilled technicians diagnose and repair complex sunroof problems, ensuring optimal functionality. Not all glass shops service sunroofs, so be sure to call ahead to check.
Volkswagen Window Glass Maintenance and Repair
Proper Window Glass Maintenance
Keep windows clean and debris-free for smooth operation.
Regularly inspect window seals for damage or deterioration.
Addressing Window Glass Issues
Malfunctioning window mechanisms or damaged glass may require repair or replacement.
Experienced technicians assess the problem and perform necessary repairs or replacements.
With Glass.com, finding an experienced glass shop to handle your Volkswagen glass replacement is quick and easy! Using the free quote tool, you can look up Volkswagen glass replacement prices for glass shops in your area. Input your zip code and vehicle information and see what glass shops are close by and their price quotes.
By prioritizing your Volkswagen glass replacement with timely replacement of glass components, you help ensure both safety and performance. 
Proper maintenance and replacements of glass components are essential for your Volkswagen's safety, functionality, and aesthetics. Follow the recommended maintenance tips, promptly address any issues, and seek professional assistance from certified technicians. 
With well-maintained and expertly replaced glass, you can enjoy a Volkswagen that provides a clear view and optimal protection on every journey.
Please note, this article may contain links to Amazon products. As an Amazon Associate, Glass.com earns from qualifying purchases.