When something goes wrong with our vehicles, we often have a tendency to put off the fix for as long as possible. Just thinking about the potential cost and inconvenience a fix may cause can have that effect. But when it comes to a cracked windshield, a fix can't come soon enough. In fact, the low cost and quick convenience element may actually surprise you.

Glass.com Operations Manager, Daniel Snow and industry expert Bob Beranek discuss the importance of a strong windshield from a safety perspective
The First Step
While smaller windshield chips can often be repaired, it's likely that a larger, more distinct break will require a replacement (though a crack can sometimes be repaired if it's 14 inches or less and out of your field of vision). A trained technician will be able to determine that. Either way, it's important to get the crack taken care of as soon as possible. Driving with a cracked windshield is not only dangerous, it is also usually illegal. Plus, cracks have a tendency to spread, which can further limit your vision of the road and compromise the structural integrity of the vehicle.
Why Fix a Cracked Windshield?
There's a crack in your windshield. What's the big deal? Aside from a slight annoyance in your view to the road, and the potential for a ticket if law enforcement notices, you may think a crack in your vehicle's windshield is something you can put up with for another day, another week or longer. However, you're actually playing a dangerous game.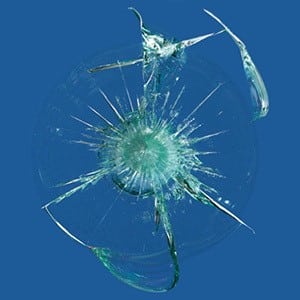 What seems like minor breakage can affect the structural integrity of your windshield.
This can be risky for many reasons. First, if the strength of the glass is compromised, you may be more likely to sustain injuries from broken glass in a collision. Second, the windshield provides structural support to the vehicle and may not perform properly in the event of a roll-over accident. Other factors to be considered include improper airbag deployment or even the possibility of you or a passenger being ejected through the windshield in a major collision.
Visual impairment is also a critical aspect of a broken windshield.
You could assume that a slight defect in one small area of your windshield is nothing to be concerned about, but it is hindering your view on the road. If something or someone were to quickly appear on the road and happen to be in the blind spot the crack has created in relation to your viewing angle, it could spell disaster. And, cracks can expand over time, and what may have been a minor crack that could have been repaired by a technician could later be a major crack that requires a more costly complete replacement of the windshield.
Do-It-Yourself (or Not) Windshield Repair

Why Not DIY?
When it comes to repairing that chipped or cracked windshield, if you're anything like me, a self-proclaimed DIY'er, your first thought may be to go down to your local auto parts store. They'll offer low priced repair kit, and you can spend a Saturday afternoon fixing the damage in your windshield. I enjoy working on cars and learning new skills, so why not? Well, one thing I've learned about working on cars over the years is when to do it myself, and when to leave it up to a professional.
I may know how to paint a car, but 10 times out of 10 I would rather pay a pro to do it for me. Why? They will know how to prep the car (for a smooth finish), have the right environment (to cut down on contaminants), tools (for better quality), skillset (practice), and wisdom (insights that come with time). With a paintjob being the most visually prominent feature of a car, it will be well worth my money to have the job done right the first time.
Leave It to a Pro
Believe it or not, filling a chip or crack in a windshield is exactly the same, albeit on a smaller scale. I've seen the results of a DIY chip kit and they aren't pretty—much like backyard paint jobs. Air bubbles, raised bumps, and chips that look like they weren't repaired at all are common. That's because a cheap repair kit is just that—cheap. And it's usually done outside in an open air environment. Professionals will either be working inside their shop, or mobile units will sometimes use a covering system to cut down on contaminants entering the resin during the repair process. Techs also know how to prep the damage properly so that the resin fills the chip fully. The tools and repair kits used by professionals can cost upwards of $3,000. They have special vacuum features to eliminate air bubbles and give a smooth finish. Plus the technician has the practice from having completed possibly hundreds of repairs. Because of this, they will know how long the repair resin needs to cure based off of temperature and UV light- knowledge that comes with experience.
What does all this mean in the end? If done by a reputable shop, it should mean a proper repair. Your car's windshield might not have the same visual impact to others as its paint job, but it makes a visual difference to you as a driver. Repairing a chipped or cracked windshield not only helps keep the damage from spreading, it also helps to ensure the safety of you and others.
Repair Pays Off
The best part? Repairs usually don't cost much more than a DIY kit, especially when you factor in your time. If you need more than one repair, many shops will discount additional repairs. Most won't even require you to leave your home or business to have the repair done—they will send a mobile unit right to you. When booking through Glass.comlook at a company's profile page to find out whether they offer mobile, in-shop service, or both. Check to see if they display the NWRA badge too. This indicates they are registered with theNational Windshield Repair Association which means they are held to high repair process standards. So leave this one up to a pro. You'll be glad you did.
Finding a Shop
Your Options
Many glass shops offer mobile service, so no matter whether you're at home, work or out and about, a mobile unit will come right to you so you won't be forced to drive an unsafe vehicle. The skilled technician will have you back on the road as soon as safely possible. If you're able to safely get the vehicle to a nearby shop, they'll be able to handle the replacement in-house as well.
Professional auto glass repair and replacement businesses throughout the U.S. offer both in-house and mobile services, so search for a shop near you at glass.com to get rid of that windshield crack today.
Please note, this article may contain links to Amazon products. As an Amazon Associate, Glass.com earns from qualifying purchases.