Mirrors, mirrors, on my wall, who is the fairest retailer of them all? What I mean is, where is the best place to purchase a mirror? There are a few options and what's "best" will depend on what type of mirror you're seeking. So in addition to talking about the best place to purchase a mirror, we'll also need to talk about the different types of mirrors available.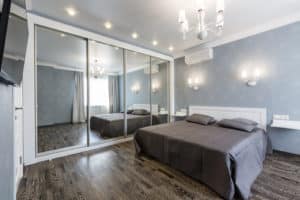 Custom Mirrors
Here at Glass.com, we're "glass people." We appreciate when glass is used to create things out of the ordinary. This is to say that we get you—you don't want the typical cookie-cutter square or rectangular mirror. You don't want to go down the street to the local big-box retailer and buy a cheaply-made mirror. Instead, you want your home to be unique and reflective of your tastes so that you can "wow" people when they see the mirror in your living room, dining room, or office. Whether you want the mirror to be a centerpiece or just a subtle "pop," we have options for you.
Customed Framed Mirrors
Framed mirrors are nice, but custom-framed mirrors can take these pieces so much further. Instead of small, flimsy frames, you may opt for a robust, ornate frame or a frame that's made from a unique material such as machine-turned stainless steel or black walnut wood.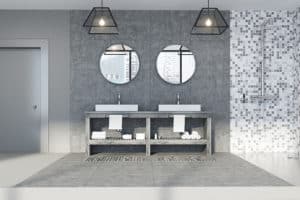 Custom Mirror Shapes
In addition to the framing, the mirror's glass can be customized as well. Size and shape are limited almost only by imagination and budget. Glass shops are able to cut mirrors with curves, angles, and irregular-length sides.
Custom Mirror Finishes
The glass can be further customized by adding an antique finish. Over time, mirrors "de-silver" or lose their silver backing. This typically is found on older mirrors as the reflective backing wears off over time. This look can also be achieved using special techniques in order to make new mirrors look old.
Another option for adding a custom finish is sandblasting. Sandblasting can etch intricate patterns or lettering, which will remove the silver backing and leave only the glass. To take it a step further, some people add LED lights to backlight the etchings and create a cool effect. It is a spectacular look.
Custom Commercial Mirrors
This blog is about home mirrors, but we couldn't resist the urge to touch on commercial mirrors too, just to be all-encompassing. Commercial mirrors typically are the large floor-to-ceiling types that you might see in a dance studio, gym, building lobbies, or shopping centers. These oversized mirrors are not only larger than what is found in most other applications, but they are much heavier as well.  The extra weight will require special mounting hardware and skilled installation teams.
Oversized commercial mirrors should be installed by experienced commercial glazing contractors only. They have the correct tools, equipment, and know-how to ensure that the mirrors are installed safely and remain mounted securely to the wall. There have been instances when these oversized mirrors have been installed by inexperienced contractors using inferior mounting methods. The mirror later fell on someone, cutting and injuring them. The store itself was then sued for medical compensation. This is why it's so important to choose a qualified glazing company.
 Buying Custom Mirrors
Where can you find custom mirrors for sale? Your local glass shop is likely the best option. They'll be able to work with you, hand-in-hand, to ensure that the mirror is customized to your desires. Some online companies can customize and ship mirrors. However, keep in mind that glass is fragile and heavy. These factors can make shipping custom mirrors cost-prohibitive. The other drawback to ordering mirrors online is that if the mirror is not correct the first time, you may have to ship the mirror back so that corrections can be made in order to meet your specifications.
Installing Custom Mirrors
Keep in mind that mirrors should be installed by professionals. Even if your mirror is shipped to you, you'll still want to hire a glass company to complete the installation. As we mentioned in the example above where the commercial mirror fell on a customer, mirrors need to be installed properly in order to avoid future accidents that result in injury.
How to Find a Local Custom Home Mirror Fabricator and Installer
Glass.com has a network of glass shops across the country. Some of these are full-service shops that specialize in mirror fabrication and installation. If you're looking to add a custom mirror to your home, contact Glass.com. We'll help you locate a glass shop near you that can customize the perfect mirror for your home and complete the installation.
Please note, this article may contain links to Amazon products. As an Amazon Associate, Glass.com earns from qualifying purchases.