How to Find Auto Glass Replacement Near you
For most people, auto glass replacement is not something they need to worry about on a regular basis. In fact, most people only get a chipped or cracked windshield once every eight years, on average. So asking where to schedule an appointment for auto glass repair is a reasonable question. And that question doesn't stop with just windshield repair- it includes all other types of auto glass repair too.
Auto glass repair can include replacing back windshields (called backlites), side windows (called sidelites), quarter glass (called, you guessed it, quarterlites), sunroofs, side view mirrors, and sliding rear windows. Some auto glass shops may also be skilled in windshield repair as opposed to replacement. For safety reasons, it's imperative to know what windshield damage requires replacement rather than repair.
Where to Buy New Auto Glass
Most people turn to their local auto glass location when they need windshield repair or replacement services.. Some shops provide comprehensive glass repair and replacement services, while other shops solely provide auto glass replacement services, or solely auto glass repair services. 
There are even companies that only offer mobile auto glass replacement services and do not have brick-and-mortar locations. These mobile companies will come to you to replace your windshield wherever and whenever it is most convenient. Most brick-and-mortar shops also offer mobile service. Many companies offer free local mobile service included in their price.
Quality Over Price
When looking for auto glass replacement, quality is important because your windshield plays an integral role in your car's safety. In the event of an accident, the windshield helps to maintain structural integrity and keep occupants inside the vehicle.
Poor windshield replacements can lead to safety concerns. Therefore, you should seek to have the highest quality replacement possible. Some auto glass replacement companies offer lifetime warranties on their work. This can be an indicator of a high quality auto glass replacement company.
Auto Glass Replacement Cost
When looking at cost, know that some insurance company policies will cover auto glass repair. You'll want to consult your policy specifically to determine what's covered. Sometimes insurance companies will only pay for aftermarket glass, and not Original Equipment Manufacturer (OEM) glass. Other times policies may only cover auto glass repairs and not full replacements, or vice-versa.
Nearly all glass shops can work with your insurance provider to get your vehicle back on the road quickly and safely.
If your insurance policy doesn't cover auto glass replacements and you need to pay out of pocket, don't despair. Most auto glass replacement prices are reasonable, with the average cost being around $300. However, cost will depend on your specific vehicle and its options.
Find the Right Company to Replace Your Auto Glass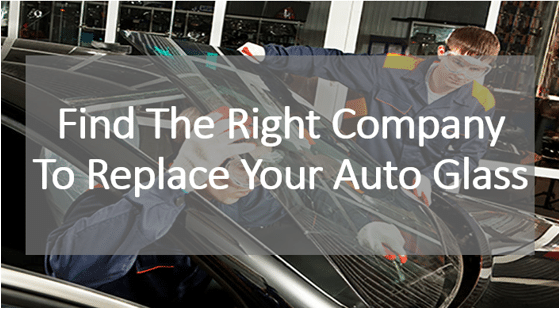 If you find yourself in need of a windshield replacement, you want to be sure to find the right company to do the job. Many consumers don't realize that the windshield is an important part of a vehicle's safety system, and a proper windshield replacement is crucial to occupant safety.
The Role a Windshield Plays in Your Safety
The windshield serves as a part of the vehicle's occupant restraint system and it can be as important to your car's safety as its brakes are. It supports the vehicle's roof (and keeps it from caving in in the event of a crash) and helps contain occupants inside of the vehicle.
Because of this, you want to make sure you find an auto glass company that will replace your windshield safely and properly so that the windshield does its job in the event of an accident.
Advanced Driver Assistance Systems and Auto Glass Replacement
Speaking of safety, vehicles equipped with advanced driver assistance systems (ADAS), will need to have those systems recalibrated after an auto glass service. ADAS equipment can include features such as lane keep assist, automatic cruise control, auto-dimming headlights, and more. Many of these systems use cameras and other sensors mounted inside the windshield.
Small changes can cause the ADAS devices to function improperly. Therefore, they must be recalibrated after a windshield replacement. Some auto glass companies have the equipment and training necessary to complete recalibrations. Other times, it might be necessary for them to contract the work to a calibration company.
Get Connected to Auto Glass Replacement Technicians Through Glass.com
How to Find a Reputable Auto Glass Replacement Shop
If you do not already know of a reputable glass shop in your area, the internet is a great place to start. Glass.com offers the ability to search for shops that serve your zip code. If there are shops in your area, you will be able to view instant price quotes for your specific vehicle and book with the shop right then and there.
Glass.com also lets you know which companies are members of the AGSC, an important safety organization for the industry. Once you have booked your service, the shop will call you to finalize the appointment, taking the leg work out of your auto glass replacement search.
How to Order Auto Glass Replacement Services
The next time you need replacement glass, be sure to visit Glass.com for a simple and convenient way to find a shop in your area and receive an instant price quote for your car's glass.
Booking is simple. First, input your zip code. Next, enter the type of vehicle you drive—including year, make, and model, along with the part of the vehicle's glass that was damaged. Click "Get Free Estimates" and we will show you shops in your zip code that offer auto glass replacement.
From here, you can book with the shop of your choosing. No credit card or payment information is required.
The proper installation of your windshield is crucial to your and your passengers' safety. You want to be sure to find a company that values this safety when your windshield is replaced.
Please note, this article may contain links to Amazon products. As an Amazon Associate, Glass.com earns from qualifying purchases.