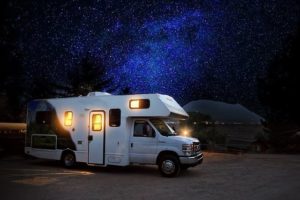 Road tripping in a car is easy. You don't have to put much thought or effort into planning your food, fuel, or rest stops. That's not the case when it comes to driving or towing a vehicle over 30-feet long. One wrong turn could leave you in a very tight spot with no easy way to get back out again. You might even block traffic and create a jam. The best-case scenario is humiliation—the worst case is causing an accident.
Just the other night, I was delivering an item by trailer to someone down the road. I asked ahead of time if there was space to turn my trailer around. He assured me he had a wide-open yard with plenty of room to swing around. It sounded perfect—no need to even back up! However, when I arrived at what I thought was his house, there wasn't an inch of room to swing a trailer around, and I had to back the trailer out of the quarter-mile driveway at night. What I thought would be a quick dropoff turned into a grueling, time-consuming task.
It turned out my GPS had taken me to his neighbor's house. That was one of the worst wrong turns I could have made. Eventually, I arrived at the house with the open field. The moral of the story is to always do your research ahead of time, but be sure to double-check it too.
Parking an RV in Public
If your next destination is a long way away, you'll probably need to stop to rest or at least use the bathroom. There are a handful of places that RVers typically frequent when stopping on long trips. Here's a list of a few places where you can typically count on seeing other RVers:
Rest Stops
Obviously, rest stops are a common one. They provide a quick and easy way to get off the highway and park your rig—no detour necessary. There's usually one section for passenger cars, and another section with larger parking spots for RVs, motorhomes, and tractor-trailers. Check signage to determine whether overnight parking is allowed.
Casinos
Casinos may seem like an odd place to take a break in your RV, but these establishments are typically eager for more guests and don't mind you taking up space in the parking lot. Be sure to call ahead to find out what type of parking is available. Some casinos only have parking decks and might not have room for oversized vehicles.
Walmart
Walmart is known for being road-tripper friendly. Taking an overnight break in the back corner of the parking lot is typically okay as long as you're not in anyone's way. Plus, it's a great place to stock up on food and other essentials. Be aware that locations that previously allowed RV parking may not allow it any longer. Many stores have recently changed their rules. It's always best to call ahead to confirm.
Cracker Barrel
Cracker Barrel is similar to Walmart in that it is known for being RV-friendly. Plus, it's a great spot for a hot meal.
Cabela's
Cabela's typically has large parking lots with plenty of room for RVs. If you're heading to the backcountry, this can be a great stop for supplies.
Camping World
Camping World sells supplies for campers and RVers, so it's natural that they would be RV-friendly.
Costco
Costco is a great stop for stocking up on supplies. Plus, their gas is typically discounted for members.
Sam's Club
Sam's Club is another great spot for stocking up on supplies.
For all of the locations listed above, it's always a good idea to call the locations ahead of time to ensure that overnight parking is allowed.
Parking Your RV at a Campground or National Park
This would appear to be the most straightforward place to park your RV, but that's not always so—especially in peak travel seasons. Campgrounds and RV parks can sometimes be booked months in advance, so you'll want to plan as far ahead as possible to ensure you have a spot. It's always best to have a reservation whenever possible. At the very least, you should at least call ahead of time to assess how many sites are open. Don't assume that there's room for you. Also, keep in mind that some campsites, especially national parks, have size restrictions. Be sure to ask about this to ensure your RV isn't too large.
However, if there is room, it's an easy task. You'll check in at a gate or check-in station, be assigned a campsite number, and be given directions to that site. Once you find it, you just have to park! Sites will typically have water and electric hookups, and either a concrete or gravel pad to park on.
Parking Your RV in the Backcountry
Parking on Bureau of Land Management (BLM) or national forest land requires a bit more research. The upside is that it's free and typically more private. The downside is that it can be more difficult to find information. For example, you probably won't know ahead of time whether or not a campsite is full.
Start your research by visiting the website, such as blm.gov, of the land where you want to camp. Determine where the campsites are located, which are suitable for RVs, and if any are currently closed. You'll probably want to use RV-related websites, such as message forums, to determine if your RV is a suitable size for the campsite and what conditions are like. There's plenty of information out there; you just need to do some digging to find it. By doing the leg work on the front end, you'll save yourself hassle on the back end.
Parking Your RV in the City
Just because you're traveling by RV doesn't mean you have to stick to the less-beaten path all the time. Believe it or not, parking an RV in the city can be done. It might be a tight squeeze sometimes, but if you plan your route correctly ahead of time, it can be a lot of fun too. Here are a few places you might be able to park your RV in order to explore a new city:
Urban campgrounds
City parking lots
Fairgrounds
Parks
How to Park Your RV
Where to park your RV is the easy half of the equation. The other half is actually parking the RV. The park where you have to physically maneuver your motorhome, travel trailer, or 5th wheel into the parking space. The best approach? Practice, practice, practice.
Practice Parking Your RV
We don't mean practicing at the campsite. One of the first things you should do after you purchase your RV is to find a large, open public parking lot and set up some cones or markers.
You should do this each time you acquire a new RV because each one will handle differently. For example, motorhomes will back up similar to a car—you turn the wheel to the passenger side and the vehicle backs to the passenger side. This isn't the case with trailers, which react in the opposite manner. Also, small trailers take less steering input than larger trailers, which appears to make them more difficult to back up.
Begin your practice by backing the motorhome or trailer in a straight line. This isn't as easy as it sounds—you'll need to adjust the wheel side-to-side to keep the back end straight. It might not take as much input as you think, so start slowly. If you're backing up a trailer, a good trick for remembering which way to turn the wheel is to grip the bottom of the steering wheel. From here, if you turn the wheel to the driver's side, the back of the trailer will turn towards the driver's side.
Next, place the cones to simulate the size of a campsite parking area. Practice backing into the space until the movement is smooth. Start by picking a point of reference and using this as your turn-in point for backing into the spot. Be sure to give yourself plenty of room when pulling forward, before starting to back up.
When centering yourself in the spot, consider that you'll need room for your slide-outs, awnings, hookups, and other access points. Don't be afraid to get out and look. It's typically easier to back into a spot once you have a clear, first-hand visual of where you need to go.
At many campsites, there may be a power station or water hookup at the end of the parking space, so be sure not to back up too far. You might even have trees, landscaping, or other campers to navigate around. This is why it's so important to practice in an empty lot—there's a lot less pressure. Once you've parked enough times, your muscle memory will begin to take over and the onlooking eyes of other campers won't even make you break a sweat.
Spotter vs. Alone
Alone
Some campers travel alone. If this is the case for you, it's imperative that you use the GOAL method to Get Out And Look. Backup cameras can be a great asset as well, but shouldn't be relied upon completely as they can still create blind spots. Always assess the spot before beginning the back-in process, and get out to evaluate periodically. Keep in mind, there might be children or animals at campsites that you won't see—installing an audible backup alarm would be a good accessory.
Spotter
There is a clear advantage of traveling with someone else—you have a spotter! The spotter is responsible for guiding the driver into the campsite by directing them either verbally or with hand signals. The spotter is able to walk around the RV as it is being backed up, so there is a lesser chance the RV will hit something it shouldn't, and a greater chance it will end up parked in the correct spot.
Just like with a backup camera, it's always a good idea to double-check using the Get Out And Look method, even if using a spotter. Here are some helpful tips for working effectively with a spotter:
Communication is key.

Hand signals can work great as long as both people can see each other. This might not work in all situations.
If you prefer to communicate verbally, use cell phones, or walkie-talkies to communicate directions. This is easier than yelling back and forth

Decide on terminology (or hand signals) and stick with it.

"Left" and "right" become meaningless when someone is inside the vehicle, and someone is outside the vehicle. Use more specific terms such as "driver side" and "passenger side" when guiding.

Both the driver and the spotter should know how to back up the RV.

If you know how to back up an RV, when you're the spotter, you'll have insider knowledge on how to give better directions.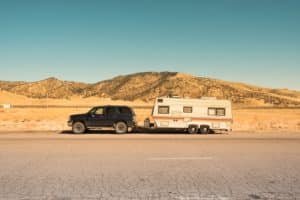 RV Window Replacement
If parking your RV, motorhome, camper, fifth-wheel, or travel trailer didn't go exactly as planned, you might have caused damage to your RV. If that's the case and your RV has suffered from a broken window, don't worry! Glass.com has nationwide glass replacement services available for all types of RVs. Simply use Glass.com to request replacement services and get back on the road quickly.
Please note, this article may contain links to Amazon products. As an Amazon Associate, Glass.com earns from qualifying purchases.