Shower doors are an essential piece of your bathroom that can help bring your at-home oasis to life. But with a variety of shower door options to choose from, how do you know which is best? This blog will not only show you different shower door options, but it will also highlight a few options for handicap accessible bathrooms.
Shower Door Basics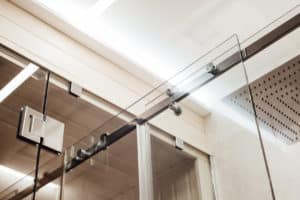 Shower doors have evolved over the years and can now range from framed to semi-framed, and even frameless doors installed in your bathroom. It is important to review the allotted space in your bathroom with your installer when you are discussing different shower door options. If the framed – to frameless shower door options just aren't what you had in mind, think about exploring some of the options below with your Glass.com professional shower door installer:
Bypass Shower Door – these are sliding doors that are reminiscent of patio doors, because they operate in the same way. Bypass shower doors are made up of two sliding glass panels that roll back and forth on tracks attached to your shower enclosure. This type of shower door can be used on stand-alone showers, as well as shower doors that are mounted on a bathtub in combination tub and shower enclosures. Bypass shower doors are best for bathrooms that don't have room for a hinged shower door.
Hinged Shower Door – this option has a glass panel that opens by swinging outward on pivoting hinges. This option can be seen in other areas of a home as well such as bedroom doors. Your Glass.com shower glass professional may also inform you that the door hinge can be attached to a stationary glass panel or the wall. This type of shower door is best for larger bathrooms with small to medium-sized shower enclosures.
Pivot Shower Door – this shower door option allows the door to open in both directions, as it is a swinging door that has a pivot hinge. The hinge allows the door to swing 180° so these types of shower doors can open inward or outward. Professionals will mention the pivot hinge can be attached on one side of the door, or it can be center-mounted to create a revolving shower door, which can give your bathroom a custom look and feel. This type of shower door is best for large shower enclosures where space is not an issue. You'll need to be careful though, because some building codes do not allow inward swinging doors.
Bath Screen Shower Door – this option is also called bi-fold or tri-fold shower doors. They consist of several glass panels, one fixed to another one with the remaining panels folding on hinges. This type of shower door is best for bathrooms with minimal space, or those seeking a non-traditional look. Again, it's best to check your local codes before choosing this type of door.
Steam Shower Doors – are intended to be completely sealed from the floor to the ceiling. If you choose this option, your shower can also serve as a personal steam room. Typically, these shower doors are made with solid glass panels and have a hinged door that has an air-tight seal built in. This type of shower door is best for those who want a spa-like experience in their bathroom.
Making Your Shower Accessible to All
If your needs require a more accessible shower, you should consider discussing possible additions to your shower. Glass.com shower professionals may recommend adding railings, grab bars and a folding bench inside of your shower.
However it is important to note that all handicapped-accessible bathrooms in public spaces must abide by the current Americans with Disabilities Act (ADA) accessibility standards. This includes allowing enough room for a wheelchair to have access into the shower. In order to meet the ADA accessibility standard, shower doors must have a clear width of 32 inches from the face of the door to the opposite stop. This allows a wheelchair to fit within the space.
Grab Bars in Your Shower
If grab bars are something you'd like your shower glass professional to install, be sure to remember a few items from the ADA. It recommends two bars be installed on the back wall, with one being 8 to 10 inches from the rim of the tub and the other being parallel to it, 33 to 36 inches from the base of the tub.
Shower Seat/ Shower Benches
A shower seat or bench is intended to make bathing safer for anyone who has trouble standing for long periods of time. Typically the standard measurement from the back to the front of the seat is between 15 and 16 inches, which is encouraged by the ADA.
Shower Glass Options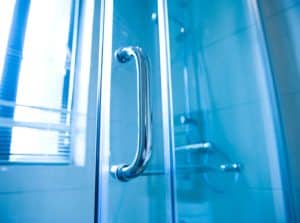 While you're deciding which shower door will best fit your needs with your Glass.com professional installer, you should also be aware of what glass is available to be used. There are two types of glass options available for shower doors – they are laminated and tempered. Currently, shower glass professionals are encouraged to use tempered glass because if it breaks, there are smaller pieces versus large pieces of glass.
Choosing What's Best for Your Shower
Now that you've explored some of the different options available for shower glass doors, including a few tips on handicapped accessible options, you are hopefully more confident when speaking to your shower door glass professional. If you're wondering where to find a reputable installer, look to Glass.com when you're ready, and we'll help pair you with one who will help make your shower glass door best fit your needs.
Please note, this article may contain links to Amazon products. As an Amazon Associate, Glass.com earns from qualifying purchases.