We all do our best to avoid animals on the road (or even flying around the roadways) but sometimes it happens. You don't see the animal in time to avoid it, or you see it but know it would be dangerous to swerve, and your windshield ends up broken.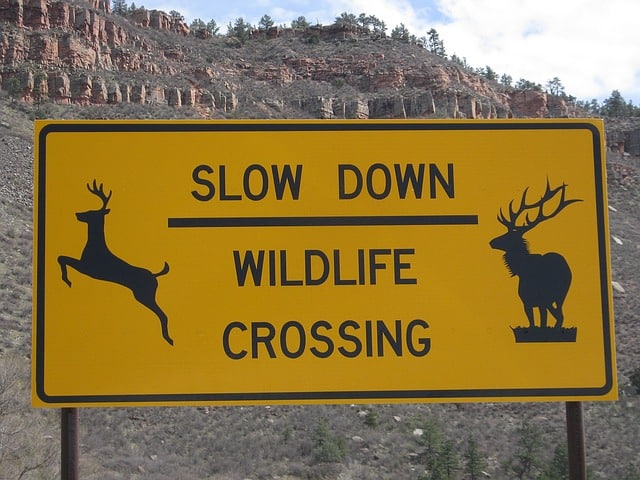 We often see stories in the news about freak occurrences of contact between animals and windshields—some stranger than others. And often, these result in broken glass that needs to be replaced. Other times, they simply result in a funny—or even scary—situation.
A Bunch of Wild Turkeys
Wild turkeys are often seen in the news after hitting vehicles. A recent Indiana report noted three of these cases in the same area in recent months. They suggest the reason is simple: mating season. Male turkeys and females are searching for one another, not paying much attention—and then boom. Why did the turkey cross the road? Maybe to get to another turkey—not to hit your windshield. But unfortunately it sometimes happens. And, when it does, the inertia created by these heavy birds can cause a great deal of damage to the windshield.
A recent report detailed the tale of a tractor-trailer windshield that was hit by a flying turkey. Luckily the driver and turkey both survived.
Turtles, Really?
While turtles generally move much more slowly than turkeys (and have a tendency to stay low to the ground), it happens to them as well. On occasion they end up in the center of a windshield, causing massive damage. Recently, a turtle crossing a roadway was hit by a vehicle and propelled into the windshield of another vehicle. Fortunately, the turtle somehow survived the freak accident, according to the news report. The windshield did not. It was smashed and had to be replaced.
And Ponies Too …
We probably see even fewer ponies than we do turtles on the road, but a United Kingdom couple's vehicle was struck by a pony, causing the windshield to "explode," according to a news report. The couple believes the pony was running from a dog. The pony sadly met its end as a result of the collision, as did the windshield.
Hoot, Hoot
A Connecticut driver recently had a bizarre run-in with an owl that flew into his windshield, according to a local report. The owl was injured and "disoriented" by the crash. It is unclear from the report how broken the windshield was.
A Falcon Hitches a Ride
A couple traveling near San Diego in January picked up an unusual passenger on their windshield—a falcon. The fowl attached itself to the vehicle's windshield wiper and rode there for 20 minutes, according to a local report.
It turned out the falcon was a pet and was used to human contact. The windshield wasn't broken, and the hitch-hiker eventually returned home.
Snakes in the Car
Of course, anyone would welcome a falcon on their windshield compared to what another person found sneaking out of their vehicle in Australia in January—a red-bellied black snake. According to the local report about the incident, a woman was driving when the snake climbed out from under her vehicle's hood and was visible through the windshield. Thankfully, the driver was able to remain calm enough to slow down and pull over—while her even calmer daughter filmed the incident. Again, the windshield remained intact—but it's likely the driver's nerves did not.
Seal Shatters Windshield
Another Australian family had an encounter with a different, tamer animal—a seal—who caused a lot more damage on Christmas 2016. The day after Christmas, the family discovered that a large fur seal wandering around town climbed onto its vehicle and shattered its windshield, according to a local report. The seal, comically referred to as "Lou-Seal" in the report, also dented the car's roof.
The Most Common Occurrence: Deer Breaking Windshields
It is much more common to hear about deer hitting vehicles and breaking windshields (or being hit by vehicles), but the deer usually are stopped by the vehicle. Recently, however, a Texas driver ended up with a deer as a passenger, according to a local report. The deer was crossing a road and ran into a car and ended up in its back seat. Thankfully, the driver wasn't hurt but the deer was killed in the incident.
Deer hit vehicles—and are hit by vehicles—daily, but it's rare that they end up as passengers.
Has It Happened to You?
So, has your vehicle ever had a strange encounter with an animal? Or just an ordinary one? And did your windshield make it through? Let us know in the comments box, and we will send you a can of the best glass cleaner in the world for your trouble.
Click Here
What Now?
If you have struck an animal—or animal has struck you, or if a stray seal has climbed onto your vehicle and broken the glass (however unlikely that may be), or a turtle … or … you get the picture—then what's next? You likely need a windshield replacement.
There are many quality auto glass businesses out there available to replace your windshield. Check out the Glass.com auto glass service locator today to find a shop to replace your windshield. We have affiliate shops all over the United States ready to replace your glass when needed, whether an animal strikes your vehicle or something else causes the glass to break.
Please note, this article may contain links to Amazon products. As an Amazon Associate, Glass.com earns from qualifying purchases.