The short answer is yes, a cracked windshield can shatter. But there are several factors involved, and realize that using the word "shatter" may not be entirely accurate. Windshield glass is laminated, meaning it consists of two layers of glass with a thin plastic film between the layers. You may have heard it called "safety" glass, as its construction prevents the glass from breaking into more dangerous shards. It usually breaks into smaller pieces.
A cracked window screen has the potential to grow as the glass expands and contracts due to temperature fluctuations, pressure applied to the glass, an object striking the glass, or dirt introduced to the crack. Any of these factors could worsen the crack – which has already weakened the glass – and cause it to "shatter."
But even if the glass does shatter, the likelihood of it collapsing into your vehicle or onto your hood, is unlikely. Windshields are held in place with strong urethane adhesives, which prevent leaks, noise and movement of the glass. Also, because the glass is laminated, the entire windshield generally won't separate from the frame.
This doesn't mean it's safe to drive with a cracked windshield. Even a small crack on glass means your windshield's structural integrity has been compromised, which means it is now a safety hazard to you and your passengers. Even if the crack or chip is small, it's important to have it checked out. You'll need a qualified auto glass technician to help you determine if the glass can be repaired or if it should be replaced.
Is It Safe To Drive With a Cracked Windshield?
Driving around with a cracked windshield is never a good idea be it for a long, or even short, period of time. When a crack happens it is best to start seeking out a reputable auto glass company sooner rather than later. You want to ensure the safety of you and those riding in your vehicle, and the windshield is an integral part of that safety system.
Chip or a Crack?
A windshield crack is different than a chip which can often be repaired. There are many forms of windshield damage though you'll most often hear "chip" or "crack." A chip is a general term that refers to small damage on a windshield, whereas a crack of damage is a distinct line that runs across the windshield. Check out more information on how to determine if a repair or replacement is necessary. Can a crack be repaired? Sometimes if it's 14 inches or less and not in the driver's field of vision. A trained repair technician will be able to judge if a repair will affect the vehicle's operation. In that case, he or she will recommend a replacement.
Don't Wait to Replace
If you have determined there is a crack that must be replaced, don't wait around wondering how long you can drive with your cracked windshield. One of the most common problems with small cracks is that they tend to grow. Temperature plays a role here also, as changes can cause the glass to expand and contract. The crack creates a weak point in the glass, so why wait to get your windshield replaced?
How Long Does it Take for a Windshield Crack to Spread?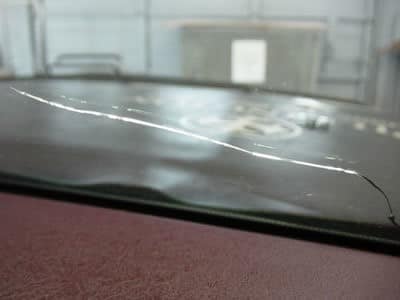 Moisture and Temperature
Your windshield is a glass sandwich—two pieces of glass with a layer of plastic in between—which means there's room for moisture to get inside. When water gets through the crack it can weaken the entire windshield. If it's cold enough, that water could also freeze, which could lead to even more cracks. Likewise, extreme temperature can also impact how quickly the crack spreads. Can your windshield crack from cold? It's possible. Cold temperatures cause contraction—even in glass—and if it's cracked or chipped the added pressure can cause further damage. The sun can also make the crack or chip worse, as it can increase the temperature of the windshield, causing the crack or chip to expand.
Dirt
Dirt can get inside the glass sandwich, which again can weaken the windshield. A temporary solution is placing clear tape over the crack until it is fixed. This doesn't obstruct the view and can help keep dirt out.
Bumps in the Road
As much as you try to avoid bumps and dips in the road while driving, sometimes they can't be missed. Unfortunately, this, too, can stress the windshield and cause cracks to spread. There may not be a specific length of time it takes for a crack to spread across the windshield, but the longer it's there the more likely it will grow.
As soon as you notice the crack or chip, the best plan of action is to take it into an expert right away. You'll find qualified technicians near you through Glass.com who can handle your windshield repair or replacement.
Please note, this article may contain links to Amazon products. As an Amazon Associate, Glass.com earns from qualifying purchases.