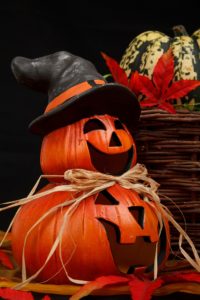 It's that time of year again—when the weather starts to cool, leaves change color and ghosts and skeletons come out to play. But the spirit of Halloween shouldn't leave doors and windows looking spooky.
With the holiday season ramping up, decorations are sure to make their appearances. But as much fun as it can be to hang up lights and festive décor, using the wrong methods can ruin the appearance of doors and windows after their removal. Chipped paint, sticky residue, cracks and holes are all casualties of holiday spirit gone wrong.
As Halloween approaches and homeowners get an itch to stick or nail goblins and monsters over their doors and windows, there are a few do's and don'ts to follow to avoid damage.
Door and Window Decorating Do's
String, Fishing Line, and Zip Ties:
Whether it's hanging spiders, skeletons, or colorful lights, string and fishing line are great ways to hang things without creating any holes or adhesive residues. Fishing line is virtually invisible and fairly sturdy making it an ideal candidate for hanging decorations without distracting or breaking. Also, not only can string serve as a decoration holder, but it can also be the decoration itself. Find creative ways to tie colorful strings to doorknobs or the corners of the door. For a cheap, easy-to-use, durable option, zip ties are an excellent choice and can be found in different colors to match the rest of the decoration's theme.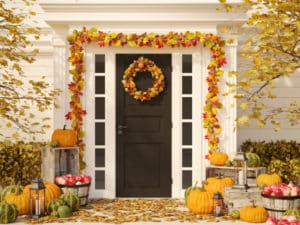 Over-the-Door Hooks:
Wreaths provide an additional inviting effect to a beautiful door and are a versatile decoration that can be used for multiple holidays, whether as a spooky Halloween-styled wreath or a non-spooky Thanksgiving theme. Over-the-door hooks are a fast, easy, and safe way to add some festivity to a door although it is a good idea to add some felt to the back of the hook to prevent it from scratching or marking a door finish. Suction or putty hooks are another option that can be used on glass doors making for quick and clean maintenance. The only issue is these can be less reliable for staying put; try spritzing a small bit of water on the area before sticking it in place to better help it stay.
Removable Self-Adhesive Hooks:
Another popular option is self-adhesive hooks that provide the option of damage-free removal. These can be used inside or outside and to create focal points for seamless decorating. Be sure to keep in mind how much weight you plan to put on them though. Most hooks can't hold more than 16 lbs.
Other Possible Decoration Options:
A few other options that can prevent scuffing, peeling, or ruining doors and windows include creative ideas for decorations that don't need to be hung or placed on the door and window at all. This can be anything from doormats to inflatables to large standing decorations. And of course, for Halloween, pumpkins are a must. They can be used in a variety of creative ways, carve them, paint them, put lights in them or use them as weights to stabilize a scarecrow.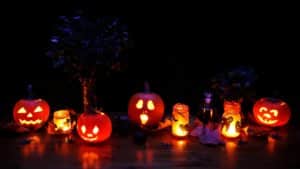 Door and Window Decorating Don'ts
While there are so many options for damage-free decorating, there also a few "never do's" to watch out for as well.
Never Use Nails:
If there is one thing that will ruin a door, it's nails. Putting a hole in anything is not only going to take away from aesthetic appeal, but it can also decrease performance. Holes can lead to further cracks that allow the outside to creep in, lowering the energy efficiency of a home and leaving permanent and unsightly damage. So unless you are planning on replacing your doors or windows soon after, nails or staples are a definite "don't."
Stay Away From Tape:
Something that almost every manufacturer and dealer agrees on includes the need to stay away from using tapes or adhesives on doors—at all costs. Even though it might be believed that duct tape can fix anything, the truth of the matter is, it can cause serious damage to some finishes. It can leave behind difficult-to-remove residue or peeled paint. The same goes for glass. Adhesive residue can be stubborn—fogging up the clarity or leading to scratches while trying to remove.  There are enough alternative means for hanging decorations to merit staying away from the tape.
Enjoy the Festivities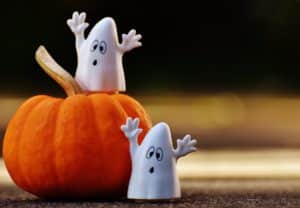 Having a festive and decorative home for the holidays doesn't have to come at the cost of damage. With these tricks and treats, holiday enthusiasts are free to go crazy to their hearts' content without going crazy after the festivities trying to fix damages. And if there are any ways that you decorate without risk of damage that we didn't mention, share in the comments below.
Happy decorating, folks! 
Please note, this article may contain links to Amazon products. As an Amazon Associate, Glass.com earns from qualifying purchases.