Home Window Tint: Is It Worth It?
Adding tint to the windows throughout your house likely isn't on the top of your home improvement list, but maybe it should be. Tinted windows can increase your level of privacy, minimize harmful UV rays, and may help save money on your utility bills.
Over time, the upfront costs might even be outweighed by your energy savings, making this a very economical upgrade. Let's dive into what you need to know about home window tint.
Types of Home Window Tint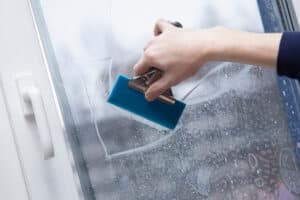 Tinting the windows in your house is a simple process and extremely customizable. Because
the installation process involves applying a thin film to your existing windows, you don't have to replace any glass or make major renovations. This easy home upgrade offers many benefits without sacrificing natural light.
Metallic or Dual-Reflective Window Film
Helps reduce UV light and glare, while simultaneously minimizing the view from the outside, making it more difficult for people to see inside your home.
Dyed, Pigmented, or Decorative Films
This option lets you add color while reducing glare, minimizing sun damage, and refreshing your home's look. Having a decorative film with a repeating pattern will also help to prevent birds from hitting your windows.
Ceramic Window Film
Ceramic is an excellent heat absorber, so it's perfect for improving your home's energy efficiency without reducing natural light. It can be on the pricier side.
Benefits of Home Window Tinting
Just like sunglasses, window tinting works by blocking or reflecting certain wavelengths of light and heat from passing through the glass. Most people immediately think of auto glass when they think of tinted windows, but more and more people are seeing the benefits of applying window film throughout their homes. Here are some of the top benefits of home window tint:
Reduce Sun Damage
Your home – and everything in it – is an investment. Although natural sunlight beautifies almost any space, prolonged sun exposure can fade furniture, carpet, and other floorings, leaving a distinct outline when you rearrange your room. Quality window films can filter out 90% or more of the
sun's harmful rays and reduce the damage to your furnishings. It can also help reduce the amount of UV rays your skin absorbs.
Improve Energy Efficiency
Don't have new top-of-the-line energy-efficient windows? Even a house with older windows can be made more energy efficient with a home window tint improvement.
Window film can help lower your summer cooling bills and prevent heat from escaping in the winter, so you stay comfortable without touching the thermostat. And if your home is susceptible to hot and cold spots, tinting windows that receive a lot of direct sunlight may regulate the temperature, helping make the overall temperature in your home more consistent while cutting down on glare.
Increase Privacy
Tinting your home's windows can add a level of privacy, especially if your home faces a public space or you have a large wall of windows where drapes or shades would be impractical. One-way or frosted-style privacy films allow natural light while making it difficult for others to see
inside your home.
How Much Does Home Window Tint Cost?
Tinting your home windows is an investment, but can be a relatively inexpensive home improvement project. You can purchase self-adhesive polyester window film for only a few dollars per square foot. But these are primarily for decorative purposes. Even these small rolls can be difficult to self-install. We always recommend professional installation.
Professional installation can cost around $10 per square foot, including materials and labor. The actual prices largely depend on the type of film and the size and number of windows to cover. A professional installer will be able to advise you on what kind of tint to install while keeping your specific needs and budget in mind.
The long-term savings may offset the upfront cost of tinting your windows. Not only can solar window film save you money on your energy bills, but you may also be eligible for an energy efficiency tax credit or rebate from your utility company.
It is possible to improve your home's value, energy efficiency, and privacy, and protect your furnishings without actually replacing your windows or spending a lot of money on renovations. Home window tint has a big impact on your home's comfort so you can relax and enjoy the view.
Have you added window film to your home's windows? If so, drop a comment below to let us know how you like the results!
Please note, this article may contain links to Amazon products. As an Amazon Associate, Glass.com earns from qualifying purchases.