As a proud Wrangler owner, Jeep windshield repair and replacement should be a key part of ensuring your vehicle is in top shape. The windshield is vital in ensuring your safety, protecting you from debris, and maintaining structural integrity. This is especially true for those who adventure offroad in their Jeep. Our comprehensive guide will provide valuable information on Jeep windshield repair and replacement such as:
The importance of windshield maintenance
The Jeep windshield repair process
When you should replace your windshield
The replacement procedure
Sunroof and window replacementLet's dive into the details every Jeep owner should know!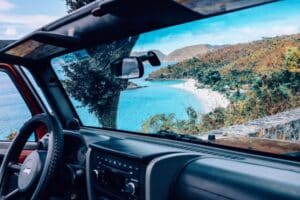 The Importance of Jeep Windshield Maintenance
Safety and Structural Integrity
A well-maintained and undamaged windshield can provide structural support to the vehicle during collisions by preventing the roof from collapsing in case of a rollover accident.
Protection from Debris
The windshield acts as a barrier against flying rocks, bugs, and other road debris, ensuring a clear view for the driver. A clean and undamaged windshield ensures optimal visibility, reducing the risk of accidents.
Jeep Windshield Repair
Occurrence
Jeep windshield repair may be required more often than on other vehicles including:
Utilitarian use: Many Jeep owners enjoy offroading on trails where rocks, branches and other debris are more common
Angle: Jeep windshields are mounted at a steeper vertical angle compared to most other vehicles. This can cause harder direct impacts to the glass when struck by an object. Rather than the object deflecting at a low angle, the impact may be absorbed by the glass more due to the upright angle.
Types of Damage
Chips: Small, localized damage caused by rocks or debris.
Cracks: Longer lines of damage that can spread and compromise the windshield's integrity.
Repair Process
Skilled technicians evaluate the damage and determine if the damage qualifies for repair. Technicians should follow guidelines established by the National Windshield Repair Division, called the Repair of Laminated Automotive Glass Standard (ROLAGS™).
Repair typically involves injecting a specialized resin into the damaged area, which is then cured and sometimes polished.
Repairs done in a timely manner can keep damage from spreading and prevent the need for complete windshield replacement.
When To Do A Windshield Replacement
Jeep windshield repair isn't always possible. Many times, a full replacement is the better option. This can be due to:
Extensive Damage
Damage that obstructs the driver's line of sight.
Large or deep cracks that compromise the integrity of the windshield.
Multiple chips or cracks that cannot be adequately repaired.
Damage to the Edges
Damage that reaches the edges of the windshield may compromise its structural integrity, necessitating replacement.
Damage Spread
Replacement is recommended if the damage has spread beyond repair or is likely to spread further.
Safety Sensor Interference
Advanced safety features like lane departure warning systems may require a windshield replacement and recalibration if damaged.
Jeep Windshield Replacement Process
Professional Assessment
Removal and Installation
The old windshield is carefully removed, ensuring no damage to the surrounding areas.
The new windshield is precisely installed using high-quality adhesive, ensuring a secure bond.
The adhesive requires a specific curing time, typically recommended by the manufacturer before the vehicle can be driven again. It's essential to follow the recommended curing time to prevent the windshield from shifting or leaking.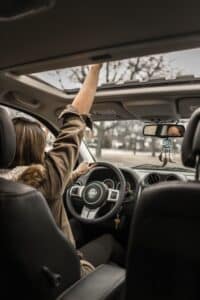 Jeep Sunroof Repair and Replacement
Common Sunroof Issues
Leaks caused by worn-out seals or (most often) clogged drain tubes.
Malfunctioning mechanisms due to damaged tracks or motors.
Repair vs. Replacement
Minor issues like seal replacement or cleaning drain tubes can often be resolved through repair.
Severe damage or motor failure may require complete sunroof replacement.
Jeep Back Glass Replacement
Causes of Damage
Accidents, vandalism, or extreme weather conditions can lead to shattered or cracked back glass.
Replacement Process
Technicians carefully remove the damaged glass and replace it with a new one.
The replacement glass is secured using specialized adhesives.
Calibration of the rear defroster and any other electronic components may be necessary after replacement.
 
Jeep Door Window Replacement
Reasons for Replacement
Damage from attempted break-ins, accidents, or malfunctioning mechanisms.
Worn-out weatherstripping that leads to leaks or air drafts.
Replacement Process
Technicians remove the door panel, disconnect electrical components, and remove the damaged glass.
The new window is installed and tested for proper functionality.
Weatherstripping is replaced if needed to ensure a proper seal.
Choosing the Right Glass Jeep Windshield Repair/Replacement Service
Certified Technicians
Look for technicians with expertise in handling Jeep windshield repairs or replacements.
Quality Materials
Ensure that the service provider uses high-quality windshields and adhesives that meet industry standards.
Warranty and Insurance Coverage
Opt for services offering warranties on workmanship and insurance coverage for any potential issues that arise after your Jeep windshield repair.
If you're in need of Jeep windshield repair services, we make it easy to find a reputable auto glass replacement shop near you, get an instant quote for the exact glass replacement service you need, and book an appointment. Many of our auto glass replacement affiliates even offer mobile glass installation services and will come to your home or business to perform the replacement.
Proper maintenance and timely Jeep windshield repair or replacement are paramount for your safety and the longevity of your vehicle. By understanding the importance of windshield maintenance, recognizing signs that indicate replacement, and selecting a reliable service provider, you can ensure optimal performance and protect yourself and your passengers on every Jeep adventure. Don't overlook the significance of a well-maintained windshield—keep your Jeep in top-notch condition for many years of off-road exploration and enjoyment.
Please note, this article may contain links to Amazon products. As an Amazon Associate, Glass.com earns from qualifying purchases.