Recently, Mercedes Benz USA issued a statement in which it "strongly recommends" that drivers who need to get a windshield replaced only use Mercedes Benz products. Why is that?
The automaker says glass made by other companies does not meet the exacting specifications of Mercedes Benz glass, adding that aftermarket glass often does not contain the same technology. These include things such as as solar glass coatings, which provide protection from the sun's rays and reduce heat levels inside the car. These also can optimize air-conditioning performance and improve fuel economy.
Mercedes says aftermarket glass also might not be as quiet as its Benz glass, either.
OE vs. Aftermarket: So What's the Difference?
It's important to know the difference between aftermarket glass and "original equipment" glass. Glass that was made specifically for Mercedes Benz is called "original equipment" or OE glass.
It was put in the vehicle by the car manufacturer during the manufacturing process.
Aftermarket glass refers to glass that's made for replacement purposes, usually by companies other than the one who first made the glass for the original car. It's often less expensive than OE glass, but it might not be the same quality or fit as well.
"To promote and maintain its rigorous standards of quality and safety, if a collision repair is necessary, MBUSA strongly recommends that all repairs be performed by a certified technician using only genuine Mercedes-Benz Parts," reads an excerpt from the company's six-page statement.
The Mercedes Benz position statement also provides guidance for recalibration of on-board systems and Advanced Driver Assistance Systems (ADAS), such as cameras, rain sensors, antennas and heating elements.
"Aftermarket glass often does not account for these complex electrical components and may interfere with your vehicle's electronic systems, or cause these electronic systems to not function properly," the company said.
ADAS systems are designed to increase driver safety, and while they were once considered futuristic, they're becoming more mainstream.
ADAS includes technology such as collision avoidance, surround view, lane-departure warning, cross traffic alert, park assist and heads-up displays, in which crucial vehicle data such as speed is  projected onto the windshield. That way, the driver doesn't have to look down as often.
A few years ago, ADAS was seen as an upgrade for higher-end vehicles such as Mercedes Benz (note the G-Wagon pictured below), but the technology is becoming standard in most makes and models. And the National Highway Traffic Safety Administration (NHTSA) is requiring ADAS to be standard in newly manufactured vehicles; for example, by 2018, all new cars must have rear-view cameras.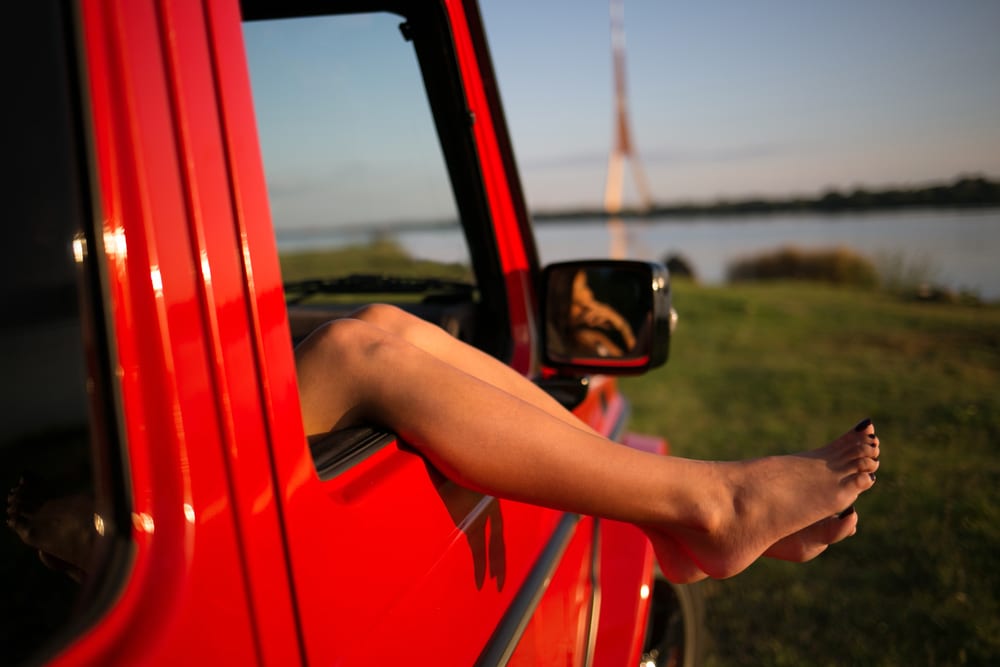 One thing is for sure: Expect to pay more for using OE glass in a Mercedes windscreen replacement.
Onboard Diagnostic Systems
The Mercedes Benz announcement also said that post-collision repair evaluations of model year 1996 vehicles with onboard diagnostics systems " … should have these systems evaluated using an up-to-date … diagnostics computer."
So what exactly is an onboard diagnostic system?
Onboard diagnostic systems allow the vehicle owner or repair technician to accurately diagnose any problems your vehicle might be having. The earliest versions were those red dashboard warning lights that would tell you to check your oil or remind you to disengage the emergency brake. Today, onboard diagnostics often involve computer chips and other high-tech touches, which allow the driver or a technician to rapidly identify and remedy malfunctions within the vehicle.
"Post-repair scanning and diagnosis of the vehicle is necessary to ensure that the vehicle's safety and driver-assist systems are operable and fully functioning," according to Mercedes Benz statement. "Many of the safety and driver-assist systems that may have been activated during a collision require vehicle calibration, normalization or coding. The post-repair scan will also help to ensure that a comprehensive repair has been performed."
Mercedes provides a number of examples of when ADAS will need to be recalibrated include:
Windshield replacement for vehicles with driver-assist sensors (including rain/light sensors) located in the windshield;
Vehicle collisions, regardless of the appearance of damage, and;
Removal and/or replacement of exterior components, bumpers, SRS sensors, parking sensors, driver-assist system sensors and cameras, wiring harnesses, vehicle control units, seats or interior trim panels.
Where to Go for Help?
You Mercedes Benz windshield is crucial to your safety, so if you think minimum damage just a minor annoyance, think again. A crack can compromise the strength of your windshield. That means you're more likely to be injured by glass in the event of an accident. Also, a cracked windshield has the potential to impair your vision, which can be a recipe for disaster on the highway.
Finally, the windshield supports your vehicle in the event of a roll-over incident. If the windshield is damaged, it can compromise the structural integrity of the roof, increasing the risk of injury or death for vehicle occupants.
Cracks can expand in certain weather conditions. Be sure to have a technician check the damage as soon as possible because that simple repair could turn into a replacement.
And while Mercedes Benz strongly recommends that you should only use Mercedes Benz technicians to repair or replace the windshield, remember that other shops can obtain and install OE glass. So if getting your vehicle to a Mercedes dealership is not convenient, know that you have other options.
You can use our auto glass locator service to find a shop today. If you want to find a certified technician who can do the work, search for one on Glass.com.
Please note, this article may contain links to Amazon products. As an Amazon Associate, Glass.com earns from qualifying purchases.