Mirror lighting can transform it into something completely different. From a design standpoint, it can help jazz up a living or dining room space. Mirror lighting can also help improve reflection.
Mirror can create a nice feature or design element in most any room. Using mirror in your home's design can help make the space feel bigger, brighter and more open. There are plenty of mirror designs and styles on the market. While mirror makes a nice addition to a living room, for example, it's also an essential part of the bathroom. But what about the bathroom lighting? You've probably given more thought to the interior lighting in your living and dining rooms than in the bathroom. Adequate bathroom lighting is also an important detail. Combined with mirror, it can offer a number of benefits and options.
Bathroom Mirror Lighting
In many of today's homes, the bathroom has become a place to relax and unwind. Features such as glass shower enclosures and spa tubs have become a staple in many bathrooms. This unique aesthetic also calls for unique lighting.
Lighting is one of the most important features in a bathroom. It's also essential to have ample lighting around the bathroom mirrors as well. Think about this: you look in the mirror every day— when you brush your teeth, comb your hair or put on makeup. Have you ever noticed how the lighting makes a difference? Proper facial light is essential. Having the right lighting around your mirror allows you to see a more detailed reflection with fewer shadows. How can you achieve the right lighting? There are lots of options. Some design experts recommend the lighting come from the vertical plane, such as wall lights, or within the mirror itself.
Adding a mirror with lights to your bathroom can serve a dual purpose. For one, they are practical. You can use them every day as you're getting ready in the morning or before bed at night. They can also provide a nice aesthetic and bring a distinct design element to the space. Mirrors and lighting alone already make a room feel bigger and brighter. Just imagine how combining them into one will help enhance the room's space and aesthetics even more.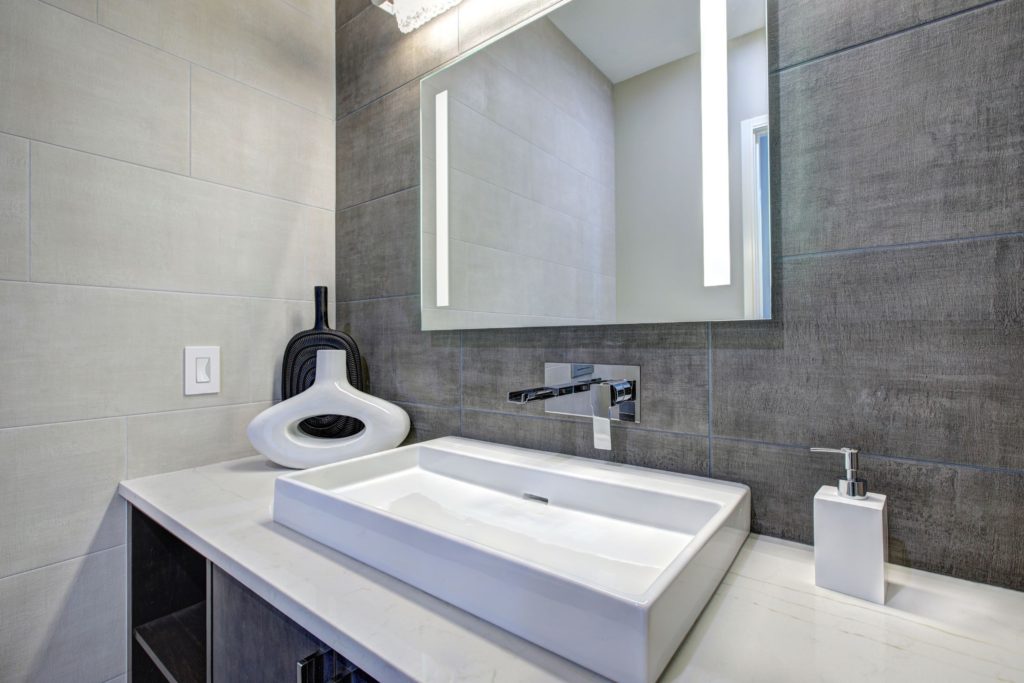 Selecting Mirrors with Lights
If you're wondering about available mirror lighting options, you will find there are lots of options. The beauty of illuminated mirrors is that these products combine the functions of both the mirror and the lighting into one piece. This type of mirror is often built with light-emitting diodes (LED), bringing a decorative, functional feature into the bathroom.
LED Mirror Lighting
One of the key benefits of an LED-lit mirror is that they are energy-efficient. In fact, residential LEDs—especially ENERGY STAR rated products—use at least 75% less energy, and last 25 times longer, than incandescent lighting.
LED lighting is available in a variety of temperatures and lumens. If you're not familiar with the term, lumens measure how much light the bulb is emitting. In other words, the higher the lumens the brighter the light will be. One nice feature of LEDs is that they can produce a nearly true white light. That means, compared to typical lightbulbs, LED lighting is closer to what the sun emits and provides a higher level of brightness.
Types of Mirror with Lighting
Not sure what type of mirror lighting is right for you? Here are a few options to consider:
Hollywood Vanity Mirror
Just like you've seen in the movies, these mirrors feature large, bright bulbs outlining the peripheral of the mirror.
Makeup Mirror
These counter top mirrors are illuminated by LED lighting and come in a wide variety of shapes and sizes. As a bonus, many of these feature a magnified option on the flip side.
Shaving Mirror
Here's one for the guys … Shaving mirrors are a lot like the counter top makeup mirrors and come in many different shapes and sizes, and usually with a magnified side. The main difference is that these are wall-mounted and can be moved nearly flush to the wall when not being used.
Halo Mirror
Just as the name implies, illuminated halo mirrors feature LED lighting that provides a soft, glowing halo around the inside perimeter of the mirror. These are typically in the shape of squares, rectangles or even circles. If your budget allows, you can even integrate speakers into these mirrors, as well as television.
Silhouette LED Lighting
Similar to a halo mirror, the silhouette LED options create the illusion of the mirror floating within the light.
Vertical or Horizontal Light Bar Mirror
As an alternative to the halo or silhouette selections, you might opt for vertical or horizontal bands of light. With these LED mirrors, the lighting typically is placed behind inset frosted glass panels on either the vertical or horizontal sides. This creates a soft, glowing light.
Other Mirror Lighting Options
While illuminated mirrors help bring an abundance of light to your bathroom, there are other features you might like. For example, many LED-lit mirrors come with a built in anti-fog system. This means you don't have to wipe down the mirror after a hot shower. These mirrors are constructed with a built-in demister that is activated when the LEDs are on.
In addition to the bathroom, you might find that mirror with lighting can be incorporated into other areas of your home. Bedrooms, hallways or even dressing rooms are also ideal places to use mirror with lighting.
Let There Be Light
Most people start and end their days in the bathroom. So it makes sense that this space would be one filled with bright light. Incorporating a mirror with lighting into the space is a great way to do just that. Whatever type of mirror you may need, Glass.com professionals can help. We can connect you with experts right in your area who can help you find one that's just right for you.
Please note, this article may contain links to Amazon products. As an Amazon Associate, Glass.com earns from qualifying purchases.