How many workers does it take to install a new windshield? It's a question that most auto glass technicians must consider. It also brings up some points that you may want to question windshield replacement shops on before committing to replacement. Which is better: the labor-intensive, two-man installation or technology-driven machinery? The pros and cons of both methods can play an important role in a safe and successful installation. This isn't a typical throw down, but the debate on who—or what—can best install windshields shouldn't be overlooked.
It Takes Two
Most windshield replacements can be done by one technician. A two-man set utilizes two technicians to guide, hold and set the windshield for precision and accuracy. In certain instances, the windshield's weight or size keeps it from being handled by just one technician. The windshield replacement in some larger vehicles requires a second technician because of the massive weight of the glass.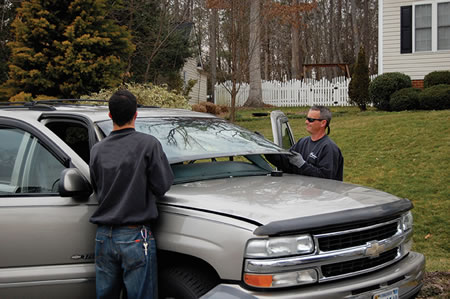 This method also helps verify that the glass is seated properly and doesn't leak. While very large, heavy or bulky windshields require two technicians, some companies always use two for greater accuracy.
First-Hand Experience
According to Cornelia, Ga.-based Anderson Windshield Complete Auto Glass Service's website, the company "always use[s] a two-man-set … whether we do it in our auto glass shop or in the field. We never allow one man to set a windshield. This ensures a proper set and seal and is the primary reason we have so few call-backs."
For mobile installations, experts say two technicians can improve personal and roadway safety. Acting as a co-pilot, the technician sitting in the passenger's seat can provide driving instructions. The second person can also better correspond with customers and the glass shop on the phone or checking email. This keeps the driver from being distracted. The team of two can remember special tasks better than one tech. This also allows another pair of eyes to review and inspect the work.
The Rebuttal 
New industry equipment is available that allows auto glass technicians to install windshields alone on traditional two-tech jobs. Caryn Birkhauser is the operations manager of AEGIS Tools International Inc. The company created the Solo II, which helps one technician set windshields. One advantage of utilizing windshield handling equipment is the increased prevention value from serious health ailments. The Solo II is a system that acts as a second person by holding one side of the windshield.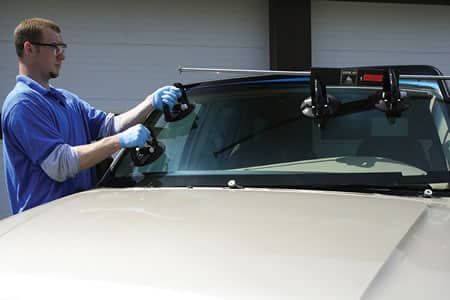 "The tool helps prevent work-related injuries, such as back, neck and shoulder strains, by supporting the windshield for the technician," says Birkhauser. "Many technicians use the Solo II for every installation to avoid repetitive lifting and reaching with a windshield."
According to Birkhauser, mechanical installers also increase productivity because it takes one technician to install a wider variety of windshields. In addition, the glass shop has more flexibility in scheduling installations when only one technician is needed.
Even More Options
Doug Daigle, with The Auto Glass Installer (TAGI), says training new technicians to operate the equipment can be quick and easy. On average it takes less than 10 minutes to apply a windshield with this installation method, according to TAGI officials. One of the tool's unique features is that installation is done by remote control. This allows the technician the ability to walk around and check the position of the glass before the final set.
"The advantage of using TAGI to install a windshield compared to a two-man set is the labor savings and safety," says Daigle. "With TAGI, one technician can install a windshield in a vehicle up to eight feet in height with TAGI carrying all the weight through the installation procedure. The two-man installation on an over-height vehicle is very unsafe because each technician has to be on a ladder to install the windshield."
Installation Helper
Another product is the SideKick, developed and manufactured by the Pipe Knife Co. exclusively for Equalizer. Dell Skluzak came up with the idea while working side by side with an installer.
"It is primarily suction cups with a stop on the bottom and an L-shaped bracket on top to hold or gap the glass off the frame prior to setting. The design is simple. While it doesn't do everything some of the more sophisticated setting tools will do, it's less expensive so more techs can afford it."
While many shops still use the two-man technique, some foresee a gradual switch to using tools to replace one technician.
"There will always be some shops that choose to set windshields with two technicians, especially if they are in the shop and the extra person is available," says Birkhauser. "If businesses are concerned about productivity and technician safety they will want to move toward setting assistance tools."
Meeting on Common Ground 
When it comes to the two-man set versus mechanical windshield installation, a number of factors can come into play. These include the auto glass shop's staff size, employee interest in learning the technology as well as the shop's budget. Whether replacing by hand or handle, if it's a quality job, includes quick service and long-lasting results, the job will be successful.
Help When You Need It
When you're ready to find a quality technician near you, turn to Glass.com to help navigate your search. If you had your windshield replaced recently, comment below and let us know which method was used.
Please note, this article may contain links to Amazon products. As an Amazon Associate, Glass.com earns from qualifying purchases.