Drive-Away Time, or Safe Drive-Away Time, is a term that describes how long after your windshield is replaced that your car must sit before you will be able to drive the vehicle safely. When you have your windshield replaced, your technician might (and should) mention this. Driving your vehicle too soon after a replacement poses a risk to yourself, passengers, and other drivers on the road.
The Drive-Away Time Debate
For some time, the auto glass repair and replacement (AGRR) industry has used the phrase "safe drive-away time," or SDAT, to describe the length of time necessary for the adhesive used in a windshield replacement to cure properly so the customer is safe to, you guessed it, drive away.
But is "safe drive-away time" the right phrase to use? Believe it or not, this is debatable among the AGRR industry. Some consider "minimum drive-away time," or MDAT, to be more appropriate.
What is Safe Drive-Away Time?
Safe drive-away time, or SDAT, is a term that describes how long your car must sit unmoved after your windshield is replaced to ensure the vehicle is not unsafe to drive. The technician performing the work on your car should mention this to you.
Safe drive-away times vary by type of vehicle glass, weather conditions and type of adhesive used. Some replacements allow drive-away time in as low as a half-hour. Other require the vehicle remain stationary for several hours following a windshield replacement.
This is because the curing, or hardening, of the adhesive holding your windshield in place can vary due to many factors. These include the type of adhesive, outside temperature, humidity level and other conditions at the time of replacement.
Your technician should take all of these factors into consideration before informing you of the proper and safe drive-away time for your particular situation.
Is "Minimum Drive-Away Time" More Appropriate?
Different adhesives have different curing times, and any single adhesive has different cure times based on atmospheric conditions. This is a key element of crash and lab tests that the products undergo before going on the market.
Recently, the term "minimum drive away time," or MDAT, has made its way into the industry vocabulary.
In fact, some adhesives companies are already using the term with their customers and in their literature. The switch is just a terminology change, but one intended to educate customers and consumers about the safety aspects of windshield replacements. Additionally, it is less troublesome for adhesive companies because saying something is "safe," because it implies the vehicle must sit that exact amount of time when, in fact, it's a minimum.
The Auto Glass Replacement Safety Standard (AGRSS) is North America's only auto glass safety standard, addressing procedures, education and product performance. It is in the process of changing its literature language to reflect the use of MDAT over SDAT.
Ultimately, the "minimum" term may be more accurate, as it reflects a minimum amount of time needed before a vehicle could be considered to be operational and safe.
Regardless, companies should stand behind their drive-away time. If it's 30 minutes, then that's the minimum time needed for the adhesive to cure, according to that company. Some technicians may go further and add more time on top of that minimum, just in case.
Safe Drive-Away Time Varies By Vehicle
The safe drive-away time for your vehicle will vary depending on what type of adhesive or glue the technician uses to install your windshield. While a number of adhesives offer a drive-away time as low as 30 minutes, others require that the vehicle be parked for several hours after the windshield is replaced.
The amount of time specified is the amount of time that it takes for the adhesive to cure and harden fully, holding your windshield in place. The adhesive safe drive-away time is determined by a variety of factors, including the type of adhesive, temperature, humidity and other conditions at the time of replacement.
Your technician should take all of these factors into consideration before informing you of the proper and safe drive-away time.
A Key Factor Your Technician Will Consider…
The effect of temperature and environmental conditions on a proper windshield replacement—and drive-away time—should not be understated.
As industry expert Bob Beranek points out, the summer season brings warmer temperatures and higher humidity, which means faster curing times for urethane adhesives. Quicker cure times means faster safe-drive-away times, but it also means a shorter working time during the application and setting of the glass.
The opposite can be true in the winter. Adhesives, cleaners and primers may slow down when below 40 degrees, so technicians will follow certain written procedures for cold weather installations and should pay special attention to the time factors.
Technicians and automotive glass company owners working in bitter temperatures, such as below 40 degrees Fahrenheit, may use different products and procedures than they would otherwise. Also, technicians may need to keep their cleaners, primers and adhesives in a warm place overnight before working on a vehicle in this environment. This prevents the need to thaw them the next day.
All of that aside, if possible, the vehicle should be taken into a heated area to work.
Dangers of Not Following Drive-Away Time
If you drive your car before MDAT is reached and you become involved in an accident or collision, the windshield might not remain in place during a crash. Also keep in mind, the windshield is an important safety feature of your vehicle, as it provides structural support to the roof. Without the windshield properly in place, the roof could cave in on the car's occupants. You could also be ejected from the vehicle through the opening.
This is are meeting minimum drive-away times are so critical. Don't be afraid to ask your windshield replacement technician for details on when the vehicle will reach the minimum MDAT after your windshield is replaced. Even lawmakers are recognizing the importance of consumers understand drive-away times. Rhode Island, for example, recently fielded a proposal for a regulation requiring "notification to consumer in writing of appropriate post-repair practices and drive-away time necessary for the safe operation of the vehicle."
Sunroof Drive Away Times
And windshields aren't the only pieces of glass affected by urethane cure times. Sunroofs installed and not driven until the MDAT are just as dangerous, especially for those drivers behind the vehicle, as there have been cases of sunroofs lifting out of their housing. Other issues include leaks, squeaks and rattles.
How Long Does it Take to Replace a Windshield?
Do you drive a Mercedes-Benz, Cadillac or perhaps a Land Rover? If so, prepare yourself because you may need to drop your vehicle off for a day to get a piece of glass replaced. Some replacements are more complex.
If your windshield, back windshield (known as the backlite) or roof glass needs to be replaced, your local auto glass company can give you the estimated time for the job. Some replacements may take an hour, while others may take a full day.
If you own one of these vehicles below, prepare yourself to be without a vehicle for the day:
2010 Mercedes-Benz SL500, SL600, SL63 AMG, SL65 AMG
Replacing the windshield one of these Mercedes-Benz vehicles takes a technician an average of 7.3. (Note that none of these time estimates includes prep or cleanup).
The SL Series by Mercedes has been one of the most labor intensive vehicles for windshield installations for more than 20 years, including the 1998 and 2002 models.
The technician must remove a variety of parts to replace this windshield and then re-install them all.
1992 Cadillac Fleetwood Back Glass
The 1992 Cadillac Fleetwood back glass takes an average of 7.5 hours to replace. This back windshield requires the interior removal and re-installation of the vinyl top.
A technician must also take the time to vacuum any glass from the small areas around the rear deck and seat.
1993 Mercedes-Benz 300SL, 500SL, 600SL Windshield
You could also be in for a bit of a wait if you own one of these older model Mercedes-Benz vehicles and need a windshield replacement.
The side mouldings and wiper removal take time. Expect your technician to take an average of 7.6 hours for this job.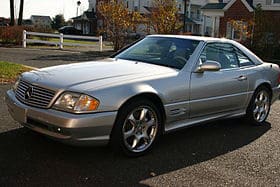 1993 Mercedes SL500
1998 Mercedes-Benz SL500, SL600 Windshield
If you're the driver of a 1998 Mercedes-Benz SL500 or SL600 vehicle, your windshield will likely take about 7.6 hours to replace.
The side moulding on this car takes some patience from the technician to remove.
If this SL Series is equipped with the hardtop convertible, it will require two technicians to safely remove the hardtop and reinstall it without damaging the vehicle or top.
2002 Mercedes Benz SL500, SL600 Windshield 
The newer 2002 Mercedes-Benz SL500 and SL600 also ranks up there for the time it takes to replace the windshield.
Expect your technician to take extra care around the rearview mirror area and with the sun visors. A wait of about 7.6 hours can be expected to get your vehicle back with a new windshield.
2010 Land Rover LR3, LR4 Roof
This vehicle will likely require two technicians to replace the roof glass. The glass shop will also likely require you to bring the vehicle to the shop to do the work due to its size.
To replace this part properly, the headliner needs to be removed and this will take a lot of time and require the removal and re-installation of quite a few parts.
This replacement could take a full eight-hour day.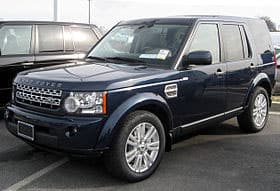 2010 Land Rover
Ask Your Glass Company
When in doubt, always ask your glass shop's customer service representative for an estimate as to how long a replacement will take prior to the work being done. Many glass shops will readily give you this information, but if they don't, ask. This way you can prepare if your vehicle will take an extended amount of time, if necessary.
Looking For Windshield Replacement Services?
Glass.com is here to connect you to windshield repair and replacement experts. We'll put you in touch with glass pros in your area.
Please note, this article may contain links to Amazon products. As an Amazon Associate, Glass.com earns from qualifying purchases.