While a hail storm can sometimes be harmless, other times, hail damage can be quite destructive. It can leave in its wake chipped and shattered windshields and numerous auto glass insurance claims. Take, for example, the recent hailstorm that ravaged the Denver, Colo., metro area in early May 2017.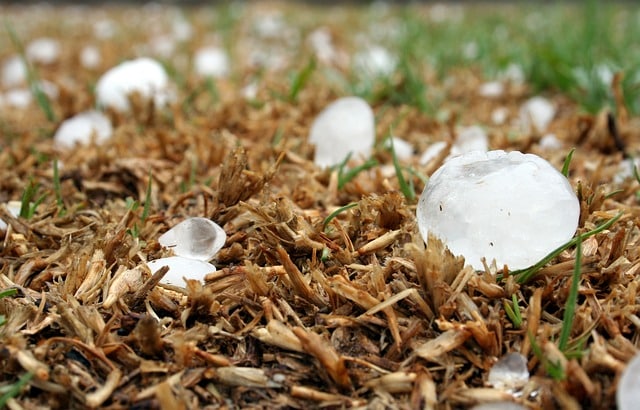 The Specs of the Storm
Baseball-sized hail rained down on the city, as well as surrounding counties, one late Monday afternoon during rush hour traffic. According to a National Weather Service meteorologist, the largest piece of hail recorded was 2 ¾ inches in diameter. Others within the area reported hail 1 to 2 inches in diameter.
Estimates from the Rocky Mountain Insurance Information Association suggest the damage incurred to vehicles, homes and businesses was the most expensive in the state's history.
Carole Walker, executive director of the association, told the Denver Post, "The enormous size of the hail hitting densely populated areas of the Denver metro (area) during rush hour has contributed to the magnitude of damage caused by this storm."
The estimated insured losses? 1.4 billion, with more than 150,000 auto insurance claims.
A release from the association noted, "This storm would surpass the $845.5 million July 20, 2009, storm and the July 11, 1990, storm, the most expensive in adjusted costs for today's dollars."
And with hail that large, it was able to tear right through the windshield and rear windshield (called a backlite).
Get an Estimate
How it Affected Auto Glass Repair Shops
The estimated auto insurance claims aren't exactly surprising if you take a look at the number of calls auto glass shops received.
A few days after the storm, Ceanne Burnett, a customer service representative for Auto Glass Now Denver, said every technician was out installing new windshields. Since the afternoon the storm hit, she received between 300 to 700 phone calls a day to fix damaged windshields. In most cases, the windshield was a total loss and had to be replaced.
Burnett explained that windshield damage in the area was so extensive that finding glass for replacements was a job in and of itself. One of the company's technicians, she added, spent his entire day at one office building, installing new windshields on every car in the parking lot.
Phone Lines Ringing off the Hook
With 300 to 700 phone calls at just one location, it's not surprising that other auto glass shops had similar experiences.
Peter Sorenson, owner of RC & C Auto Glass, in Littleton, Colo., just south of Denver, said he had to work overtime to try and accommodate the more than 100 phone calls he received a day. He's a one-man shop that was enduring 5 am to 10 pm work days to get to as many vehicles as he could.
Chris Lawson, owner of Speedy Glass, told the Denver Post he had received 200 phone calls in a three hours that same Monday afternoon.
Lawson said that if his company had the glass to perform the windshield replacement, he and his crew could get them squared away. The only problem was trying to work with the auto insurer since they, too, were flooded with calls.
Hail Damage for the Record Books
What sets this storm apart from previous disasters, aside from sheer damage expenses, is that more auto claims were filed than home. The Denver Post reports auto claims are set to amount to $710 million. That accounts for 60 percent of the damage claims. When it comes to hail damage, it's usually reversed with home claims taking the majority.
A week following the storm, a representative for State Farm Insurance reported that it had received 19,100 auto claims. The insurer had five mobile locations, flew in more than 200 employees, and didn't expect to be done until June 1.
Most of the windshield hail damage was due to more people on the roads since it was rush hour. However, Denver is a metropolitan area, so it has more multifamily housing without garages or carports to protect the vehicles from hail damage.
Another factor included in the high-expense of the windshield damage: Advanced Driver Assist Systems (ADAS).
Many newer makes and models are equipped with sensors and cameras. This can make replacing a windshield more time consuming and expensive.
What to Do in the Event of a Hailstorm
May through September is considered hailstorm season. Warmer months bring in thunderstorms, which in turn, bring in hail. Sometimes, windshield hail damage is inevitable.
To help keep your windshield protected, park under an overpass or in a covered garage. And, if you can repair your windshield instead of having it replaced, most people opt for that first.
So, as we settle into these warmer months and prepare for the chance of hail, there's an important thing to keep in mind before having your windshield replaced.
If going through insurance, you have the right to choose any auto glass repair and replacement shop you'd like. Your insurer may try to steer you to one specific company, or provide you with suggestions, but you always have the final say.
If you find yourself in a situation similar to those in the Denver area and are in need of a windshield repair or replacement, be sure to check Glass.com for auto glass repair shops in your area. We offer instant price quotes from local companies in your zip code. Compare rates and book seamlessly in a few quick steps.
Please note, this article may contain links to Amazon products. As an Amazon Associate, Glass.com earns from qualifying purchases.