Two weeks ago, we talked about great glass destinations to visit this summer.  Some of these were temporary exhibits with an end date. But if you are in the market for glass exhibits that just won't quit, check out these locations this summer–my list of top five glass museums to visit. Oh, and I've paired each museum with a nearby additional stop to placate the non-glass vacationers in your group.
1: Corning Museum of Glass, Corning, New York

The mother ship of all glass educational facilities, the Corning Museum of Glass is underwritten by the company that has made everything from Pyrex to Gorilla Glass. You can do everything from follow the history of glass to make some of your own. Thsi glass museum is a not-to-be-missed destination for the glassophile.
Pair the glass museum with: A visit to the Southern Heritage Village of the Finger Lakes, an under-appreciated gem in the middle of New York State.
2: Museum of Glass, Tacoma, Washington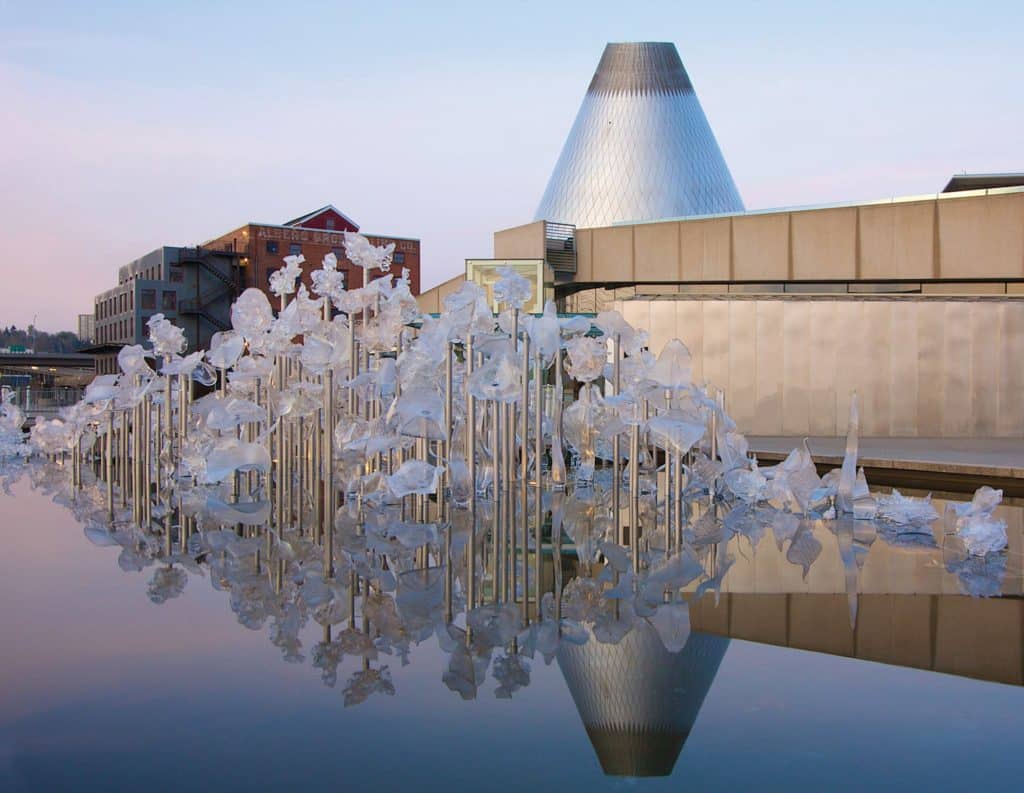 An extraordinary celebration of the artistry awaits visitors to the Museum of Glass in Tacoma. The exhibits highlight visiting artists and landmark permanent exhibits. This glass museum lets you see how glass has been used for artistic expression through the ages. You'll understand immediately how glass can evoke emotion like no other material. And while you're tat the Seattle Museum of Glass, be sure to walk across the Dale Chihuly glass bridge that links the museum with downtown Tacoma.
Pair this glass museum with: The LeMay America's Car Museum, which offers one of the country's finest collections of classic cars through the ages.
3: The Chrysler Museum of Art, Norfolk, Virginia

What's most fun about the Chrysler Museum of Art is the historical range of its offerings. This glass museum offers ancient glass works through the most ethereal of contemporary pieces, coupled with a large collection of Tiffany Glass. More than 10,000 pieces of glass art are displayed in one collection, giving you a bonus chance to visit the other five as well (European Paintings and Sculpture, American Painting and Sculpture, Modern Art, Ancient Worlds and Photography).
Pair this glass museum with: Virginia Beach —a mere 18 miles from the Chrysler is one of the country's longest boardwalks and visitor-friendly beaches. Family-friendly activities, great food and nightlife await.
4: The Toledo Museum of Art, Toledo, Ohio
Located in the U.S. cradle of glass civilization, Toledo and the architectural glass industry are linked by history and technology, and it shows. More than most others, The Toledo Museum of Art is a glass museum that showcases the role of architectural glass and metal, both in the Gehry-designed Center for Visual Arts and its glass pavilion. It's a delight.
Pair this glass museum with: A trip to roller coaster heaven, Cedar Point Amusement Park. Just a one hour ride away, Cedar Point is a veritable museum of roller coasters, with 17 different active ones, many of which are record-setters.
5: The Bergstrom Mahler Museum of Glass, Neenah, Wisconsin
A museum devoted to glass? In Wisconsin no less? Yes, and a fun one at that. The
Bergstrom Mahler Museum
 devotes itself the whimsical products of glass, including a breath-taking collection of glass paperweights, contemporary glass and art glass, as well as an "other glass" display of objects you'd never expect to see made out of glass.
Pair this glass museum with:
A visit to Green Bay  45 minutes away, complete with Lambeau Field, the Green Bay Packer Museum, National Railroad Museum and the New Zoo. Then travel on another 15 miles or so to visit the beauty of
Door County, Wisc.
, always a great vacation spot.
Please note, this article may contain links to Amazon products. As an Amazon Associate, Glass.com earns from qualifying purchases.