From a color standpoint, picking out doors and windows may have been a little boring back in the day—heck, even just a few years ago.
But thanks to recent advancements in laminates and coatings, they are now available in a wide range of colors.
Let's take a look at how and why the color options for these products have changed, and explore some of the many possibilities that are now available for you when you go to purchase the next windows and/or doors for your home.
What's Trending in Windows? Dark Colored Vinyl!
Dark colors have been increasing at an accelerated pace over the past few years and are some of the most demanded products door and window companies now offer. This is a trend that spans all regions of the U.S. and Canada.
The appearance of dark vinyl windows allows you to match them with other parts of your home and make them part of the color scheme, whether that includes dark blues, greens, reds, browns or whatever it may be. Darker wood grain designs and black contemporary designs for the interior have also picked up in popularity in recent years.
Many manufacturers of doors and windows have these darker colors available. But this wasn't always the case.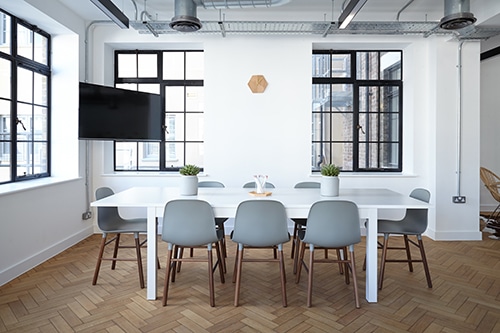 A Brief History of Windows
In the past, pigment technology didn't exist to allow truly dark colors. When you went to buy a window, you basically had two choices—white or tan. Dark tones, which absorb the sun's radiant energy, didn't work well in window frames, because vinyl begins to warp or deform at temperatures above 140 degrees Fahrenheit. This would lead to failure of the window system.
Given that vinyl now represents approximately 70 percent of the U.S. residential window market, according to the American Architectural Manufacturers Association (AAMA), it's important for makers of the product to give consumers as many options as possible. So the industry responded.
You're not here for a science lesson, so we'll make this quick: the electromagnetic spectrum includes infrared radiation, visible light and ultraviolet radiation. The main spectrum of radiation contributing to surface absorption of heat in window profiles is the near infrared range (NIR), which is invisible to the human eye.
We know what you're thinking… is the science lesson done yet? Almost.
The development of what is called reflective pigment technology (RPT) has been a game-changer for the vinyl window industry. RPT uses colors that reflect the infrared spectrum of the sun. That prevents vinyl from reaching its distortion temperature. Because of these technological advances, vinyl windows are available in a wider range of colors, and consumer demand for darker products is climbing.
How They Do It
Producers of doors and windows use a range of technologies to add color to vinyl. Without getting too technical, it's important for you to have an understanding of how this works, and you may just impress your window salesperson along the way.
According to vinyl extrusion manufacturer Veka, which supplies solutions to the window industry, here are several techniques that may be used:
Solid vinyl: Color is achieved by adding pigments to the compound early in the production process. Profiles made this way generally perform better with lighter colors (white or tan).
Laminated vinyl: These are laminates that are hot-glued to profiles after extrusion.
Capstocked vinyl: Vinyl usually is capped with materials such as acrylics. Capstocked vinyl offers improved weathering capabilities.
Paint: Paints can have excellent weathering and low heat build up, but applying paint can be labor-intensive.
Hotstamping: This is another process that promises low heat build up. It's attached to window profiles by applying heat and pressure to a foil that transfers the hotstamp to the profiles.
Aluminum cladding: This can be applied to finished windows to achieve superior coating performance. It can also improve structural performance while minimally affecting thermal performance.
Application Techniques
Coatings and extrusions suppliers have developed many unique technologies that are used in vinyl windows to allow for darker colors. Here are some examples:
Hornschuch's Cool Color technology, which debuted a decade ago, uses pigments in the laminate and print formulation that reflect up to 80 percent of the NIR radiation, according to the company.
According to Renolit, its own FX acrylic-based films use a somewhat newer technology—infrared (IR) reflective pigments on its solid-color base layer (the film has three layers).
Veka Inc. pioneered a coating process called METREC, which uses thermally reflective pigments that the company says have heat buildup almost equal to the color of white, which facilitates the use of dark colors.
These are just a few of the developments that the industry has made to allow you to put dark-colored windows in your home without worrying about warping and UV damage to the vinyl.
How Can You Be Sure?
AAMA, the industry group that helps write standards for industry best practices, has three standards for organic coatings on thermoplastic profiles (such as vinyl).
These tests and requirements are meant to ensure that you, the consumer, are getting a product that performs as advertised. They set forth performance requirements for the following:
Color uniformity
Dry film hardness
Dry and wet film adhesion
Cold crack
Oven aging
Heat buildup due to solar radiation
Additionally, a specification for PVC exterior profiles includes minimum requirements for heat build up. Selected profile samples are sent to weather test sites at high-ultraviolet locations in Florida and Arizona and an industrial location in Ohio for 6-, 12-, and 24-month outdoor exposure tests.
Now Get Shopping
Hopefully you now have a better understanding of the technologies that have been developed to allow you to find a door or window that truly fits the color scheme of your home. Now it's time to find out what vinyl window colors are available. If you're ready to start the search for your home's next windows, submit an inquiry in Glass.com's Windows & Doors section. We'll be happy to help you find what you're looking for.
Please note, this article may contain links to Amazon products. As an Amazon Associate, Glass.com earns from qualifying purchases.