When something goes wrong with your RV, it might not always be clear who you should contact to fix the problem. Your motorhome shares many similarities with cars—tires, a motor and drivetrain, and a windshield. It also shares commonalities with a house, such as central air, appliances, plumbing, and sliding windows. This probably leaves you scratching your head and wondering whether to take your motorhome to an automotive mechanic or talk with a home handyman.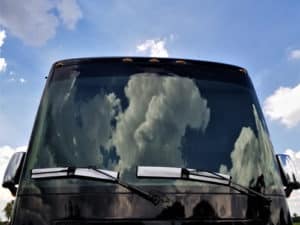 The answer is neither. RVs are a category unto themselves and should be serviced by an RV specialist whenever possible. Although they share similarities with both cars and homes, many motorhome parts are specific only to motorhomes. For example, most motorhome refrigerators are smaller and more energy-efficient than a home refrigerator. They also can run using propane gas. Some appliance brands are specific to use in motorhomes, boats, and other atypical applications. If you called a home appliance company, they might not be familiar with the workings of this type of system.
Conversely, the drivetrain in your RV can't be serviced by picking your RV up on a lift in a typical automotive repair shop. RVs are much larger and heavier than cars. For this reason, RV service center facilities typically are much larger with wide bays and high ceilings. They may also have tools and lifts specific to working on these large vehicles.
Hiring an Auto Glass Technician to Replace an RV Windshield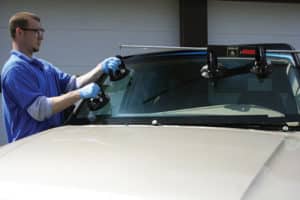 Your RV's windshield is no different. It's larger and heavier than a standard automotive windshield. Special tools and techniques are required to replace them. For this reason, it's best to hire a windshield replacement professional that specializes in RV glass. They should have the knowledge and experience required to handle this large, heavy glass, which sometimes requires multiple technicians to set. They should also have the equipment, such as scaffolding, that will allow them to work up high.
Although these replacement specialists might also perform replacements on small passenger cars, it's not a good idea to use someone that only performs replacement on small passenger cars. It's essential to use someone experienced in setting RV windshields.
Hiring a Mechanic to Replace Glass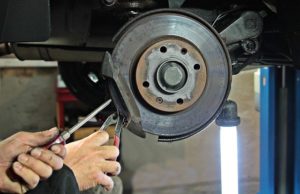 An automotive mechanic should never replace glass—whether on a car, truck, or motorhome—unless he or she has specific training in that field. A windshield is a part of the vehicle's safety system. It can aid in passenger retention in the event of an accident. It may also add structural integrity in the event of a  vehicle rollover. If the windshield is not installed correctly, you risk it detaching from the vehicle when needed most.
An improperly installed windshield can also lead to air and water leaks. These issues can make for an uncomfortable ride at best or even lead to a rusted vehicle. For these reasons, auto glass replacements must always be performed by a qualified professional.
Hiring an RV Mechanic to Replace an RV Windshield
If you take your RV to an RV service center for a windshield replacement, they will likely either have someone on staff trained in glass replacements or sub-contract the job to a company that regularly replaces RV windshields.
Repairing an RV Windshield
On the other hand, if your RV windshield can be repaired rather than replaced, this can usually be handled by any windshield repair company. The repair of a chip or small crack is the same regardless of whether the repair is for a car, truck, or RV. There are still a few factors to consider though, such as
Does the repair technician have a ladder or other equipment needed to work up high on the RV windshield?
Is it a mobile repair where the technician comes to you? If so, some technicians use tents to protect the surface of the windshield while they work. This won't be possible with an RV.
Is it an in-shop repair? If so, the RV might not fit inside their shop. It might not even fit in the parking lot.
For these reasons, it's always smart to call ahead and ask plenty of questions. Let the technician know that the repair needs to be made to a motorhome and let them know how large the motorhome is.
Use Glass.com® to Find an RV Windshield Replacement Provider
Use Glass.com to request an RV glass replacement quote. It's a simple, surefire way to receive glass replacement service by a technician with RV experience. Glass.com's nationwide coverage ensures that no matter where you are in your travels, you can rest easy knowing that there's a qualified technician nearby.
Please note, this article may contain links to Amazon products. As an Amazon Associate, Glass.com earns from qualifying purchases.