Replacing your old, dingy shower curtain or shower enclosure system with a framed glass shower door can increase the aesthetic appeal of your bathroom. It can also greatly freshen up your space. Additionally, glass shower enclosures can increase the value of your home and enhance the time that you spend in your bathroom.
When considering renovation work in your bathroom, you need to balance your budget with the vision of your dream bathroom. If you want the glass look but don't want to break the bank purchasing a frameless shower door, then a framed shower door may be the choice for you! The expert advice from Glass.com can help you find the perfect framed shower door for your space within your budget.
When Should I Install a Framed Glass Shower Door?
Just like frameless shower door installation, the perfect opportunity to upgrade to a framed shower door is when your old shower is worn out. Some remodeling companies suggest that homeowners consider updates to their bathroom every ten years with regular bathroom wear-and-tear in mind. Whether it be simple upkeep or total refurbishment, the addition of a framed glass shower door can brighten any bathroom space.
Why Do Framed Shower Doors Cost Less?
In general, framed shower doors are less expensive than frameless shower doors. Framing supports the glass of the shower door, lessening the need for the glass itself to create structural strength. Therefore, it can be thinner than most glass used in frameless shower doors. Thinner glass costs less money. Framed shower door installations are less skill-intensive compared to frameless installations because less specialized hardware is involved. However, just like frameless installations, framed doors must be installed so that water cannot escape from any gaps or cracks along the outside of the metal frame.
Framed Glass Shower Door Designs
Many different style options exist for framed shower doors. The metal frame itself usually is made of aluminum and may be coated in a variety of finishes and colors. The frame may be smooth or textured and the glass— also available in a variety of finishes, coatings and etching styles— is sealed into the frame in order to prevent leaks.
Framed showers have limited styles of door movement. Typically, the configuration of a shower enclosure that includes a framed shower door involves a sliding door within a metal track. Other configurations include a framed door with an inset panel that opens and pivots in the frame or stationary enclosures with heavy top frames. However, these types of framed showers become less common (and more expensive) as the enclosure itself becomes larger.
Framed Glass Shower Door Costs
The following are some of the different types of framed shower doors and their approximate prices.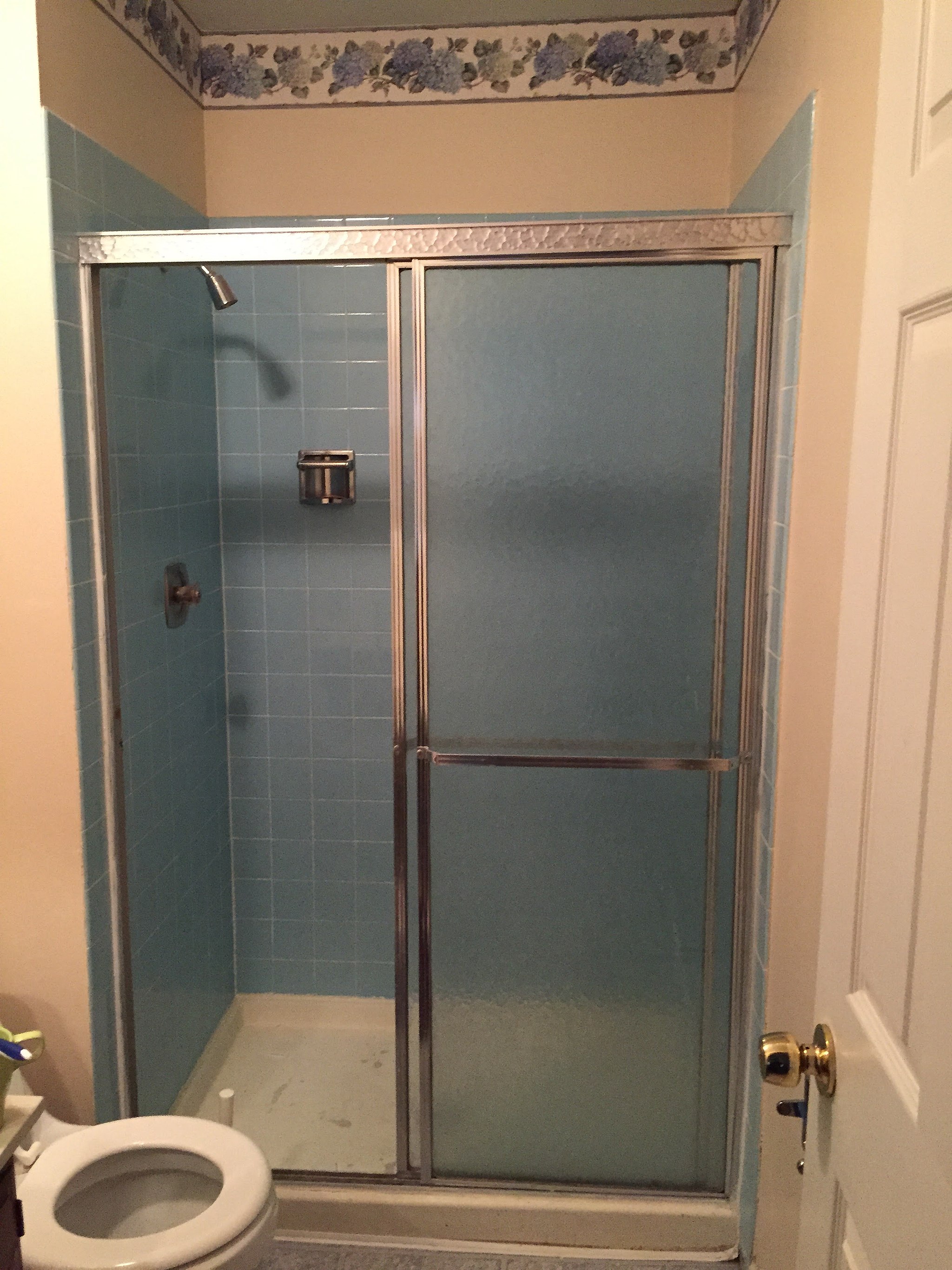 A standard bypass door is the same concept as a sliding glass patio door, just used in a shower or bath enclosure. The bypass door is contained within a metal frame at the top or on all sides. It has a set glass lite with one side sliding on a track with manual rollers in it.
Iterations of this kind of framed shower door may be very cost-effective because they often can be incorporated with a bathtub. This is one of the least expensive options because it uses the least amount of glass when built upon an existing shower and tub combo. Newer designs of standard bypass shower doors include thinner framing and a larger catalog of available finishes, allowing you to have the modern look that you want without the hefty price tag. The cost of this type of framed door varies based upon whether you want to have a professional install the door or if you DIY – although you should know that there are risks involved with DIY.
This type of framed glass door offers floor-to-ceiling framed coverage. Prices vary for this type of door based upon where your shower is located within your bathroom. Some of the designs for this type of framed shower door go all the way to the ceiling.
Pivoting Framed Shower Doors: $400 and up
This option often is easier to clean, when compared to other framed glass shower doors, since there is no sliding track involved in this design. Pivoting doors also have a more modern appearance and functionality.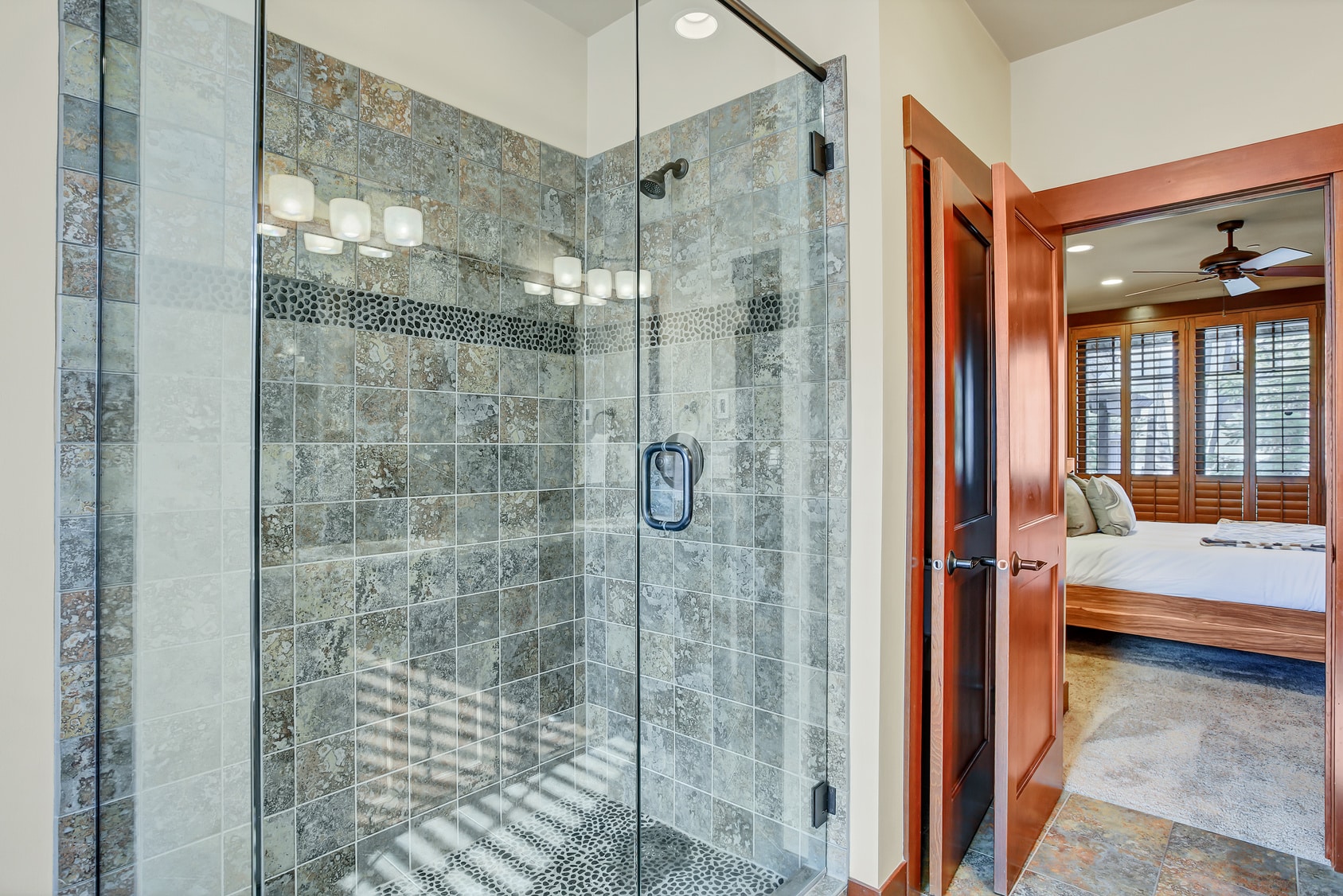 This type of framed shower door enclosure is the most unique, and most expensive. The manufacturing process is time-consuming and requires a different level of skill compared to the manufacturing of flat glass enclosures. If you want a sleek, memorable and unique fixture for your bathroom, consider seeking the help of a professional to create an enclosure with this type of framed door.
Keep in mind that these estimates may not be exact – pricing varies widely based upon region and contracting/installation costs. To get the most accurate pricing, you'll want to contact a local shower installer. They will be able to help you figure out which frameless shower enclosure option works best for your specific project and budget. Glass.com® can connect you with shower installers who will guide you step-by-step through the process. They will help you pick an enclosure style, glass type, aesthetic enhancements and other features for your new shower enclosure.
More Information About Updating Shower Enclosures
Whether out of necessity or for the sake of personal style, updating your bathroom can enhance your daily experience and improve your quality of life. If you're interested in learning more about glass shower doors and other types of glass, check out the Glass.com® Info Center. In the market for a new glass shower enclosure? Request a quote.
Please note, this article may contain links to Amazon products. As an Amazon Associate, Glass.com earns from qualifying purchases.