Here are the top 6 reasons why you should look for windshield replacement near you:
Convenience: A windshield replacement near you will be more convenient for you as it will save you time and travel costs. You won't have to travel far to get your windshield replaced and you can easily drop off and pick up your vehicle at the repair shop. Many local auto glass replacement shops will even provide mobile service free of charge! They'll come to your home or work to perform the windshield replacement, saving you even more time.
Expertise: Local windshield replacement shops will have more expertise in working with the types of vehicles found in your area. They'll know the best practices and techniques for installing windshields in cars and trucks that are common to your location.
Quality of work: Local windshield replacement shops will be more invested in the quality of their work, as they want to maintain a good reputation in the community. This means that they're more likely to use high-quality materials and ensure that the installation is done correctly.
Cost-effective: Local windshield replacement shops will typically have lower overhead costs than larger, national chains. This can mean that they're able to offer lower prices for their services.
Warranty: Many windshield replacement shops offer warranties on the work they do. Choosing a local shop can make it easier for you to follow up on any warranty issues that may arise.
Supporting Local: By choosing a local windshield replacement shop, you're supporting the local economy, which is good for the community and the environment.
In summary, searching "windshield replacement near me" can be more convenient, ensure that you receive expert service, ensure the quality of work, be cost-effective, and offer a warranty. In addition, it's also a way of supporting local businesses.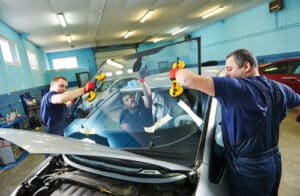 How "Windshield Replacement Near Me" Searches Work
When you enter a "near me" search query into a search engine, it signals to the search engine that you are looking for local windshield replacement quotes. 
From a technical perspective Including "near me" in your search activates the location services (depending on your device's privacy settings) in your mobile device and returns results that are nearby. The search engine may also use information from your IP address, cell towers, GPS coordinates, or Wi-Fi networks to determine your location so that it returns the most relevant results. 
By using the search phrase "Windshield replacement near me," you can quickly find a local windshield replacement professional that best fits your needs. This can save time and money by allowing you to compare services, prices, and availability, before making a decision about who to hire. Additionally, you can find helpful reviews of each business to make sure you're choosing a reputable professional that's likely to satisfy your windshield replacement needs.
Why You Should Look for Windshield Replacement Near You
Looking for windshield replacement near you is beneficial because it means you can get the service done quickly and conveniently. It also ensures that you get local expertise and personalized care for your vehicle. Additionally, it is easier to authenticate the quality of any service at a local shop because of the proximity to the shop and the risk of negative word of mouth. Generally, local businesses and smaller auto glass shops rely on stellar customer service and reviews to generate work.  It's also great to support your local economy and utilizing local windshield replacement shops helps ensure a robust and healthy local economy. 
Glass.com partners with local auto glass shops and can help you find a shop or get a price quote for your windshield replacement.
Please note, this article may contain links to Amazon products. As an Amazon Associate, Glass.com earns from qualifying purchases.