Windows and doors are not only practical solutions for protecting your home, allowing easy entry and letting useful and practical natural lighting flood your space, but they're also crucial elements of your home's design aesthetic and help to establish individuality. But when considering a new home remodel or designing a new construction, with so many design options available now, how can you find the right matching window and door styles to enhance your exteriors? We're here to help make that decision easier for you.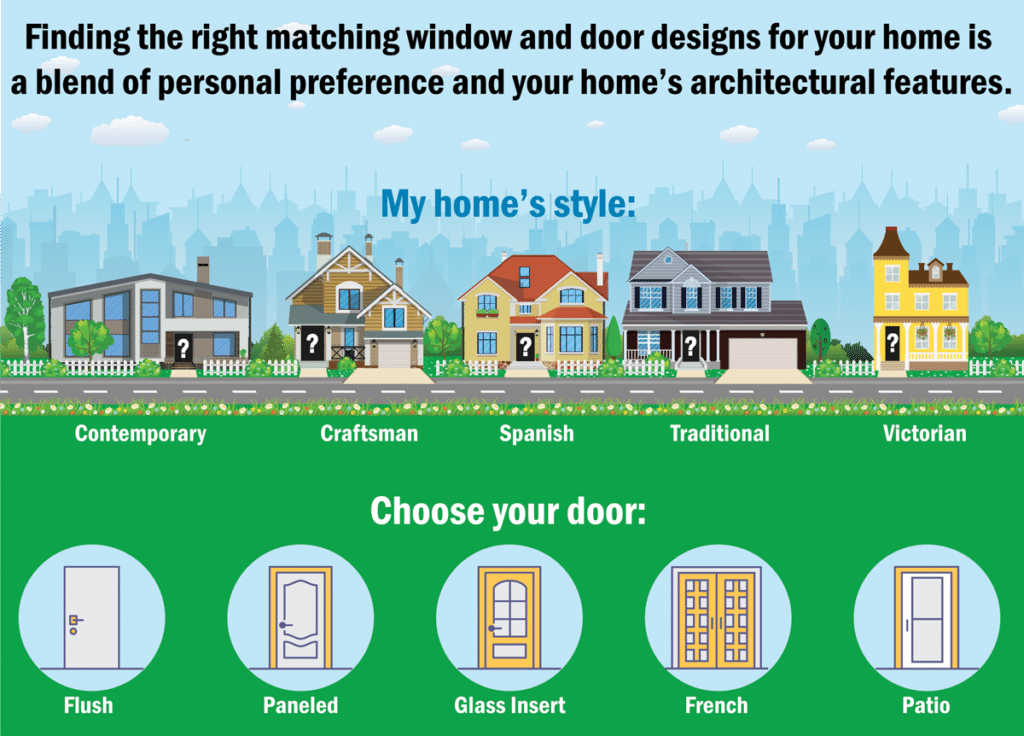 Window and Door Styles
Finding the right matching window and door designs for your home is a blend of personal preference and your home's architectural features. But before settling on a certain type of door or window, it's best to know all of the different styles and designs available to you and each of their unique features.
For exterior doorways, you can choose from the following designs:
Flush: This minimalistic yet dramatic door style has a flat surface on each side, which is perfectly suited for contemporary and minimalistic-style homes.
Paneled: A paneled door is very traditional-looking, with raised panels cut into the design, and it's available in a variety of materials, including wood, fiberglass and steel.
Glass insert: Doors with a glass insert can feature designs that are more classic and simple, like a craftsman door, or have large glass panels, like many contemporary front doors. The glass inserts can feature different design elements — like a beveled edge, which will echo an older feel or other features like texture, stain or tint.
French: A French door is a classic feature for many homes. This style is recognized by its rectangular glass panes. It's typically hung as a pair of doors.
Patio: A typical door installed at the back of the house and used for accessing backyard or patio areas, patio doors have a frame with a fixed pane of glass that slides open and closed. These doors are perfect for seeing large, full views of your property.
Window designs offer a bit more variety but generally fall into a double-hung, casement, awning, picture, transom, slider, stationary or bay or bow style. Each type of window offers its own kind of convenience and appeal, but you can easily customize your home's windows to suit a certain design need or adapt to your changing tastes. To keep a consistent, matching door and window design, consider using similar construction materials, glass styles and colors.
Types of Home Architecture To Consider
What makes every home interesting and unique is that it features a distinctive architectural style — you're not just living in a plain box situated next to other drab box structures. Each home design features distinguishable elements that characterize its appeal, and the right matching doors and windows can help define that architectural style and showcase your personal tastes. While there are many different residential architectural designs out there, let's look at five popular options and explore which window and door designs best complement their features:
Traditional: A traditional home is one with simple lines and clean architectural elements, constructed from brick or stone. It's typically a Colonial, Cape Cod or Georgian-style home. The timeless appearance of these homes makes them perfect for the clean look of a double-hung window with or without decorative valence. Another option to consider is a bay, bow or transom window. Pair any of these window options with a paneled door to complete your stately home design.
Contemporary: The idea of contemporary design is marked by simplicity, little to no embellishments and asymmetrical features. Keeping contemporary homes light and airy is a crucial element, so most of these homes have large stationary, sliding and casement windows for added drama and opening up the space. The ideal door style for a contemporary home is a solid or glass insert flush door that has little added adornment and is sleek and smooth. Keep the glass insert design simple, with basic geometric shapes.
Craftsman: The iconic craftsman home was an incredibly popular style in the early part of the twentieth century, featuring warm brick construction, low-pitched roofs, front porches and bulky, square columns. To make your craftsman home stand out, install double or single hung windows with a valance grid. For added style and individuality, add a custom stain glass to several smaller windows or your front door. Craftsman homes are often characterized by the front door style, with a paneled, thick wood construction and small windows at the top of the door. For back or other exterior doors, consider a pleasing and simple French door.
Victorian: A Victorian home is one of the most pleasing and intricate designs available, often characterized by delicate adornments, railings and columns, bold colors, wrap porches and circular or geometric towers. The sky's the limit on window designs that will pair beautifully with a Victorian home — double-hung, transom, bay or bow, fixed, arched and specialty shapes are all quality options. Many entryways use decorative glass panels or stained glass. Choose a front door with panels and decorative features, then paint it with a fun color. For back doors, incorporate a classic French-style decor.
Spanish or Mediterranean: Known for their warm, exotic feel, Mediterranean homes are immediately recognized for their tile roofing and stucco exteriors. Good window choices for your Spanish-style home are large bay or bow windows or stationery and arched windows with wrought-iron or wooden grilles. Mediterranean and Spanish houses are known for their intricate and grand entrances — find a solid double-door design with decorative hardware and rich color.
Trust Glass.com With Your Window and Door Needs
To find these window and door installation options in your area, use Glass.com to find and reach out to local installers in your area. For assistance, call us at 816-945-2778 to speak to a specialist, or fill out our online contact form.
Please note, this article may contain links to Amazon products. As an Amazon Associate, Glass.com earns from qualifying purchases.